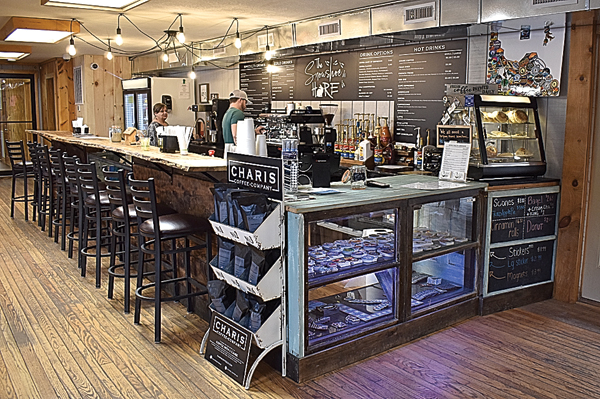 Suzanne Stewart
Staff Writer
For decades, the Why Not Shop, owned by Beryl Minghini, was a staple among the Snowshoe retail shops. Located across from The Inn at Snowshoe, the shop was the place for locals and visitors to pick up souvenirs, gifts and all their skiing and snowboarding needs.
Minghini traveled a lot with her job and when she began spending more time in Tahoe, Nevada, with her sons, Jarod and the late Bobby Minghini, her bookkeeper and friend Brenda Cochran joined the boys in convincing her it was time to sell the shop.
"Bobby and Jarod and I had been on to her for years – it's time," Cochran said. "She just didn't want to let go. I had the opportunity to be here in '96 when she and Bob built it together, and it was a wonderful place. It was so much fun, and she had the coolest stuff. Everybody in the community came in and everybody stopped by. Everybody felt welcome. It was the best place in town."
With Minghini spending less time at the shop, it's shine tarnished a bit and Cochran convinced her it was time to let someone else have a chance to carry on its legacy and revamp it.
Cochran, who is office manager at First Tracts Realty, spoke to her bosses – David Simmons and Pete Monico – about buying the shop and after a little convincing, the business partners did just that and transformed it into the Snowshoe Hare with Cochran's help.
"I told them it would be good," she said. "I think somebody young and energetic needs to get in there and take it over. It needs some fresh blood. It needs some love because it's a great place. It's a great building."
The shop has turned into it's own mini-shopping center with three businesses. On the far left is the Kickin' Chicken, in its new location, has expanded its menu to include burgers and pizza along with its many chicken dishes and sides.
On the right, is the Ski Barn rental shop, which supplies skis, snowboards and all the accessories needed for a day or weekend of shredding the trails at Snowshoe Mountain and Silver Creek resorts.
In the center is the Snowshoe Hare – a gift shop and coffee bar.
"This was Pete's idea – the coffee bar was all him," Cochran said. "Charis Coffee Company, in the Outer Banks, is owned by Pete's friend, Josh East, and his wife. Pete talked to Josh about roasting our coffee and they came up with three options.
"First Tracts is our light. We have Snowshoe Blend, our medium roast and then our dark roast is Shay's Revenge."
The coffee is served at the bar and is also available in the store for those who want to take the taste of the Snowshoe Hare home with them.
On the first floor of the gift shop is a section of clothing and accessories and Snowshoe branded souvenirs, and another section offers West Virginia made items, including local maple syrup and honey, as well as toiletries like shaving cream, bath bombs and lotions, quilted items and hand-knitted hats.
"We try to carry a lot of local things here," Cochran said.
Next to the gift shop area and coffee bar is a cozy sitting area with chairs and a couch for guests who wish to enjoy their coffee and baked goods, which are also locally sourced.
"We get cinnamon rolls and scones from Shirley Doolittle in Green Bank, and then I go over to Jackson River Bakery to get donuts and fried pies there," Cochran said. "Everybody knows we have fresh pastries on Fridays, so Fridays and Saturdays we get really busy with everybody coming in to get the fresh stuff."
The sitting area is by the Prayer Wall, where guests can take a tag and write a prayer or prayers to be included on the wall. Tags adorn the wall with well wishes and prayers of all kinds. There is also a daily Bible verse shared on a chalkboard hung next to the prayers.
Upstairs, the store has a variety of sections, including shoes, pajamas and slippers, Christmas and kids. There is also a bargain bin section for items that will no longer be available at the store.
"There are a few items we might carry, but they wanted to downsize a little and just not go with everything that [Minghini] had," Cochran explained. "In the beginning it was just overwhelming, so they said, 'we're just going to downsize, take our time deciding what we want and what we don't want to carry.'"
With that said, there is room for additions to the store. Cochran said she hopes to add a camping section and there is a portion of the upstairs that, for the time being, is storage and her office, hidden behind to beautiful sliding barn doors.
From the upstairs, visitors get a better view of a display above the entrance. It's a collage of photos with the words "Forever Snowshoe" on a rustic wooden background. The photos are of members of the Snowshoe area community who have passed away.
The center photo is Bobby Minghini, who passed away October 10, 2022.
"Bobby was my boy," Cochran said. "I'd known him since he was little and loved him dearly. Out of respect for Beryl and Bob and Jarod, I asked Pete if we could put a picture of Bobby on the wall and he's like, 'Oh yeah, that's a great idea. In fact, why don't we just make a memory wall?'
"That's what we did," she continued. "We know that everybody's not up there. We just want to pay our respect. I've been on the mountain in some capacity since 1989 and there's been a lot of loss, like there is in any community."
Bobby and Jarod were both so excited for the new chapter in the life of the store and were going to help Beryl clean out the items she wanted. Sadly, Bobby died a week before they were to come to the shop. Although he never saw the new shop, he is still part of it and is one of the many Snowshoe family members to be honored on the memory wall.
Jarod and Beryl did make the trip and gathered what they wanted to keep from the Why Not Shop. Six weeks later, the Snowshoe Hare opened and has been a welcoming addition to the community.
Cochran said she is happy to see the community's response to the shop and feels that it has returned to being a hot spot it was years ago.
"It's been heartwarming to have community people stopping in," she said. "I know the very first weekend we were open, we had four or five different couples and families from Marlinton drive over.
"We have a cool little community and they do a lot over at Linwood," she added. "This is in addition to it. We want everybody in the community and all of our guests to feel welcome."
It took hard work and six weeks, but it seems the shop has returned to being the place to be in the Snowshoe area.
"I think it's a great part of the community," Cochran said. "Pete and Dave are all about the community and being open and inviting and welcoming. You want a place for people to come and feel welcome. Our whole county is like that. Green Bank has it. Marlinton has it. We want Snowshoe to have it, too."
The Snowshoe Hare is open Monday through Wed-nesday, 7 a.m. to 8 p.m., Thursday through Saturday, 7 a.m. to 9 p.m. and Sunday, 7 a.m. to 7 p.m.