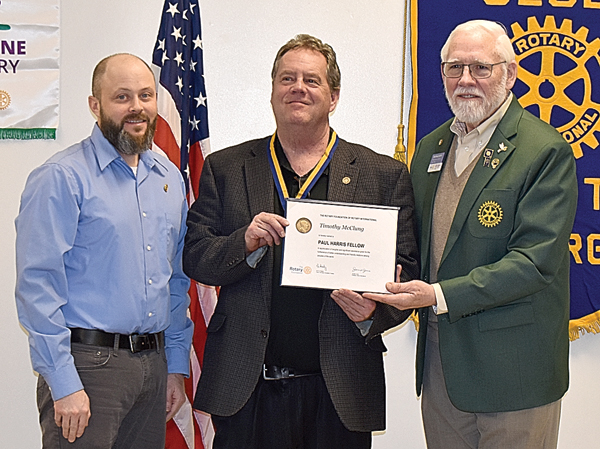 Suzanne Stewart
Staff Writer
At the Marlinton Rotary dinner Monday evening, Rotary District 7545 District Governor Dan McCarthy spoke to the club about the international president's vision for the organization, as well as his vision for what makes Rotary clubs successful in their communities.
McCarthy said 2023 is a groundbreaking year in Rotary because for the first time in the organization's 118 years, the international president is a woman – Jennifer Jones. The theme of Jones' presidency is "Imagine," and McCarthy shared how 2023 should be a year of imagining how the club can impact its community, the country and the world with its service.
McCarthy also spoke about his personal challenge to Rotary clubs in his district, pointing to the name of his mascot dog – McPuff.
"His name comes from what I consider the foundational components of Rotary – Membership, Community Service, Public Image, Foundation Giving and Fun," he said. "If you're having those things in your club, then you're doing well. You're going to have a successful club."
In addition to being a time to brainstorm ways to impact the club, the meeting was also a celebration. McCarthy assisted Marlinton Rotary President Kenny Woods in presenting a Paul Harris Fellow award to member Tim McClung.
"It recognizes Rotarians or non-Rotarians who are either contributing or have demonstrated a consistent and valuable contribution consistent with Rotary's mission," McCarthy said.
McClung received a med-al, lapel pin and plaque for his continued service as a Rotarian.
Woods also inducted new members Ryan Jackson, Kristen Beverage and Dustin Simmons.
"You three have been elected to membership of this club because your fellow members believe you to be worthy representatives of your calling and also possess qualities that will permit you to exemplify the true spirit of Rotary to your public, business, social and private lives," Woods said.
"I wish to impress upon you that you've been admitted not only to the Rotary Club of Marlinton, but also to a worldwide association and by virtue of your membership in this club, you will be welcomed into the fellowship of any Rotary Club in the world," he added.
McCarthy also addressed the new members and welcomed them to the organization.
"To the new folks who are just joining Rotary, you have a world of opportunity here," he said. "We need your ideas. Rotary will grow because we adapt, and it's how we make that difference in the community that's going to make the difference to all of us. Each of you has ideas that will help us make a greater impact within the community, so speak up, be active and I look forward to seeing more from the Marlinton Club."
Woods also presented a special award to Joe Smith for his diligent work as the club's historian. Woods said Smith spent countless hours gathering the history of the Marlinton Club and continues to add the club's activities to the record. Woods presented a Rotary Historian lapel pin to Smith.