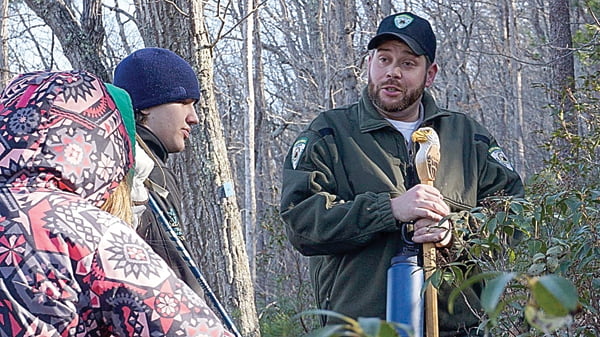 Ken Springer
Watoga Park Foundation
My friend, Delbert, up in Mudwallow, Ohio, took me to task recently for using words and terms in the Watoga Trail Report that he considers "unnecessarily discipline-specific." To which I replied, "Huh?" 
Delbert went on to explain that most folks, not well versed in the profession of volunteer trail work, may not know what terms like "benching upslope" or "line of sight trail marking" means.
The conversation brought to mind a friend who, many years ago, went off to college to become a nurse. When the Jenny that I had known since childhood came back to town a full-fledged nurse, I was convinced that she was now speaking a foreign language.
Her attempt to describe her new life in a big city emergency room was but a string of terms like speculum, coding, stat, CBC, peritoneal lavage and rhinoscope. I only understood the conjunctions, proper names and numbers embedded in her discourse.
She was, as many newly minted graduates of specific disciplines are wont to do, speaking a nomenclature that carried no meaning whatsoever for the average layperson.
When I turned 65 I signed up at a small branch campus for an adult evening class titled Creative Writing for the Golden Years. Courses were free for us oldsters, so I thought, "what the heck."
Upon arriving for the first night of the class, I was greeted by a room full of fellow gray-haired aspiring writers. Shortly after taking a seat, the instructor, a young woman, walked into the classroom and without hesitation, nor a word to the class, quickly wrote the following on the blackboard: 
"A triumvirate of murine rodents lacking ophthalmic acuity were observed in a state of rapid locomotion in pursuit of an agriculturalist's uxorial adjunct. Said adjunct then performed a triple caudectomy on these rodents, using a keenly honed bladed instrument normally used for the subdivision of edible tissue." *
She then took her seat behind the desk and quietly started reading a magazine. At this point, many of us stood up and started for the door. We thought that we had inadvertently entered the wrong classroom. Perhaps we had stumbled into one of the other senior citizen courses –  Latin, a Nearly Dead Language for Nearly Dead Students.
Before we could exit the room, she called us back to our seats saying, "Please return to your seats and be assured you are in the correct classroom."
We learned that evening that the best way to communicate, be it written or vocal, is keeping it simple and straightforward – avoiding unnecessary technical words. 
And, some of the students had even figured out that what she had written on the blackboard was a familiar children's nursery rhyme –  I was not one of them.
Can you figure it out?
Although the class did not improve my impoverished writing skills, as these ramblings can attest, it did teach me a lesson about communicating more effectively.
Therefore, my pledge to the readers of this dispatch is that in future trail reports, I will refrain from using such jargon as "easy stepovers" and "up in the nettle nightmare." And instead, I will say, "a log across the trail that is easy to step over" and "up in Jesse's Cove."
Now, some actual news from Watoga State Park:
Item 1 – The swimming pool closed for the season this past Sunday, and the water will be pumped into underground cooling chambers in preparation for next season's grand opening. And did you know that you can rent the swimming pool for private swimming parties? Just something to keep in mind for next summer.
Item 2 – David Elliott and Brian Hirt have been working 25 hours a day getting the trails in superb condition and making the myriad preparations for the Fourth Annual Mountain Trail Challenge on Saturday, August 10.
The Half Marathon is a challenging race course made up of a series of trails that take the contestant through meadows, along streams and Watoga Lake, up to high ridges and down into lush valleys. Contestants often comment on the beauty of the trails as they pass aid stations and race volunteers.
The 5K course starts at the old airfield and weaves through forests, savannas, and thick rhododendron tunnels. It is never too strenuous but always scenic.
It is not too late to register for either race. Mark your calendar and follow this link to register is www.watogafoundation.org/watoga-mountain-trail-challenge-races/
All proceeds benefit the park through the Watoga State Park Foundation.
Item 3 – Last, but most certainly not least, our great park has lost one of its finest assets and a good friend to our community, Chris Bartley. Chris has accepted the position of park superintendent of Kanawha State Forest.
I wrote a piece about Chris shortly after he took the position of park naturalist a couple of years ago. The positive response from you was overwhelming. Chris is a much-admired person in this community, an active scout leader and minister at two churches. I am proud to count him among my friends.
Chris has brought many new people to Watoga State Park for his exciting programs and nature walks. His Halloween and Christmas programs always attract huge crowds, even in poor weather. We all wish you the best of luck, Chris, and the light will always be on for you here at Watoga State Park.
Take your dog for a hike; go slow, bring treats and let her sniff around. I guarantee you that her joy will spill over into you.
Ken Springer,
ken49bon@gmail.com
*Three blind mice, see how they run. They all ran after the farmer's wife, she cut off their tails with a carving knife.