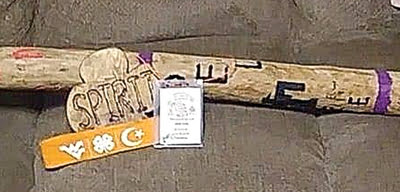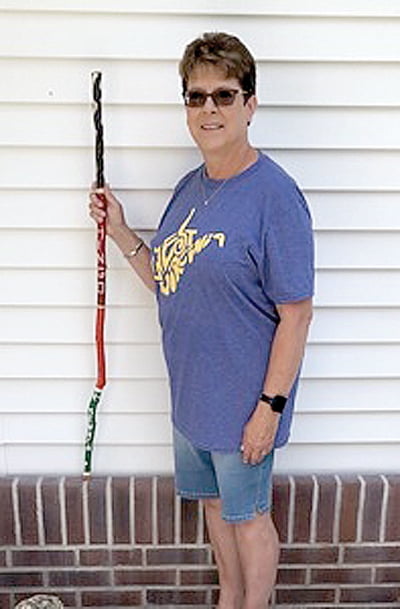 Laura Dean Bennett
Staff Writer
4-H camp is held in June each year at Camp Thornwood, a former CCC camp in northern Pocahontas County. The camp lasts for five nights.
On the last night of camp, there is one last Council Circle which takes place around a fire lit by the camp's "Ishkatay" or fire starter.
The entire camp, including all the "Big Feet," or camp counselors, and the campers' families, are present.
The camp awards are then presented.
Winners are chosen for the best representative in camp of each of the individual Hs and it is a great honor to receive an "H" award.
Each year, one tribe is named the tribal "Spirit of the Camp."
But the highest achievement at 4-H camp is the individual award for The Spirit of the Camp."
This person is usually an older camper, a respected leader in the camp – someone who is or has been a Sagamore or Chief of their tribe.
Each tribe gets to have the Spirit Stick for one night during the week of camp to carve or paint their name on it.
It's a big moment when the Spirit of the Camp is named and this highest honor, represented by the Spirit Stick, is presented to the winner.
When the ceremonies are finished and the campers head home, the Spirit of the Camp takes the Spirit Stick home with him or her and, and it is theirs to keep.
Spirit of the Camp winners, no matter how long ago they received the award, don't seem to ever forget it.
They cherish their Spirit Sticks and their memories of 4-H camp.
Pocahontas County 4-H Extension Agent Luci Mosesso explained that the legendary Spirit Stick has been awarded to the Spirit of the Camp for many years.
As a former 4-Her herself, Mosesso knows first-hand how much camp means to those who grow up in 4-H.
"Four-H is an important part of the growing-up experience for many youngsters here in Pocahontas County," she said.
"The activities that 4-Hers take part in all year and the annual camp teach 4-Hers important life lessons.
"Four-H encourages cooperation, achievement and self-confidence."
The Spirit of the Camp, chosen by the camp counselors, is an individual who best embodies all the "Hs of 4-H – Head, Heart, Hands, Health.
Each tribe has its own color: Cherokee – Orange; Delaware – Black, Mingo – Red and Seneca – Green. The tribes decorate the spirit stick with rings in their own color which are separated by purple rings painted by the Big Feet – the camp counselors.
Being selected as Spirit of the Camp is a special honor.
I asked a few Spirits of the Camp to share their memories of 4-H camp and what being named the Spirit of the Camp meant to them.
Justin Jackson 2019  
Cherokee Tribe
This year's Spirit of the Camp was Cherokee Chief Justin Jackson.
Jackson is 17 years old. He just graduated from Pocahontas County High School and is working as a firefighter for the Bartow, Frank, Durbin [BFD] Volunteer Fire Department and hopes to be hired as a Pocahontas County Sheriff's Deputy.
"I'd say one of the best things about 4-H is that it really brings people closer together," Jackson said, "and one of the best things you get to do in 4-H is the camp.
"This was my tenth year at camp. I didn't know anybody when I first started in 4-H. It helped me make a lot of friends.
"Winning the Spirit of the Camp award was a total surprise. It was emotionally awesome. And, yeah, I actually cried.
"Last year I won the 'Hands' award, and I thought that was great. But this was really something – I was shocked and excited.
"My Spirit Stick is about seven feet tall, and it's really heavy. And it's beautiful.
"It's sitting in the living room at my house; you can see it as soon as you walk in the door.
"Four-H gives you something to strive for," Jackson continued. "You set goals for yourself – things you want to accomplish – and when you accomplish them, it makes you feel proud. You make good friends – boys and girls. I hope my 4-H friends will be friends for life.
"I expect that stick will always be a part of my life, too."
Cheryl Campbell Cain 1977
Mingo Tribe
Cheryl Cain is well known in the Pocahontas County community. She is Radiology Supervisor at Pocahontas Memorial Hospital.
The year Cain won the Spirit of the Camp award, was the year that the 4-H camp theme was "Western Days."
The June 23, 1977 issue of The Pocahontas Times noted: "The final council circle ended with the Spirit of the Camp Cheryl Campbell lighting the 'Flaming 4-H Silhouette.'"
"I remember that article in The Times," Cain said. "It started out talking about my crying 'tears of joy' as I accepted the Spirit of the Camp Award.
"Winning that award was such a shock to me, and it was such an honor. I was seventeen years old, and I was also the Mingo Chief that year. Four-H was lots of fun, lots of work, lots of fond memories. Lots of friendships formed in 4-H. Friends I've stayed in touch with all these years.
"The year before I won the Spirit of the Camp award, I won the 'Heart' award. I still have my spirit stick and I love it. In fact, I use it for a walking stick now.
"Oh, being chief was a lot of work. You were a leader and there was lots to do to help your tribe win games, contests and awards.
"I remember we played lots of games to see who was the bravest, the fastest and the smartest – and the chief would have to choose members of the tribe who best suited each kind of game or contest.
"Some of my best memories of camp are about how we'd make up songs for Council Circle. You'd take a tune everybody knew and put different words to it. One year we did 'B-I-N-G-O' and changed it to our tribe name – 'M-I-N-G-O,' and the words were all about how the Mingo tribe was the best at everything, of course.
"Four-H is really good for kids. It gives you such a sense of belonging. You do projects during the year that really teach you a lot. They give you a list of projects to choose from and the projects really lead you through a list of accomplishments.
"There are four levels of competition. If you place at County Roundup, you move on to Area Roundup, then on to State Roundup, and if you're still in the running, your project goes on to the state fair.
"I did a public speaking project and I chose to talk about horses. I won a blue ribbon at County, blue ribbon at Area and red ribbon at the State Roundup.
"That project taught me an important skill that I've used all my life – how to speak confidently in public."
Katie Workman 2010
Seneca Tribe
Katie Workman is married to award-winning fiddle player Jack Krack. She works for the Mosesso Insurance Agency and is chair of the Planning Commission for the Town of Marlinton.
"I still have the spirit stick," Katie said. "It's up at Mom's. I grew up in 4-H.
"When I was younger, I watched many older kids, who I admired, win the Spirit of the Camp. Then I became one of the older kids.
"It was an opportunity to have a lot of positive influence on the younger kids.
"When I won the spirit stick, I hoped I was giving the younger kids something to aspire to – like when I was young and looking up to the older kids – being a positive role model.
"I was an eight year old when I started, and I spent twelve years in 4-H and going to 4-H camp.
"I was chief of my tribe – the Senecas – the year before I won Spirit of the Camp.
"I enjoyed activities like scavenger hunts, making up songs, competitions, quiz bowl… It's all about teamwork.
"Your tribe becomes like your family for the week – all working together, with the older ones leading and setting an example.
"The chief of each tribe is selected on the first night of camp.
"Then there's the Sagamore – like vice-chief.
"Sagamores can become chief the next year.
"Being chief really does help set you up for being a leader in life. It teaches you life lessons and makes you aware of your influence on other people.
"My spirit stick was bare wood, but it had the usual bands of the tribal colors painted on it."
Matt Rhea 2000
Cherokee Tribe
Rhea lives in Harrisonburg, Virginia, where he is a teacher and football coach at East Rockingham High School.
"I was in the Cherokee tribe and went to 4-H Camp 10 years," Rhea began. "The year I won Spirit of the Camp, I was the Chief of the tribe.
"Four-H taught me about positive relationships, to be accepting of all people, and to have a willingness to help others.  
"Four-H greatly influenced my choice to pursue a profession in education – to teach and coach and to lead others.   
"The Spirit of the Camp award is the most prestigious one to get at any County 4-H Camp. it was the highlight of my Pocahontas County 4-H career!
"Not sure if I was more proud or if Bee Gladwell was.
"She was my 4-H club leader and had to be one of the finest folks ever to be associated with 4-H anywhere.
"Winning Spirit of the Camp was awesome. It showed that the Big Feet members acknowledged me as being a bigger part of camp than I thought I was.
"For at least four or five years before I got the award, I'd had a hand in carving the Spirit Stick. Being able to take that stick home after 10 years at Camp Thornwood was great.
"To this day, it is one of my most prized possessions."
To be continued…