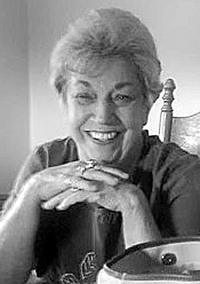 On April 17, 1939, Francis K. "Dorie" and Dovie L. Powers gave birth to their sixth child, a baby girl, whom they named Wanda June.
When she was around 20, she was married to the late George "Mac" McClain for a short time. It ended in a friendly divorce.
In a few years, love would find her again with the marriage to the late Jack Goldsmith – this, too, was not a marriage made in heaven and it ended in a divorce.
This marriage wasn't all bad, it produced three children. Yulonda June, who's been in heaven waiting for her mother for the last 10 years. Jackie Lee Goldsmith, who left this earth four months ago, and Jolinda (Goldsmith) Effinger, who was by her side when she took her last breath.
Wanda was born in Belington, raised in Pocahontas County, and attended Marlinton High School. Sometime in the 70s, Wanda attended nursing school at Davis and Elkins College, she would spend the next 30 plus years working as a nurse at Davis Memorial Hospital and the old Elkins Convalescent Center.
While working at Elkins Convalescent Center, she met her third husband James "Jim" Bibey. Although there was a 20 plus year difference in their ages, she raised a fine young man as a husband. I'm not really sure how long they were married the first time, but they divorced and remarried years later. During all the ups and downs of this marriage Jim produced a child which Wanda and Jim later adopted. That child is known today as Michael Shane Bibey.
As fate would have it the late George "Mac" McClain came back into the picture. Wanda reconnected with her ex-husband, and they were married a short time later. Although we thought this must be the one, it too ended in a mutual parting of ways (divorce) for the second time.
Uncle Mac, as we called him, loved our family so much that he never left. He fell in love with Wanda's sister, Bernice, and they were happily married until her passing.
Sometime later, Wanda reached out to the late Dharl Sharp, an old high school boyfriend, when she found out that his wife had passed away. This started a rekindling of the past and they were married within a few months. This marriage lasted for several years until she met the love of her life, another old high school sweetheart, Eddie Sharp. I wish she could have had more time with him, but the Lord took him home after they had been married for about three years.
Her life reminds me of the Julio Iglesias song, "To all the Girls I've loved before," but Wanda's version would be "To all the Men I've loved before".
We used to joke and say she was trying to keep up with Liz Taylor.
One thing you could say about Wanda was she loved a lot in her lifetime.
She also loved the Lord. She was a member of the Church of the Brethren in Elkins, and followed the teachings of Arnold Murry from Shepherds Chapel. Over the years she held many Bible studies in her home with her family and friends.
Wanda was an excellent cook. Her homemade biscuits would put Betty Crocker out of business, and her peanut butter pies were out of this world.
If you look up the word stubborn in the dictionary you'll find Wanda's picture. She was a stubborn strong-headed woman, a storyteller and a jokester.
Wanda loved to laugh and make others laugh with her. Her magnetic personality caused everyone to gravitate to her at all our family functions and, if needed, she always had a shoulder to cry on.
Preceding Wanda in this departure were her brothers, Murl Powers and Russel Jerry Powers; sisters, Juanita Fansler, Bernice White McClain, Arveda Daman and Joyce Maize.
Left to carry on family traditions are a sister, Okareta Blake; brother in-law, Johnny Maize; special niece, Debbie Shreve; eight grandchildren, Tisha Daman, Travis Goldsmith, Seth Goldsmith, Jessica Daugherty, Adam Goldsmith and Ezra Lowers, Jason Orr and JD Orr; and 10 great-grandchildren, Laci Monroe, Kristen Daman, Hunter Daman, Bryson Connor Goldsmith, Cameron Lee Goldsmith, Nevaeh June Goldsmith, Andrew Bibey, Steven Collins, Ivy Moneypenny and Madison Allman; several nieces and nephews; and special friends, Stacy and John Coffman, who were helpful in the last few years of her life.
After years of failing health, she went to be with her Lord and Savior on the morning of December 18, 2021.
Donations in her memory may be made to the Church of the Brethren in Elkins.
These are the glory days of my Aunt Wanda's life as I knew her. By her niece Brenda Alvarado
Final Rites will be conducted at the Lohr and Barb Funeral Home, in Elkins Thursday, December 23, at noon. The family will receive friends from 10 a.m. until time of service.
Interment will be in Mountain State Memorial Gardens at Gilman.
Online condolences may be shared at lohrbarbfuneralhome.com