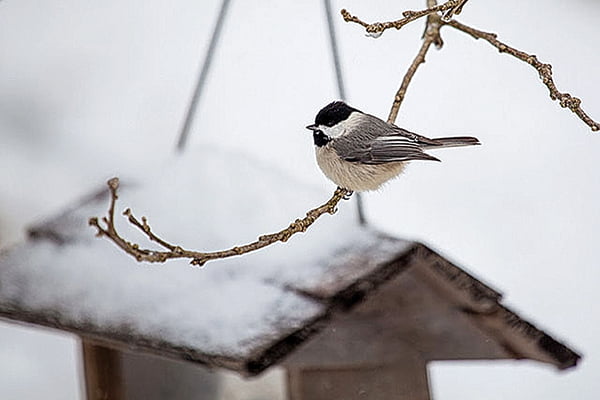 Laura Dean Bennett
Staff Writer
Backyard birds are well cared for in Pocahontas County.
All year long, we supply our fine feathered friends with mixed seeds, millet, sunflower seeds and suet.
But we are especially generous at our bird feeders in the winter, when our winged winter visitors are especially in need of a handout.
Southern States reports that approximately 31,840 pounds – that's 15 tons – of bird seed was purchased there during the six months of winter last year.
Tim Wade, of Wade Farm and Feed, says that he typically sells between eight and 10 tons of bird seed in a year.
And that's just two of the several places in the county where bird seed is available.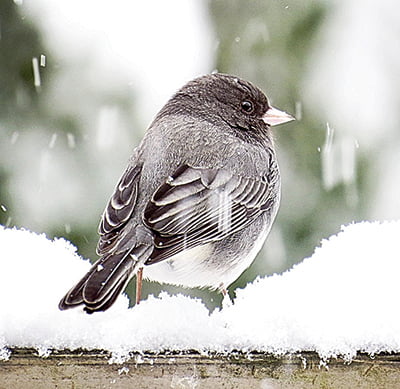 Starting in the late fall, our winter migrators arrive, and they are hopping around in the trees and at our feeders.
Your winter birds are probably much the same as mine – mourning doves, juncos, black capped chickadees, white breasted nuthatches, tufted titmice, downy woodpeckers, blue jays and cardinals.
And maybe you have some that I don't have.
Now that I have learned to leave the hornet and wasp nests alone, I even see eastern blue birds occasionally at the feeder. 
They usually have plenty of hornet larvae to eat, but occasionally, when the weather has been especially bad, the blue birds will come up to the flat feeder and check out the menu.
I hear my phoebes, but I never see them at the feeders. I guess they are dining elsewhere.
If you are a serious bird watcher, you probably already know about the Great Backyard Bird Count.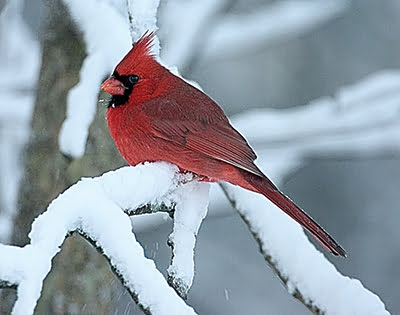 But, if you are like me, someone who doesn't consider herself a serious birder, but you love birds and enjoy watching them at your bird feeder, you may not have heard about it.
The 21st annual GBBC will be held Friday, February 16 through Monday, February 19.
This is an event that engages bird watchers of all ages in counting birds to create a real-time snapshot of our bird populations. 
Participants are asked to count birds for as little as 15 minutes (or as long as they wish) on one or more days of the four-day event and report their sightings online at birdcount.org 
Anyone can take part in the Great Backyard Bird Count, from beginning bird watchers to experts, and you can participate from your own backyard, or from anywhere in the world.
Each checklist submitted during the GBBC helps researchers at the Cornell Lab of Ornithology and the National Audubon Society learn more about how birds are doing, and how to protect them.
Last year, more than 170,000 participants submitted their bird observations online, creating the largest instantaneous snapshot of global bird populations ever recorded.
You'll need an email address and access to a computer to participate because the bird count reporting is only done through the website.
The very first GBBC was an experiment," says the Cornell Lab of Ornithology's Marshall Iliff, a leader of the bird program.
"We wanted to see if people would use the Internet to send us their bird sightings. And, clearly, the experiment was a success."
The eBird program collects bird observations globally every day of the year and is the online platform used by the GBBC.
Last year, bird watchers in more than 100 countries submitted checklists reporting sightings of approximately 5,700 species, which is more than half of the known bird species in the world.
"The Great Backyard Bird Count is a great way to introduce people to participation in citizen science," says Audubon vice president and chief scientist Gary Langham. 
"No other program allows volunteers to take such an instantaneous snapshot of global bird populations."
If you are interested in being part of the bird count this year, visit the official website at birdcount.org for information and directions.
With the bird count in mind, you'll want to be sure that you are filling up your feeders and drawing in as many feathered friends as you can.
Let's show them that birds count in Pocahontas County, and we count them.