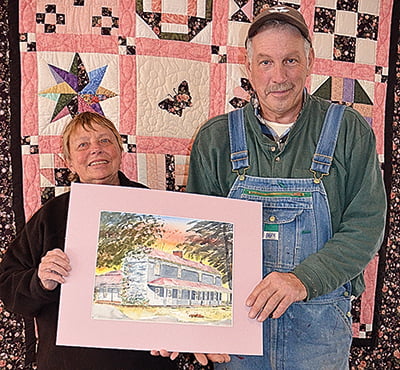 Laura Dean Bennett
Staff Writer
"Old buildings sort of speak to me," Cyla Allison said.
Those who enjoy her watercolor scenes of Pocahontas County would agree that Allison's depiction of old buildings speak to us, as well.
The Hillsboro artist, who recently donated five watercolor paintings of old buildings in Huntersville to Huntersville Traditions Day. She and her husband have had a connection to Huntersville for many years.
"When we had our mule and horse team, Eric and I brought them to Huntersville Traditions Day and set up a cavalry living history camp," she said.
"That's when I first became intrigued with the beautiful, historical buildings in Huntersville. When I see an old building, I want to know about its history.
"They hold a bit of mystery – I see ghosts of people from the past.
"I like to imagine the people who lived in them – the pain and the joy that those walls must have seen. You know that old saw, 'If these walls could talk?'"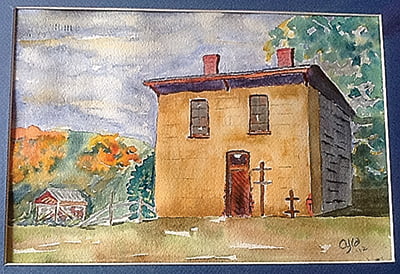 Allison is president of the Pocahontas County Art Guild and is a member of The Greenbrier Artists.
Both she and her husband, Eric Stahl, who is a potter, are permanent artists with the Pocahontas County Artisans' 4th Avenue Gallery, where their art is on display.
This year Allison has added her own line of handmade greeting cards.
Allison did not begin painting until 2005.
That's the year she retired and moved to Pocahontas County from Long Island, New York, where she had been a teacher, journalist and had a 30-year career as a psychologist.
She started taking classes through the Pocahontas County Art Guild and the rest, as they say, is history.
"No, I'd never painted at all until I moved here," Allison said. "I heard about the Guild's art classes and decided to try. 
"It's a wonderful way for a beginner to learn how to paint without having to invest a lot of money in supplies when they're just getting started."
Allison said she has always loved Huntersville because "it is a slice of the past that's been preserved and that's what a painting is – it's the same thing.
"I love history, and I love old buildings, so naturally I enjoy painting these kind of things."
When she and Eric brought their team – a mule named Festus and a horse named Daisy – to Huntersville Traditions Day, they provided educational talks about horses and mules, the Civil War calvary, and the good old days when nearly everyone in these parts relied on horses and mules for farm work and transportation.
She and Eric operate what she describes as "a small equine retirement facility," a place they call, Wannabee Farm, near the Greenbrier River. 
Allison said she is glad to donate her paintings to Huntersville Traditions Day.
"It's a beautiful festival that celebrates the preservation of the history of this county. And that it is so important," she said.
Allison's lovely watercolor Huntersville paintings will soon be displayed at McClintic Library in Marlinton before they move to their new home in Huntersville.