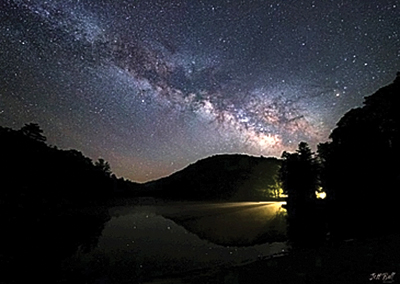 John C. Dean
Contributing Writer
Having attained international recognition, what's on the celestial horizon for West Virginia's newest stars on the dark sky park tourism circuit?
Get ready to celebrate unlike anywhere else in the world – or the universe for that matter.
Receiving national and international attention are Watoga and Droop Mountain Battlefield state parks, along with Calvin Price State Forest, which comprise the first-ever international dark sky parks in the Mountain State.
In addition to the thousands of acres of land mass, the breathtaking picturesque setting above is home to billions of galaxies, stars, dark holes and constellations of untold and unknown acreage.
Now, this scenic tourist mecca is gearing up for its inaugural star party scheduled for Friday, September 2.
When the International Dark-Sky Association (IDA), the leading advocate fighting light pollution in the world, announced this certification last year, it proclaimed these areas as "one of the largest and darkest sky sheds within the eastern United States."
Anticipation and interest in this star-gazing extravaganza have been building locally, regionally and nationally for more than three years.
Tucked away in the scenic highlands of Pocahontas County are three heavily forested areas which are so dark that sometimes you cannot see the person standing next to you.
"In the dark, I can't even see my hand in front of my face," some visitors have commented. In fact, for years, the number one selling postcard at Watoga State Park has been one of complete darkness.
For centuries, stargazers, professional photographers and astronomers have been drawn to the region's dark skies. Celebrating its bicentennial this fall, Pocahontas County touts many other tourist attractions including several state parks and forests, along with the Monongahela National Forest, Snowshoe Ski Resort, the acclaimed Green Bank Observatory, and the birthplace of Pulitzer Prize-winning author Pearl S. Buck.
So, what's next for this international dark sky park?
In order to maintain certification, dark sky parks in the U.S. must engage in community outreach and educational programs to increase awareness about "how the excessive and wasteful use of artificial lighting is a growing, urgent and global pollutant that must and can be feasibly addressed," said Ashley Wilson, IDA's Director of Conservation and lead of its International Dark Sky Places Program. "After a park is certified, it continues to conserve the night sky by engaging with its neighbors, whether they are other protected areas or gateway communities, to take interest and action to help celebrate, support, and protect this natural, cultural, and precious resource."
The Watoga State Park Foundation, Inc. is the event's sponsor. It is a 501(c)(3) nonprofit organization, promoting recreation, conservation, ecology, history and the natural resources of the park.
"We're excited to preserve for younger generations the ability to see and enjoy the brilliant night skies," said Louanne Fatora, vice president of the Foundation. "With today's light pollution, it's rare to be able to experience this phenomenon."
Turn Out the Lights!
You're Invited to the First-Ever West Virginia Dark Sky Star Party
When: Friday, September 2, 7:30 to 11 p.m. (rain date is Saturday, September 3)
Where: The Tower at Droop Mountain Battlefield State Park in Hillsboro.
Once darkness falls, in accordance with star party lighting standards, the area near the lookout tower will be illuminated or glowing with red bulb lanterns for optimal viewing as well as for safety reasons.
Activities/Events: A detailed program guide listing activities and events will be distributed. A summary of some of the activities include:
Telescopes operated by amateur astronomers J. Perez and Michael Rosalina will be available for viewing. They will explain the view to individuals and answer questions. You are allowed to bring your own equipment.
Of note, a "Starry Night Art for Children" program is a part of this event, which uses art as a tool to educate children about the importance of preserving the night sky for astronomy and for the protection of wildlife habitats. After viewing the galaxies, children will be encouraged to draw or complete dot-to-dot constellations they have seen. Illustrations will be used to help children label and remember night sky "pictures". Moreover, crayons, paper, and a glow-in-the-dark constellation-lacing card will be on-hand for all children. Color pages depicting nocturnal animals, and animals that prefer darkness, will also be available.
On display will be a stargazing backpack that can be reserved from any Pocahontas County Library.
In addition, educational literature related to improving outside lighting at home will be available.
For more information, visit the Dark Sky Facebook page or call 304-799-4087 until 4 p.m. daily.
The Watoga State Park Foundation Inc. is the event sponsor.