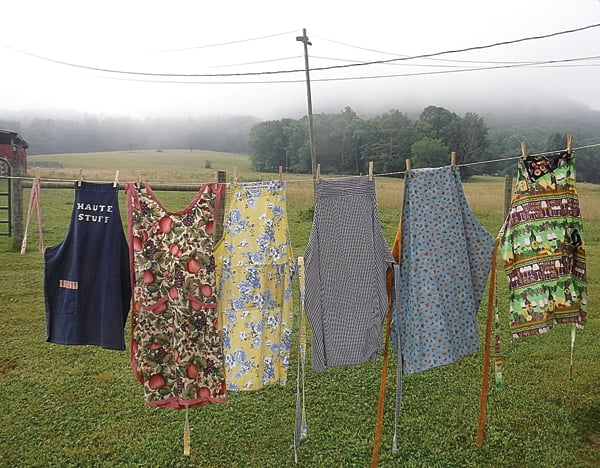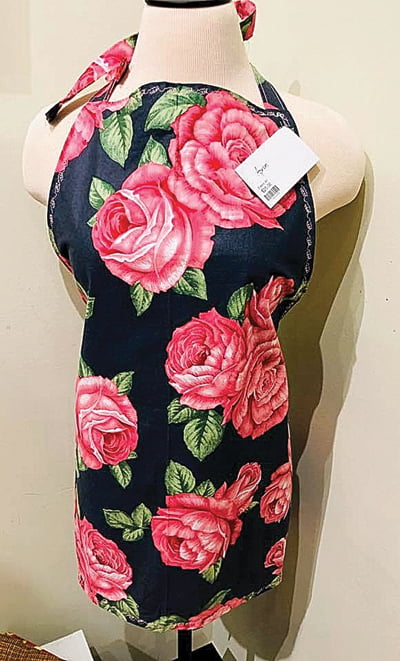 Laura Dean Bennett
Staff Wrtier
The oldest known English poem about aprons suggests that even in the 16th century, ladies hoped to make an impression in a fetching apron.
"These aprones white of finest thred
So choicelie tide, so dearlie bought,
So finely fringed, so nicelie spred,
So quaintlie cut, so richlie wrought,
Were they in worke to save their cotes,
They need not cost so many grotes."
~ from "Pleasant Quippes for Upstart New-Fangled Gentlewomen," 1595,
by Stephen Gosson
Aprons are, arguably, the single most useful item of clothing ever imagined.
When I was growing up, moms, grandmoms and proud little girls wore aprons over their dresses to protect them from dirt and stains. 
It was far easier to wash or replace an apron than a dress.
Besides protecting one's clothing, an apron could double as a hand towel or a potholder, could be used to carry in eggs from the henhouse or kindling in for the stove.
It also came in handy when it was time to bring in a few things from the kitchen garden or apples from the orchard.
When unexpected company drove up the road, a mom could untie that apron, uncovering a clean housedress – even doing a bit of dusting with it – on the way to greet her guests.
It could also serve as a signal flag. 
At dinnertime, grandmom could step out on the porch and, if she didn't have a dinner bell to ring, she would wave her apron, and the men folk knew it was time to come and eat.
It was one of the handiest things in the kitchen – and it still is.
The word "apron" comes from the Medieval French "naperon," which referred to a small tablecloth.
Throughout the course of human history, both genders availed themselves of aprons.
Glass blowers wore singlets, farriers wore leather and butchers wore rubber.
Every culture has used aprons for practical and protective purposes, as ceremonial garments, indicators of marital and parental status, rank and group affiliation, and purely as decoration.
The original apron may have been made of fig leaves, as the King James version of the Bible mentions the apron in its story of Adam and Eve.
"And the eyes of them both were opened, and they knew that they were naked; and they sewed fig leaves together, and made themselves aprons." Genesis 3:7.
Ever since we've worn clothing and needed to protect it from getting dirty, we've needed aprons.
Throughout Europe, Britain, Asia and the Scandinavian countries, housewives, tradesmen, artisans and even warriors wore aprons for functional reasons.
The tabard apron, which covered the upper body, front and back, like a tunic, made its debut in the Middle Ages.
It was worn by peasants, monks, cobblers, farriers and even knights.
Also during the Middle Ages, a custom arose of certain colored aprons being used to signify specific trades.
For instance, bishops traditionally wore purple, butlers wore green and stone- masons wore white to protect from the white dust on the stone.
Cobblers wore black aprons against the black wax they used on shoes.
Blue was worn by weavers, spinners and gardeners.
Butchers wore blue-striped aprons and barbers wore checkered aprons.
Many of these traditional apron colors are still used today.
Over the centuries, men's aprons have tended to remain functional, while women's were decorated with embroidery, smocking and lace.
They were indicators of prestige – usually made of linen or wool and sometimes trimmed or lined with fur.
In England, aprons, like all fashion, took a sudden turn in the 1650s when Oliver Cromwell decreed that women and girls should dress modestly.
This sparked the Puritan look of a white apron covering a long black dress that reached from a woman's neck to her toes.
In the French court of Louis XIV, ladies' aprons became haute couture and reached the zenith of decadence, with one – embroidered with gold and silver threads and encrusted with precious stones and pearls – reportedly costing more than $32,000 to make.
During the 19th Century, the bib apron – the typical chef's apron – which had been around for 200 years – evolved into a starched, full-length, full-skirted and ruffled version for cooks, maids and household servants.
By the turn of the 20th Century, housewives had embraced the "bungalow" apron.
Easy to make, with kimono sleeves, no trim and few fasteners, it was designed to be worn by itself, not over other clothing.
Perfect for early morning housework, this type of apron was an early version of the housedress – something between a housecoat and a nightgown.
There was a change in style when the "Hooverette" or "Hoover apron," came along.
It was jokingly named after the man in charge of the U.S. Food Administration at the time, Herbert H. Hoover – who, by the way, would one day become president.
The wraparound coverall covered the same amount of territory as a short-sleeved, three-quarter length dress and was made from cheerful and colorful fabrics.
Patterns for making the practical Hoover aprons abounded, and it would have been a rare housewife who did not own at least one of these classic aprons.
The 1920s and 1930s also saw short half-aprons beginning to make a play for the limelight.
Sleekly costumed housekeepers in the homes of the well-to-do, and waitresses at restaurants and on the silver screen turned the cheeky little apron into a fashion accessory.
But under the shadow of the Depression, for most women, an apron was about anything but glamour.
Aprons were made from old clothes or scraps of material sewn crazy quilt-style.
They were sometimes embellished with embroidery, crocheted trim or rickrack, or cross-stitching.
Pinafore aprons, or "pinnies," reappeared in the early 20th century, in less formal and shorter versions than their original Edwardian cousins.
This classic apron style was mainly worn by children.
Adorned with ruffles, ribbons and bows, pinafores featured more fabric at the shoulders than traditional bib aprons.
Dorothy famously wore a blue and white gingham pinafore in The Wizard of Oz.
After World War II, a grateful return to "normal" family life took hold in American culture and mom's apron became the symbol of cozy family ideals.
Aprons began to be taken seriously as high fashion again in the America of the 1950s.
TV moms wore them on shows like Leave it to Beaver and Father Knows Best, and moms at home eagerly followed suit.
They even made aprons to match their dresses, their kitchens, their tablecloths and their seasonal décor.
High-style, short-length cocktail party aprons become all the rage.
Often made of starched georgette, abbreviated in length, decorated with appliqués and looking for attention, aprons were a fashion statement.
As America moved to the suburbs, the cocktail apron came with them.
And even men began to wear aprons at home. 
Barbeque aprons burst onto the scene with the popularity of the barbecue grill.
It didn't take long for the man of the house to have his very own apron emblazoned with" World's Greatest Dad" or "World's Laziest Chef."
Many even sported the matching chef's hat.
During the 1960s, stay-at-home homemaking ideals became less popular, and, with many women, so did the apron.
In some quarters, aprons were old-fashioned garments that only our grandmothers wore.
Of course, they never went out of style at work.
Chefs, butchers, barbers and waitresses never did and probably never will, take them off.
In the 1970s, terry cloth and permanent press aprons were favored, as practicality won out over fashion. 
Each state, city and vacation spot was represented on aprons and tea towels as souvenir shops tempted female travelers.
Holiday aprons were de rigueur for the hostess at Thanksgiving, Christmas, New Year's Eve, Easter and the Fourth of July.
The1980s brought us personalized as well as aprons bearing our company or organization's logo.
But the fast pace of modern life seems to continue to leave the household apron – the feminine symbol of home and hospitality – in the dustbin of history.
By the turn of the 21st Century, it seemed most American women had all but forgotten about aprons.
Working full-time and shuttling the kids to and from soccer, baseball, basketball and football, had us running through the drive-thru, ordering in, or eating out.
Our mom's and grandmom's aprons were stored in the cupboard, along with the good china and silver.
Maybe wearing an apron looked too old-fashioned for modern women.
But fashion must, like a shark, keep moving forward, even when it's sometimes circling back.
With renewed interest in cooking, gardening and crafting at home, the humble apron is experiencing a resurgence of popularity.  
Whether it's the memories it evokes or the sub-conscious message that it conveys, an apron – even one just hanging on a hook in the kitchen – seems to say, "Welcome home."
And that will never go out of style.