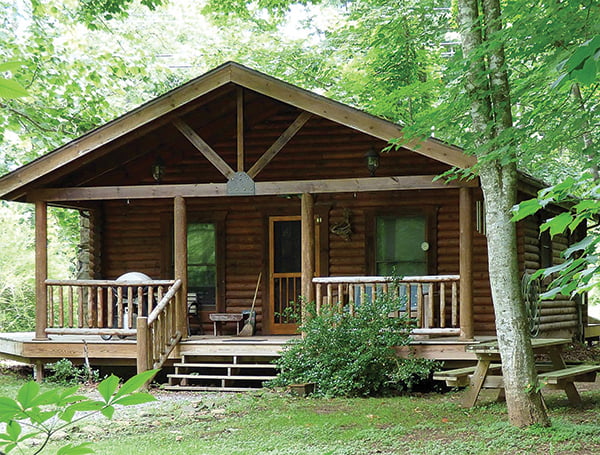 Jaynell Graham
Editor
In 1902, Preston S. Warn, of Myersdale, Pennsylvania, acquired 4,800 acres of timber land on the headwaters of the Cranberry River and on Hills and Bruffey creeks in Pocahontas County. Through other purchases, he brought his total land holdings to 7,300 acres.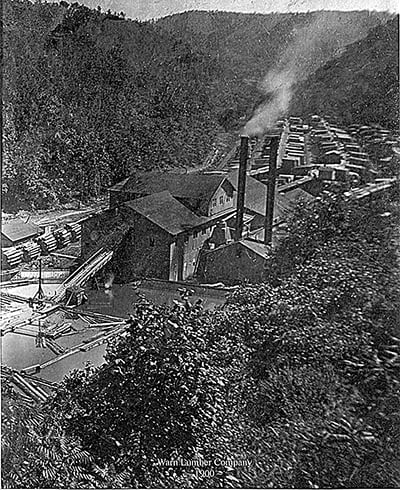 In 1905, he established a sawmill on Stamping Creek, about a quarter mile from today's intersection of Rts. 219 and 39 at Mill Point, and built a railroad to haul logs to his mill as well as to the John Raine and Company mill, located about five miles from the junction.
The Warn mill site was large in scale and was known as Warntown from 1905 until the timbering operation was completed in late 1913.
Eighty-three years later, in 1996, Bill Barnett and his wife, Duana, of Barnett Builders Construction Group, LLC, decided they'd like to have a getaway cabin on the banks of Stamping Creek where the Warn Lumber Company once operated.
The property had grown up into such a mess that they had to cut their way through the briars and the brambles to find a starting point.
"You couldn't walk through it," Barnett said. "We had to park our vehicle across the road at the old store and walk in."
But, with time, patience, perseverance, the right equipment and an eye on the future, the couple completed their cabin in 2000.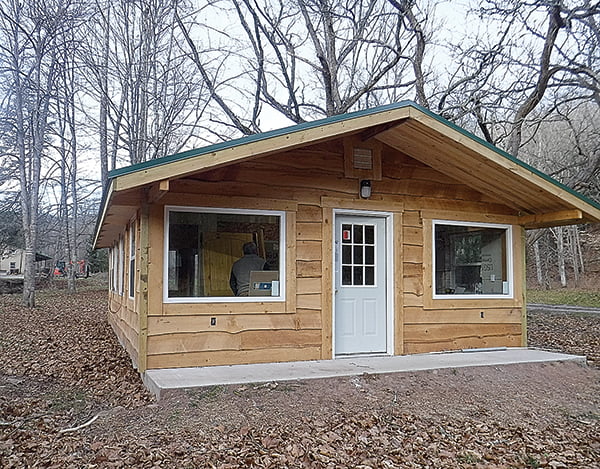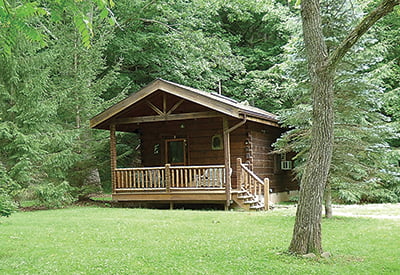 Then they built a cabin for Duana's parents. When obligations prevented them from taking full advantage of the cabin, the Barnetts bought it as a rental property.
And then – by his own admission – Barnett went crazy and built more cabins and a bunk-house with stables.
"I go overboard," Barnett said. "I get started, go nuts, drive my wife nuts…"
But who could complain when the results are so amazing?
The skills Barnett learned when he was "shipped here as a teenager" have paid off in many ways.
"My dad worked for Monsanto, and about once a month we would pile into the family car and head to Pocahontas County," Barnett said. "Mom would fix a cooler of Kool-Aid, and we would stop at this restaurant just outside of Charleston that sold ten hotdogs for a dollar. There were five of us and that was our supper.
"I was shipped here in the summers to help my uncle on the farm. When I was fifteen or sixteen, I worked with my cousin, Brooks Barnett, and James Carpenter. They were masters when it came to carpentry. I got into it early."
Lessons from his early years have proven to be a good foundation for life.
Although Barnett doesn't have a dollar-deal on hotdogs, he and Duana have chickens, which supply fresh eggs for their guests.
The cabins and bunkhouse have certainly been built by a "master carpenter."
While trout fishing is just outside the cabin door in Stamping Creek, Barnett added a pond especially for children for catch and release of game fish and trout, and a picnic shelter with solar powered lights for the whole family.
Knowing that today's young people may not get the same thrill from the out-of-doors as his generation, all cabins have DirecTV and WiFi, and fire-pits for late night conversation.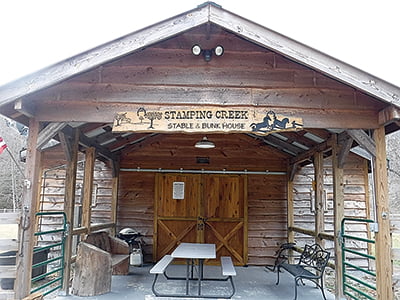 There are stalls and fenced paddocks for horses at the bunk-house.
But there is one problem at that location: The bunkhouse has become so popular that everyone wants to stay there – with or without horses.
Reservations are important to guarantee this spot.
A family member suggested that Barnett add an open-air pavilion with picnic tables for large family gatherings.
He did that.
But then he went nuts.
The open pavilion is now enclosed. It has lots of windows. It has heat and air-conditioning. It is in the process of having a commercial kitchen installed. It will have a large-screen TV – a very important addition during football season.
Is it any wonder that nearly 70 percent of Barnett Cabins' rentals are returning guests?
This place is so peaceful and comfortable, and people are treated so well, it just might be better than home!
A visit to Barnett Cabins' website will surely make you want to visit.
There is access to the Greenbrier River Trail through its property, and with the recent purchase of an adjoining 200 acres, the Barnetts have created four miles of hiking, biking or horse trails.
"With trout fishing just out the door and all Pocahontas County has to offer just minutes away, our quiet holler is just what the doctor ordered," they say.