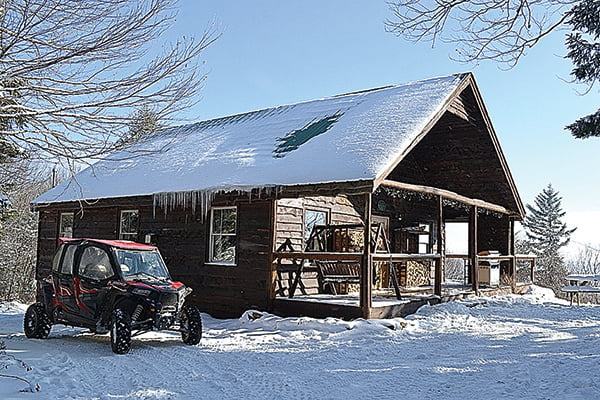 Suzanne Stewart
Staff Writer
There is something lurking in the woods on Snowshoe Mountain.
Something – large.
Something – mythical.
At the Sunrise Backcountry Hut, visitors will behold a new and supernatural experience which will pit them against puzzles and clues to avoid coming up against this large, mythical creature. And it all happens at the Cabin in the Woods Escape Room.
An escape room is a new group adventure game in which players solve a series of puzzles and riddles with clues that are provided in the room. Most escape rooms have themes and a time limit.
As someone who doesn't ski or snowboard, I was excited to give it a try.
The journey begins with a ride in one of the Outdoor Adventure Polaris RZRs. In addition to me, my group included a couple, Ashley Sodosky and Jason Asbury, from Charleston. They got their own RZR and I, luckily, rode with guide Drew Caloccia, who was back at Snowshoe after graduating from Glenville State College the week prior.
The trail is narrow, but beautiful, especially when the trees are covered in snow, as they usually are in December. We drove past the Hut and on to the Cheat Mountain Ridge Fire Tower where I attempted to climb to the top. I made it a third of the way up before the wind coaxed me to go back to the RZR.
When my brave group rejoined me, we headed to the Hut to test our skills in the escape room.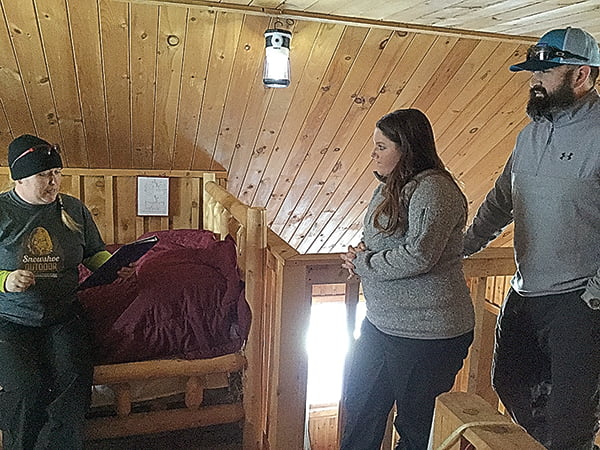 Guide Carol Gibson read us in and explained the premise of the room.
"You've been training to become a hunter – to be able to survive against anything that might come after you, and you've come here for your final test," Gibson said. "This cabin has been a crossroads for many hunters passing through the woods at night, and each one has left something behind."
Caloccia pointed out that the premise sounded a lot like his favorite TV show, Supernatural, and I was glad he was joining in on the fun. With his knowledge of the show, the four of us together could find our way out.
Gibson told us we had an hour and if we needed a hint, all we needed to do was ask.
As she said, we are trained hunters, but not the kind going after deer, bear or elk. Our prey are the things that go bump in the night – vampires, fairies, demons and more.
The escape room is located on the second floor of the Hut, so it is a small space, but it has a lot of clues strewn about to draw attention. At times, Drew and I worked together on one puzzle, while Ashley and Jason worked on another. We also traded off on some clues and worked together to get the job done.
With the clues, we had to unlock certain boxes some with number codes, others with word codes and find the final code to unlock the room. While there is no door on the upstairs, there is a key code that lights up when the test is completed.
With 15 minutes left on the countdown, we punch-ed in the final code and managed to escape, but there was still a visitor lurking.
As she congratulated us, Gibson said, "I think I hear something outside."
Sure enough, when we went out on the porch, we saw "something" come around the corner, but unlike the monsters we were trained to hunt, this "something" only wanted to get his picture taken with us and have a bite to eat.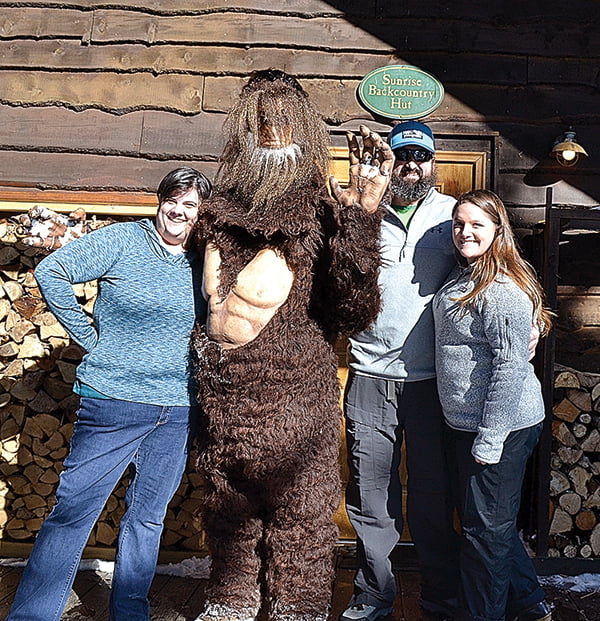 After hamming it up with the "something," we gathered in the dining area of the Hut and enjoyed a delicious victory lunch of roasted red pepper tomato soup and smoked gouda grilled cheese sandwiches, followed by Sasquatch shaped chocolate chip cookies.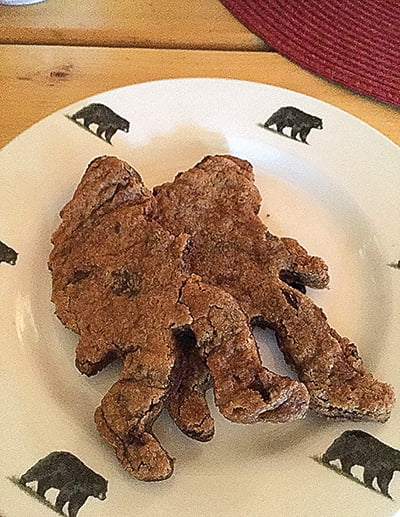 The escape room is a great team-building exercise, and a fun way to meet new people. During lunch, I was able to learn a little bit more about Ashley and Jason now that we didn't have a deadline to meet. Ashley was a journalism student and is in marketing, while Jason is in landscape architecture.
We also got to visit with our guides and chef Jared Currence.
We returned to the Top of the World after a going away ride on the RZRs and left with the knowledge that when in a pinch, we had the ability to escape.
The Cabin in the Woods Escape Room is available for bookings Fridays, Saturdays and select holidays. The experience is open for lunch and dinner reservations.
For more information, visit www.snowshoemtn.com
Suzanne Stewart may be contacted at sastewart@pocahontastimes.com