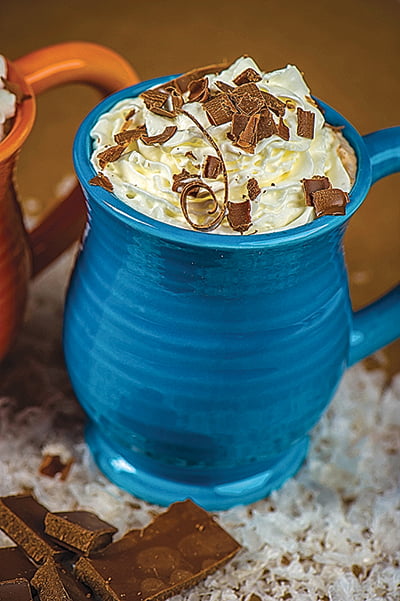 Laura Dean Bennett
Staff Writer
Fireplace crackles
Sparks of love
Rich hot cocoa
In festive mugs
~Terri Guillemets 
Winter Heat, 2008
For me, a cup of hot cocoa on a winter's day is as much about the nostalgia as the chocolate.
And now, I can also honestly say that I drink it for medicinal purposes.
One of my earliest winter memories is of coming into the kitchen after playing out in the snow – half-frozen, nose and fingers practically frostbitten.
My mom would be helping me get out of my soggy snowsuit – and I could hardly wait to get that cup of hot chocolate. 
Mom's hot chocolate was homemade, of course, made in a pan on the stove. I don't think there were instant mixes back then. 
Whether we're coming in from a walk in the woods, snowman-building, skiing or working outside, nothing beats a steaming cup of hot chocolate.
We have the Mayans to thank for this heavenly brew.
When Spanish explorers discovered the Mayans, they'd been sipping a cold, spicy version of liquid chocolate for hundreds, maybe thousands of years.
In Spain, the drink became an early version of what we know as hot chocolate – a warm, sweetened version of the Mayans' drink.
It didn't take long before the rest of Europe learned about this delightful beverage. By the 1500s it was being enjoyed as far away as Scandinavia.
Hot chocolate, in one form or another, was considered a great delicacy and was even used as a medicine from the 16th through the 19th centuries throughout Europe, Britain and America. 
When chocolate conquered France in the 17th century, it was widely prescribed "to fight against fits of anger and bad moods," as was recorded by a royal physician. 
They were quite right.
Modern research has now proven that eating or drinking chocolate does reduce levels of stress hormones.
Chocolate also contains antioxidants. 
Lots of them.
And those are the darling little things that help prevent cancer, heart disease, macular degeneration – and even aging – by eliminating free radicals in the body. 
In fact, that's one of the areas where chocolate, especially in the form of hot cocoa, shines.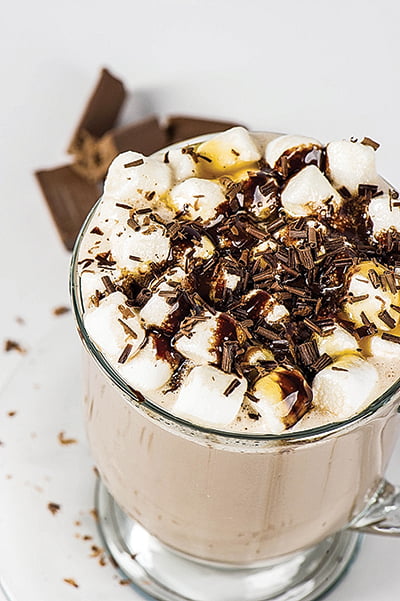 According to a study conducted by Cornell University, the antioxidant concentration in hot cocoa is almost twice as potent as that in red wine.
Levels of antioxidants in hot cocoa were two to three times stronger than in green tea and four to five times stronger than in black tea. 
I told you this was good news!
The study also found that the "hot" factor is an important part of the equation.
More antioxidants are released when cocoa is heated.
And there are more health benefits.
One cup of hot cocoa contains 611 mg. of gallic acid, which is useful in the treatment of internal hemorrhages, kidney disease and diabetes.
The flavonoids in chocolate help your body process nitric oxide. 
This is why hot cocoa can improve blood flow, help lower your blood pressure and improve heart health.
Flavonoids also help prevent platelets in your blood from sticking together and forming clots.
Scientists who are studying the magical goodness in cocoa say that a nutrient in cocoa – epicatechin – appears to lower the risk of four common diseases.


Harvard Medical School studied rates of stroke, heart disease, cancer and diabetes in the Kuna people of Panama. 
They are known to drink up to 40 cups of cocoa per week and the occurrence of these four diseases is less than 10 percent in their population.
According to the American Association for the Advancement of Science, drinking hot chocolate can help your brain, too. 
Flavonoids increase blood flow and oxygen to the brain.
And since dementia is caused by a reduced blood flow to the brain, researchers theorize that it could be treated or perhaps, prevented, with cocoa.
My conclusion?
As long as we're not loading our cocoa with sugar and chemicals, it seems like it might be worthwhile to increase our intake.
Of course, most of the commercial instant hot cocoa mixes are full of things that are not good for us – high levels of sugar, corn syrup, vegetable oils and chemicals.
But not to worry, making your own healthy version from scratch is so easy.
First, let's talk about the difference between hot cocoa and hot chocolate.
To most of us, when we say "hot cocoa" or "hot chocolate," we mean the same thing.
But, we should probably be a little more specific. 
Because there's a big difference between the two drinks.
Although chocolate has strong antioxidant activity, its healthful benefits are outweighed because of the saturated fat it contains, but cocoa contains much less fat.
Cocoa powder – the kind we can find in our grocery stores in the paper wrapped cans – is processed so that most of the fat has been removed from the chocolate.
That makes it a way healthier choice for baking and for making a hot, chocolatey beverage.
So, when making your own homemade mix, by choosing hot cocoa  recipes, you'll be making a drink that has the delicious chocolate flavor and the healthy chocolate nutrients without the fat content.
Of course, sometimes a chocoholic really wants to indulge.
That's why we have "hot chocolate," or as they call it in Europe – "drinking chocolate."
It's a darker, richer drink that contains cocoa butter, i.e. fat, so completely healthy, it's not.
But, no question about it, it's delicious.
I've found some recipes for both hot chocolate and hot cocoa which will give you plenty of options for all your chocolate moods this winter. 
Keep your homemade cocoa mix handy – and keep your family and guests warm and healthy with a hot, chocolatey treat!
Hot Cocoa Recipes
Old World Hot Chocolate
This recipe includes chocolate pieces, which creates a beverage with more fat. That said, this recipe will make a hot chocolate that will still be better for you than you'll get from a commercial instant mix. 
Using the full three ounces of chocolate will yield a very thick drinking chocolate that may be too rich for some, so adjust accordingly.
1 cup milk (soy or nut milk may be substituted)
1/4 teaspoon vanilla extract
1-3 ounces semisweet or milk chocolate, cut into small pieces
Heat milk to scalding in a medium saucepan, add vanilla, then whisk in chocolate until melted and frothy. 
Plum Loco Cocoa
Okay, full disclosure – dried plums are prunes, so you could call this a prune hot chocolate, but who will want to drink that?
However, this recipe will make a really healthy, and really tasty, version of hot chocolate, with no sugar! And with all the fiber, antioxidants, vitamins and minerals in it, I think it just might become your favorite winter drink.
1 cup almond milk (or regular milk)
3 medium plums
2 Tablespoons dark cocoa powder
1 pinch of salt 
1/4 teaspoon vanilla 
Put all ingredients in the blender and puree until very smooth, gently heat in a pot on the stove. 
The toast for this one should be, "To Your Health!"
Coconut Cocoa 
While mixing coconut milk and dates may seem wrong for making the perfect drink for a snowy day, this is another really healthy and interesting way to make hot cocoa. It's dairy-free, sugar-free and nut-free. And, even if you're not watching your waistline, this recipe yields a really tasty cocoa drink.
3 Tablespoons canned coconut milk

3/4 cup water

3 soft pitted Medjool dates

1 Tablespoon cacao powder

Dash of cinnamon
Put all ingredients in the blender and puree until very smooth, gently heat in a pot on the stove.
Sip – and dream of the tropics.
Maple Cocoa
1 cup milk
2 Tablespoons cocoa
1 Tablespoon maple syrup

1 teaspoons vanilla extract

1 pinch of salt
Combine ingredients in a medium pot and warm on medium-low heat, whisking until frothy and hot.
Cocoa Ole!
If you've never tried chocolate with a little hot spice, you've never really had what I think is the best way to drink hot cocoa.
Just a dash of cayenne really livens up the old taste buds!
Really, try it. I think you'll like it – a lot.
1 cup milk 

1 Tablespoon Sucanat*
2 tablespoons cocoa powder

1/2 teaspoon vanilla extract

1 pinch of salt

1 pinch of cinnamon

1 pinch of cayenne pepper
Combine ingredients in a medium pot and warm on medium-low heat, whisking until frothy and hot. Toast with a "salud" to the Mayans for bringing us drinkable chocolate.
*Sucanat is the trade name for "Sugar Cane Natural," a non-refined cane sugar that is made by crushing sugar cane, extracting the juice then heating and drying it. It's a more wholesome and sweetener than refined sugar, but if you don't have it, you can substitute agave syrup, stevia or sugar.
Quick and Easy Hot Cocoa Mix for a Crowd
2 cups confectioners' sugar
1 cup unsweetened cocoa powder, preferably Dutch process
2 1/2 cups nonfat dry milk powder
1 teaspoon fine-grain salt
2 teaspoons cornstarch
1 pinch ground cayenne pepper – optional – although I really recommend it 
Combine the confectioners' sugar, cocoa powder, milk powder, salt, cornstarch and cayenne.
Store in an airtight container. Secure the lid and shake vigorously to combine, and remember to shake prior to every extraction.
To serve: place 2 Tablespoons of the mix in a mug and add about 2 ounces of hot water or milk. Stir. Then add enough water or milk to fill your mug.
Crock Pot Hot Chocolate
4 oz. unsweetened chocolate, chopped
1  6-oz. package or 1 cup semisweet chocolate chips
1  14 oz. can of condensed milk
8 cups milk 
1  Tablespoon vanilla
In 3 1/2 or 4-quart slow cooker, combine unsweetened chocolate, chocolate chips and sweetened condensed milk; mix well.
Cover; cook on high for 30 minutes, stirring every 10 minutes or until chocolate is melted.
With wire whisk, stir in 2 cups of the milk until smooth. Gradually stir in remaining 6 cups milk and  vanilla.
Cover and cook on high setting an additional 2 hours or until hot. Stir occasionally. Take care not to let it stick.
Just before serving, stir mixture again with wire whisk. Reduce heat setting to low; ladle hot chocolate into cups and top with whipped cream.
While whipped cream or marshmallows may be easy, why not up your game and go for something a little bit more interesting?
Here are a few ideas to make good old hot cocoa new again – toffee bits, miniature chocolate chips, cinnamon sticks, candy canes, chocolate cookie, ginger snap or brownie crumbs.
I'm sure you can come up with some of your own!
Of course, there's always the option of adding a dash of a tasty liqueur to the cocoa, which instantly transforms it from childhood-reminiscent to grownup panache!
Laura Dean Bennett may be contacted at ldb@pocahontastimes.com