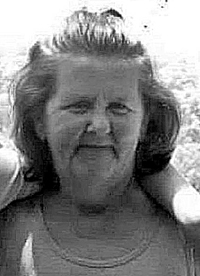 Susan Waddell Vick-ers, age 62, of Beverly, formerly of Bartow, passed away Sunday, August 29, 2021, at her home.
Born July 29, 1959, in Bartow, she was a daughter of Violet "Bill" Thompson Waddell, of Elkins, and the late Orville "Buddy" Waddell.
Susan married David Vickers, who preceded her in death July 17, 2016.
Susan attended Pocahontas County Schools and was a Christian by faith. She had worked at Station 2 Restaurant at Durbin as a cook, and she loved spending time with her family and friends.
In addition to her husband and father, she was preceded in death by a grandson, Chaz Alex Cassell, (9-4-13); a brother, Daniel Waddell; a son, Jedidiah Leslie Vickers; and a sister, Cathy Waddell.
In addition to her mother, Susan leaves behind to cherish her memory a daughter, Cinda Renee Cassell of Beverly; a son, David Kent Vickers, of Durbin; two sisters, Daisy Bacorn, of Durbin, and Charlotte Spring, of Elkins; a brother, Jarvie "Snuts" Waddell, (Pat), of Brandywine; three grandchildren, Zachery Cassell, Hannah Vickers and Michael White.
The family will receive friends Thursday, September 2, 2021, from 10 to 11 a.m. at the Thornwood Community Church in Thornwood.
Funeral service will follow at 11 a.m. with Pastor Susie Lambert officiating.
Interment will be in the Laurel Hill Cemetery in Job at 3 p.m. Thursday.
Memorials may be made to the family, c/o Basagic Funeral Home, POB 215, Franklin, WV 26807.
Memories and words of comfort may be left at www.basagic.com or on Facebook at Basagic Funeral Home.