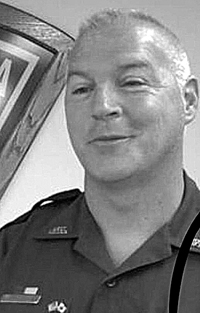 John Scott "Johnny Law" Syner, 52, of Edmond passed away Saturday, August 21, 2021, at his home.
Born on April 23, 1969, in Miami-Dade, Florida, he was a son of the late Joseph Benton Syner and Linda Lee Berns Syner.
In addition to his parents, he was preceded in death by his grandparents, Benton and Areda Syner and Carl and Helen Berns.
John was a man of many traits. He was a mechanist for 20 years and a state trooper for 18 years. More importantly he was a full time "Pops."
John was a Champion of Children Award recipient in 2018 by Just for Kids for his work on child abuse and neglect cases; 2019 Superintendents Award, the agency's highest award and was a Meritorious Service Award recipient. He was recently promoted to sergeant as a detachment commander at Marlinton. He was deeply respected by the communities he served and his brothers and sisters in law enforcement.
John loved boating and spending time on the lake with family and friends, cutting wood and playing golf. He loved taking the kids and grandkids fishing.
Trooper Syner will be remembered as a beloved member of the community. He worked hard to serve those around him. He will truly be missed by many.
Those left to cherish his memory are his loving wife, Stephanie Ramsey Syner; daughter, Allison (Garrett) Thompson, and their children, Bo and Jace, of Edmond; son, Nathaniel (Brittany) Syner, and their daughter, Mia, of Prattville, Alabama; sister, Debbie (Paul) Fox, of Edmond; two brothers, Joe (Kristi) Syner and Tommy (Shari) Syner, both of Edmond; several nieces, nephews, cousins and extended family and friends. Funeral service was held Friday, August 27, 2021, at West Virginia Army National Guard Armory in Glen Jean with Pastor Jimmy Mitchell officiating.
Burial was in Nuttall Cemetery at Edmond.