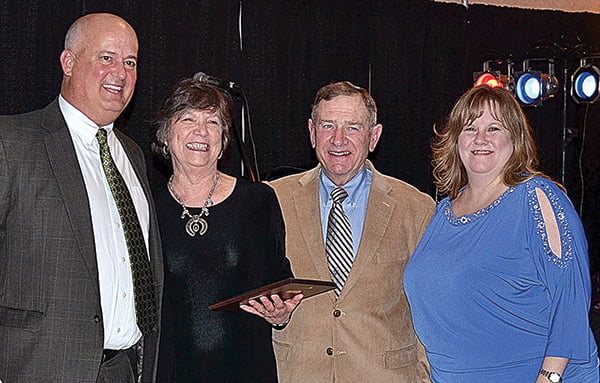 Suzanne Stewart
Staff Writer
Snowshoe Foundation benefactors and board members gathered Thursday evening for the annual Winter Benefit Dinner in the Mountain Lodge at Snowshoe Resort to celebrate the work of the foundation and honor its volunteers.
While the evening was reminiscent of a prom – complete with a decadent meal, fashionably dressed guests and a photo booth – the focus of the evening was to recognize those who have contributed to the success of the Snowshoe Foundation.
Since its inception in 2002, the Snowshoe Foundation has raised more than $2 million to benefit Pocahontas, Randolph and Webster counties. This effort was made possible by the individuals and businesses who dedicate time and service to the organization.
Board member Voras Haynes, Jr., introduced the Foundation's Volunteers of the Year and Business of the Year during the celebration.
Named Volunteers of the Year are couple Ira and Brenda Maupin, originally of Kingsport, Tennessee, and now 16-year residents of Snowshoe.
"As these two walk to the stage, you'll probably say, 'gee, I've been to events or I've been to other things on the mountain and always see the smiling faces of these two everywhere,'" Haynes said. "They're fantastic. Every time I walk into the Depot, I walk in and there's this smile – right here – this one [gesturing to Brenda]. She's wonderful and Ira is wonderful, too."
Ira and Brenda retired in 2002, built a home at Snowshoe and quickly got involved in the community as volunteers.
"These two volunteer for everything," Haynes said. "They helped stuff stickers and everything in our fire prevention calendars. We give away smoke detectors to every kindergarten student in all three counties. These guys are right there to help us put all that stuff together and get them out.
"Brenda works with Jessica [Stump] on Treasure [on the Mountain] and makes sure all the phones are answered," he continued. "Things get a little bit hairy when we start selling tickets that last week and there are an unbelievable number of things that happen."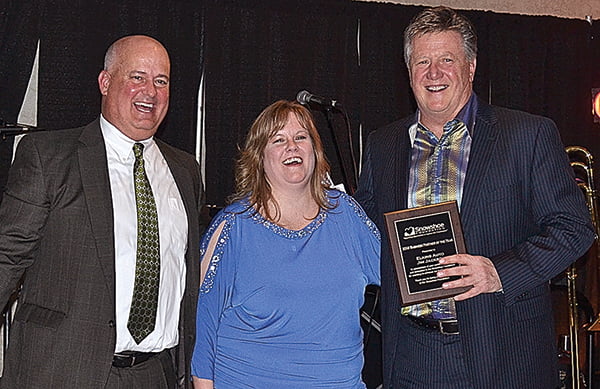 Haynes also recognized the Business of the Year – Elkins Auto – and specifically, its owner, Jim Jackson.
"This fellow came to the Elkins community several years ago and has basically adopted Elkins," Haynes said of Jackson. "You can look across Randolph County, in particular, and any organization that needs help, these guys are there. They've single-handedly supported the Elkins YMCA. In our case, with the Snowshoe Foundation, we went to them with a raffle years ago… and they've been supporting us every time we ask for anything."
Elkins Auto has also been a corporate sponsor of the Snowshoe Foundation for many years and assists with costs of promoting the Foundation's events.
Fellow board member and Snowshoe Mountain Resort president and Chief Operating Officer Frank DeBerry spoke on behalf of the resort, thanking Foundation members for their dedication to serving Pocahontas, Randolph and Webster counties.
"Snowshoe Mountain is extremely proud to be just associated with this event and have our name on the Foundation, and know that we're part of having given two million dollars back to this community," DeBerry said. "The honest truth is, is as much as Snowshoe is involved, this foundation is really run by its own board of directors."
DeBerry recognized Foundation president Frank Santymer who continues to lead the board of directors in serving the community, despite a well-meaning threat he made.
"Frank Santmyer – our president for a long time now – who said 'as soon as we sell five thousand tickets, I'm out of here,' and we sold five thousand tickets last year, and we chained him to the desk, and he's still our president," DeBerry said, laughing. "We're proud of that."
While the Foundation is known for its grant program, Treasure on the Mountain, golf tournament and the winter benefit dinner, DeBerry said there is a new and very special fundraiser which was organized in a hurry this past Christmas.
In November, Snowshoe lost a family member with the passing of Dave Dekema. The Foundation used funds from the Lighting of the Hearts Fundraiser and a Holiday Toy Drive to raise more than $6,000 to provide toys to communities in Pocahontas, Randolph and Webster counties. The Toy Drive was created in Dekema's honor and will become an annual Foundation event.
"Dave Dekema – who passed away suddenly at the beginning of this season – was a very special friend of mine and was incredibly important to this resort," DeBerry said. "When his parents came and said 'we would like to kick off this toy drive and here's some money, can you help us find a way to make this money special,' and [executive director Jessica Stump and board member Andy Nall] took that money and turned it over five fold to create that toy donation.
"That's something that we're going to do every year now," DeBerry continued. "We're going to use our tree money – so buy a tree this Christmas – we'll decorate it, we'll put it up at the resort and that will help us with that toy drive. It is the new initiative that we're undertaking. It's really special and really fun."
The event culminated with the announcement of silent auction winners and a live auction, which raised approximately $20,000 for the Foundation.
Suzanne Stewart may be contacted at sastewart@pocahontastimes.com