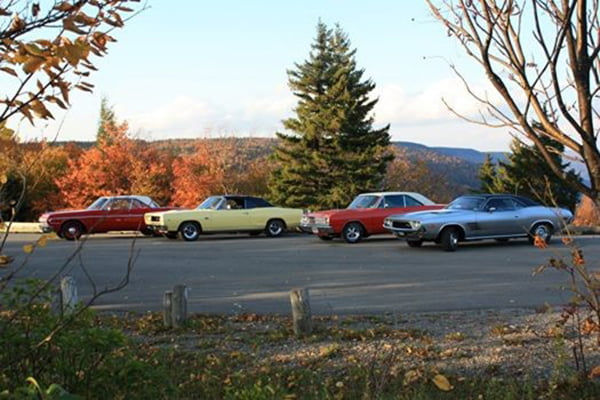 Continuing a popular event first held during last year's 50th anniversary celebration, Cranberry Mountain Nature Center will host its second annual Scenic Drive Day Sunday, June 24.
There are several ways to participate in this day.
One is to pick up a copy of the Highland Scenic Highway Audio Tour CD, pop it into your car's CD player and head to the nature center. This CD contains interviews with local residents, former and current Forest Service employees, West Virginia Department of Natural Resources employees and local historians. Traditional music serves as the background to the interviews which pertain to 19 stops along both the Rt. 39 and Rt. 150 sections of the highway and feature logging history, recollections of the Mill Point Federal Prison, CCC camp life, and historical information about the city of Richwood.
CDs can be purchased in Richwood at the Oakford Diner, Richwood Chamber of Commerce or Gauley Ranger District office. In Marlinton, purchase the CD at Pocahontas County Convention and Visitors Bureau and Marlinton Ranger Station.
You may also call the Cranberry Mountain Nature Center at 304-653-4826 to purchase a copy and have it sent to you by mail.
Scenic Drive Day also includes a classic car cruise-in at the nature center from 1 to 3 p.m. Come see the cars or bring your own. Anyone wishing to display their car should arrive by 12:45 p.m. and plan to leave their car on display until 3 p.m. when several prizes will be awarded.
Need a break from driving?
Bring a picnic lunch and enjoy Music on Cranberry Mountain with The Black Mountain Bluegrass Boys on the front lawn of the nature center beginning at 1p.m.
Keep an eye out for these upcoming events:
• June 30 – Native Orchid Tour – presentation at 10 a.m. followed by field trip to Cranberry Glades and area to look for orchids.
• July 8 – Scenic Mountain Triathlon. Music by Doc Northern and Keeney Mountain Boys from 12:30 to 2:30 p.m.
• July 21 – Cranberry Fun Day
• Sept 30 – Cranberry Mountain Shindig
The Cranberry Mountain Nature Center is open Thursday through Monday, 9 a.m. to 4:30 p.m.
The Nature Center features a display area with live snakes, wildflowers, interactive children's displays, and animals of West Virginia. There is also a nature store with books, clothing and toys.
For more information about the Nature Center and its programs, please call 304-653-4826.