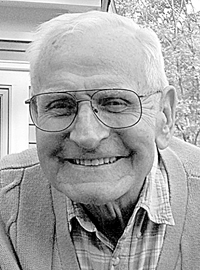 Roy Ernest Pyles, 89, of Seebert, formerly of Cross Lanes, passed away Sunday, March 14, 2021, from a sudden illness, not COVID-19 related, in Port Richey, Florida, surrounded by his loving wife and family.
Roy was a devoted husband, a wonderful father, grandfather, great-grandfather, brother, uncle and friend to many. Roy never met a stranger and greeted everyone with a smile and wave. His outlook on life was "I have lived a wonderful life." We could not ask for more.
Born August 6, 1931, on the family farm in Seebert, he was a son of the late Ernest Jacob and Stella Grimes Pyles.
He was a 1953 graduate of West Virginia School for the Deaf in Romney, where he mastered the skills to become a printer in the newspaper industry. Roy spent a few years in Richwood, and soon thereafter he accepted a position with The Charleston Gazette, retiring with 40 years of service.
Roy and Delores Stepp were married in 1954, in New York City, on the nationally televised NBC show "Bride and Groom." He was involved with the deaf community working with various organizations to improve the education, vocational training, employment and mental health in West Virginia. He was a member of West Virginia Association of the Deaf, serving 17 years as treasurer, Charleston Association of the Deaf, Lewisburg Association of the Deaf, board members of D.E.A.F and West Virginia Advocates. His passion was helping parents of deaf children with information regarding their educational choices. He also focused on programs to support deaf citizens who had mental illness.
Roy was a proud West Virginian and enjoyed WVU football.
Upon his retirement he and Delores began their annual tradition of 25 years, spending time between their summer home in West Virginia and their winter home in Port Richey, Florida. They enjoyed traveling, spending time with family, gardening, canning and took great pride in his magical green thumb. Roy also enjoyed deep-sea fishing, once in Alaska and often in Florida.
In addition to his parents, he was preceded in death by four brothers, Basil, Charles, James and Richard Pyles and three sisters, Dolly Cook, Wanda Wilfong and Virginia Stull.
Roy is survived by the love of his life, his devoted wife of more than 66 years, Delores J. Pyles; daughters, Carla Jean (Larry) Campbell, of Myrtle Beach, South Carolina; Kara Lee Russell, of Lexington Park, Maryland; and one son, Harlan Roy (Dawn) Pyles, of Oak Island, North Carolina; six grandchildren, Catherine (Zane) Walker, Anna Monroe, Katie Begley, Brittany Campbell Lowe, Amber (CJ) McKinnon, and Casey (Jessica) Russell; 11 great-grandchildren; one brother, Curtis (Irene) Pyles, of Seebert; his best friends, who were like family, Captain Ron and Barb Barnes; and an abundance of nieces, nephews and close friends.
The family would like to take this time to thank the exceptional staff at Bayonet Point Hospital; Dr. John Pirrello and staff; Jessica Harris Interpreting Agency; HPH Hospice, all of Hudson, Florida. Last but not least, the staff, friends and residents of Sundance Lakes RV Resort for their continuous support for the family.
In lieu of flowers, donations may be made to HPH Hospice, 12107 Majestic Blvd, Hudson, Florida 34668, or to your local hospice.
To honor his wishes, the body was cremated and no public service is planned.
Arrangements were cared for by Faupel Funeral Home and Cremation Services in Port Richey, Florida.