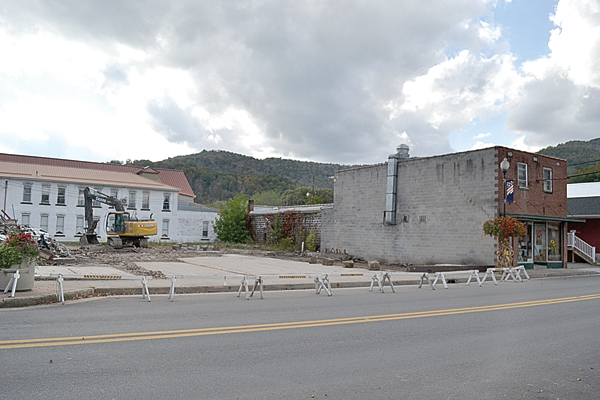 Suzanne Stewart
Staff Writer
Downtown Marlinton – specifically on Main Street – has seen its fair share of destruction over the years. On January 2, 1968, the Alpine Hotel Building was destroyed by fire. On November 10, 2013, in the next block, three buildings, housing several businesses burned, as well. Those buildings included the Old Bank of Marlinton, the original DirtBean and Hudson's Variety Store.
On October 6 through 8, Main Street saw something a bit different– the intentional demolition of the buildings across from Alfredo's. Those included the H or Hunter Building as well as a large space that through the years housed Lang's Dress Shoppe, The Treasure Chest and later, a music store, with apartments on the upper floors of each.
This step toward renewal followed the June demolition of French's Diner.
The Flower Garden, at this time, is the sole business on the block.
The properties in transition are owned by business partners Bobby Safrit and Daniel McKee, who formed Revitalize Marlinton LLC, to make way for new businesses in the county seat.
Safrit also owns the former "Pat's Beauty Shop" building – which now houses Greenbrier Bikes and Alison Pottery. He and his partner, Nick Ranson, also own the former Laundromat building beside it.
The revitalization began in May with the first two aforementioned, now opened businesses.
Safrit and partner Daniel McKee will continue the process with new construction next spring or summer on the now vacant lots on Main Street.
Safrit said he was inspired by the new growth of businesses and attractions in Marlinton and said now is the time to breathe new life into the town.
"With the Discovery Junction stage, I felt like that is a big stepping point," he said. "That sort of got this whole thing rolling. My partner, Daniel McKee, spent most of last year up here with his family because of the pandemic, and I've been doing some work for him. We were bouncing some ideas around and we feel like the time is right to try and bring some amenities into the town.
"I've been reaching out to other West Virginia business owners to see if they would be interested in having businesses here," he continued. "Everything we really want to do is something completely different than what we already have in town, so we're not stepping on anyone's toes."
The plan begins with a building on the corner of Eighth Street and Third Avenue. At this time, ideas are still flowing as to what that will be. Safrit said he hopes it will be either a retail space or a dining option that the county doesn't currently have.
"Sometimes people look at me like I'm crazy when I say some of the ideas I've got," he said, laughing. "I like bouncing things off of people to see what the reaction is. We'd like to have a higher-end type restaurant, sort of like Elk River, to not compete with anybody else in town. I keep saying a wine bar. I'm from a little town in North Carolina and one of the most successful businesses that I can remember there was a wine bar."
While the lot is large enough for two or possibly three buildings, Safrit said he isn't looking to fill it up with just store fronts. He'd like to have some open space for outdoor dining or games for locals and visitors to enjoy.
"We've toyed around with a putt-putt course," he said. "I'm in the landscaping business. That's what I've done for the last twenty-five years, and I may sell some plants and trees in the spring or something. Just something so it's not an empty lot."
Because the lot is in the floodplain, Safrit said the building will be built to a certain level according to FEMA regulations, which will also give him peace of mind when the river rises.
With all the possibilities rolling around in his head, Safrit said he is ready to work with business owners and the town to create new opportunities in Marlinton.
"I'm all about trying to help people get a business started," he said. "We want to do some outdoor amenities, as well. One of the things we talked about doing is rooftop dining. This town doesn't seem to take advantage of that. The weather here is a lot better climate than everywhere south of here. So in the evenings you can sit outside – have dinner or have a drink.
"Hopefully, it's another thing that will help showcase the community," he added.
Safrit and McKee have yet to decide on an architectural style, but Safrit said they want to make sure the building is appealing and eye-catching since it will be front and center on a corner on Main Street.
Construction will begin in the spring or summer of 2022.