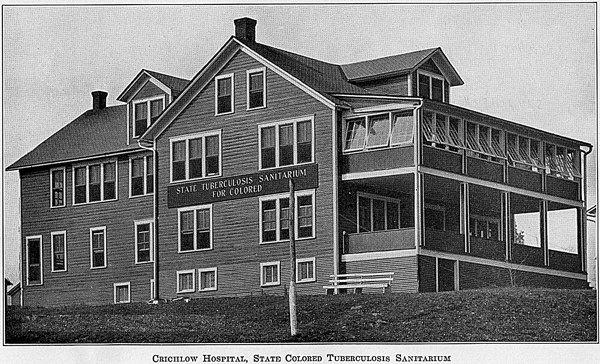 Celebrating Black History Month. The Legislature established the West Virginia State Colored Tuberculosis Sanitarium on February 16, 1917, for the care of Black TB patients. Denmar, located on the Greenbrier River in Pocahontas County, was selected as the location. Denmar was the town and mill site for the Maryland Lumber Company, which was then completing its lumbering operations.
Virtually the entire town was converted to use for the sanitarium. The boarding house became the main hospital and administration building. Some houses were converted into living quarters for patients, with separate facilities for men, women and children. Other houses became living quarters for employees. The mill structure and railroad shop building were used by the hospital farm and dairy. Access to the new hospital was provided by the Chesapeake & Ohio Railway's Greenbrier Division.
Dr. B. A. Crichlow was named superintendent and the sanitarium received its first patients on January 31, 1919. At this time, tuberculosis was often fatal, and many patients died while at Denmar. More than 300 are known to have been buried in a cemetery on the hospital grounds. Also buried at Denmar is the institution's second superintendent, Dr. Samuel J. Bampfield, who died February 22, 1940.
In January 1938, ground was broken for a three-story building to replace the deteriorating lumber company structures. Patients were moved into the new facility in January 1939. A wing to the building was completed in 1952. With advances in the treatment of tuberculosis, by the 1950s the need for tuberculosis hospitals was ending. In March 1957, Denmar was converted to a state hospital for the chronically ill.
Denmar Hospital was closed in July 1990. The facility reopened in November 1993 as the Denmar Correctional Center, housing medium-security prisoners. A birthing center for prisoners in the federal prison system occupies the former nurses' quarters at Denmar.
This Article was written by William P. McNeel and published in the West Virginia Encyclopedia. More photos available by searching "denmar" at https://wvhistoryonview.org (Photo courtesy of West Virginia Regional and History Collection; Preserving Pocahontas Archives ID: PHP003808)
Access the "Preserving Pocahontas" Digital Library at www.pocahontaspreservation.org or www.preservingpocahontas.org
If you have historical records or photographs to be scanned for the county Historical Archive contact Preservation Officer B. J. Gudmundsson at 304-799-3989 or email info@pocahontaspreservation.org Prints of photographs are available.