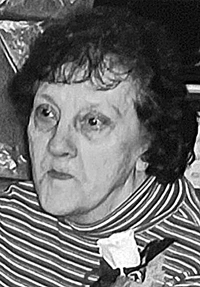 Betty Jean Oxier, 80, of Durbin, unexpectedly passed away Wednesday, February 1, 2023, at Autumn Lake Health Care.
Born March 26, 1942, in Frank, she was a daughter of the late Sudie Barkley and Floyd Slayton; and adopted Mom, Euna Burner Barkley, and uncle, Grover Barkley.  
Betty was a homemaker. She loved babysitting, watching her soaps and spending time with her family.
She was preceded in death by her husband, Earl Oxier; daughter, Tammy Oxier; brother, Ralph Slayton; and, cherished as her own children, Ricky and Vicky Barkley.
She is survived by her daughters, Connie Greulick (Robert), of Frank, and Anna Kane (Mark), of Durbin; son, Lee Oxier (Jessica), of Durbin; son-in-law, Norman Vance, of Durbin; grandchildren, Shawnee Morgan (Rick), of Elkins, Tommy Greulick, of Durbin, Marka Kane (Travis) and Hallie Kane, of Durbin; great-grandchildren, Erica and R.J. Morgan, of Elkins; daughter-in-law, Cindy Barkley, and son, Ricky Barkley; special nephew, Danny Slayton (Karen), of Tennessee; and other nieces and nephews. 
Funeral service was held Sunday, February 5, 2023, at Wallace and Wallace Funeral Home in Arbovale with Pastor David Rittenhouse officiating.  Burial was in Arbovale Cemetery.
Online condolences may be shared at WallaceandWallaceFH.com