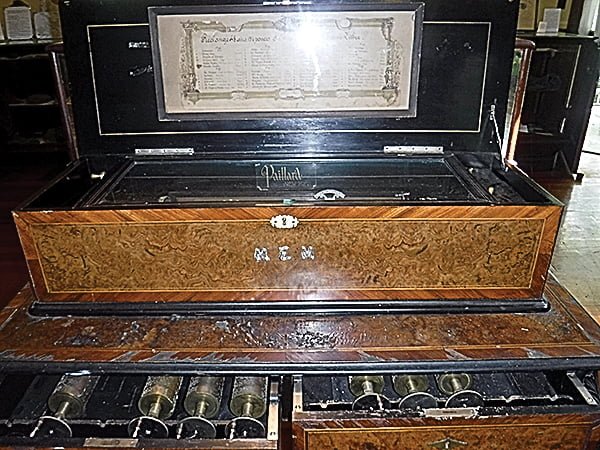 This music box, part of the Pocahontas County Historical Society Collection at its museum, was made by a Swiss company, Paillard. The company opened a factory in 1875 in Sainte Croix, Switzerland, and made cylinder style music boxes. This music box has an 1881 United States patent date, so it was made after that date.
The music box came to the Hunter home in 1950 following the death of Mrs. Hunter's sister, Dr. Susan A. Price. At the time of her death, Dr. Price was on the staff of the Eastern State Hospital in Williamsburg, Virginia. After moving to Williamsburg, Dr. Price purchased the Governor Dinwiddle home. During the restoration of colonial Williamsburg, Dr. Price sold the Dinwiddle home and was given a life interest in Marshall Hall, where she lived the rest of her life. The initials on the front of the music box, M.E.M., come from the time when it was owned by the Marshall family.
The cylinder style music box industry flourished until the late 1880s, when a new type of music box, using discs, rather than cylinders, was invented. However, the boom in the new type of music boxes lasted only until about 1900, when phonograph, player piano and other instruments came on the market and became dominant forms of home entertainment. Most of the disc and cylinder music box makers were out of business by 1910, but a few, including Paillard, survived by making a transition to other products. Paillard went into the camera and typewriter business.
Access the "Preserving Pocahontas" Digital Library at www.pocahontaspreservation.org or www.preservingpocahontas.org