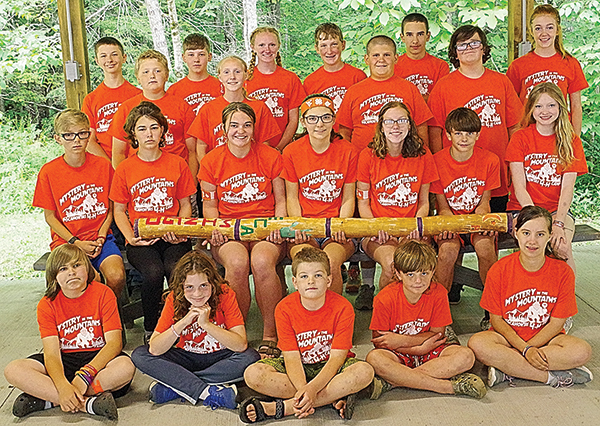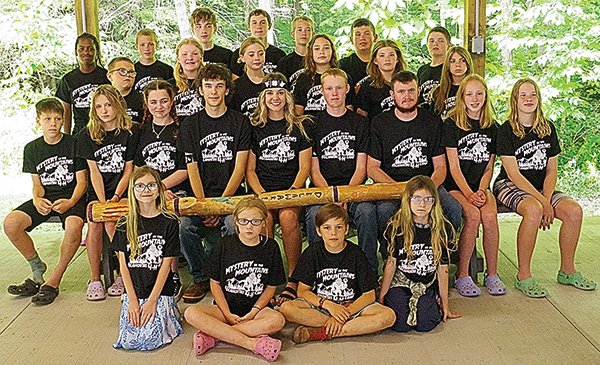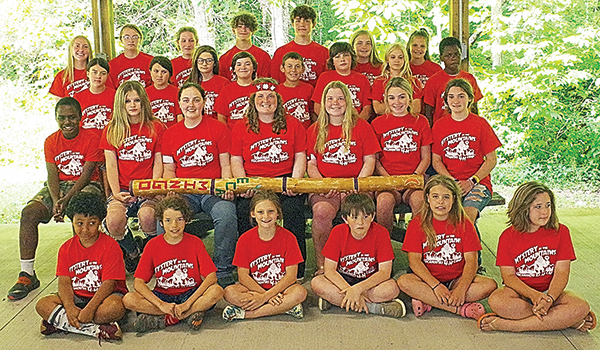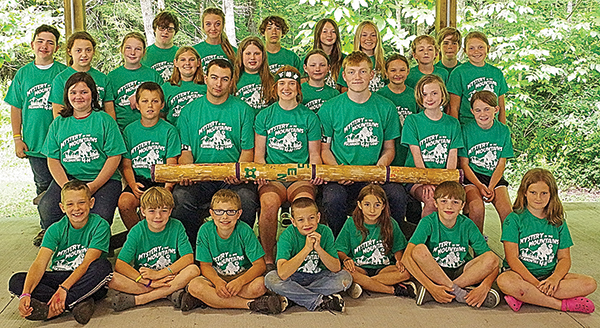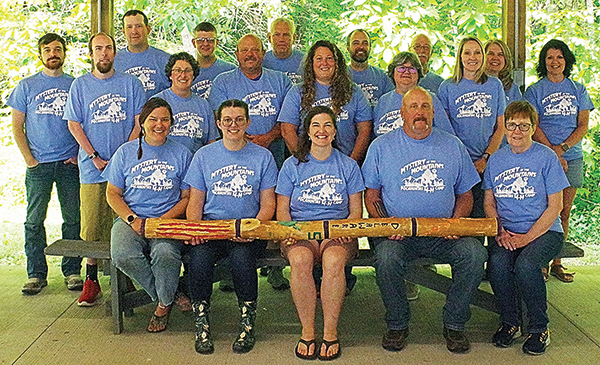 Pocahontas County 4-H Camp at Camp Thornwood was home to 110 4-Hers and 23 Cloverbuds during the week of June 12-16.
4-H Mystery in the Mountains was the theme for the week.
Campers arrived on Mountain Mystery Monday and played a game of the camp favorite, "Bring Me," after dinner.
On West Virginia Cryptids Tuesday, Dave Spinks from Discovery Channel and Netflix fame spoke to the campers about his search for popular West Virginia creatures, including Big Foot and Mothman. Later, the four tribes competed in a Scavenger Hunt to find their own camp Big Foot.
Chet Shifflett entertained campers on "Wonders of the Forest" Wednesday with a magic show, and Meadow Richards from the United States Forest Service gave a presentation about the 2023 Capitol Christmas tree that will come from the Monongahela National Forest.
On Scooby Doo Thursday, every camper decorated an ornament that will be placed on the special Christmas tree. Campers met the Pocahontas County police dog and participated in a fingerprinting activity led by Brian Shinaberry and Jeff Barlow. That night they played games and danced to music provided by a DJ under the Camp Pavilion.
On Mysteries of the Universe Friday, campers enjoyed a slideshow, field day and received tribal colored T-shirts for the annual camp photos. Each evening concluded with Council Circle.
The campers participated in a variety of classes during the mornings at camp. These included Air Rifles, Archery, Basketball, Black Powder, Bottle Rockets, Brain Games, Busy Bees Workshop, Car Care Basics, Ceramic Gnomes, Charting/Pre-Charting, Coding at Camp, Crafting, Diamond Dot Painting Art, Fishing, 4-H is Awesome, Jewelry Making, Kayaking, Mountain Biking, Orienteering with Compass/GPS, Outdoor Cooking, Pickleball / Yoga, Recycled Tin Can Planters, Roots and Wings, Shotgun, Soccer, Softball, and Tin Can Lanterns.
Chiefs and Sagamores of the tribes were as follows: Cherokee Tribe – Elizabeth Friel (1st), Kynlee Wilfong (1st), Andrea Alderman (2nd); Delaware Tribe – Haley Spencer, Hunter Cheek (1st), Luke Gainer (2nd); Mingo Tribe – Grace Beverage, Melinda Beverage (1st), Caitlin Mallow (2nd); Seneca Tribe – Hannah Burks, Caleb Ritter (1st), Jaryd Wilfong (2nd); Big Feet – Hallie Herold, Amy Henry-Morgan (1st), Herby Barlow (2nd).
Camp awards were presented to the 4-Hers during the final Council Circle on Friday night. Hannah Burks was selected as this year's "Spirit of Camp" and was presented the spirit stick, which was carved by each of the tribes during camp. The following campers were chosen as those best representing the four Hs of 4-H at camp: Head H – Haley Spencer; Heart H – Grace Beverage; Hands H – Hunter Cheek; Health H – Caleb Ritter.
Mingo Chief Grace Beverage contributed, "Camp to me is an adventure. It is a week every year that I look forward to. Camp has given me a hard work ethic, a generous heart, and many memories. The 4-H program has given me so much and I will spend the rest of my life giving back to others because of it. I hope that in many years to come it is the same wonderful program I grew up with. I want to see kids grow up in this program and develop the many skills I have learned through it."
Tribes were judged throughout the week based on camp spirit, sportsmanship, attitude, and how they exhibited the four Hs. The Cherokee Tribe was selected as the winning tribe overall.
Grace Beverage, Melinda Beverage, Hannah Burks, Caleb Ritter and Jaryd Wilfong received their 4-H Pins as a result of successful completion of the 4-H Charting project and classes.
Outstanding first year camper scholarships were presented to Rufus Morgan and Arabella Wade. The Cool Camper Scholarship was presented to Victor Dean. Grayson Barlow received the Harold Carpenter Scholarship. The Bee Gladwell Scholarship was presented to George Shifflett. Noah Dilley, Zara Fanning and Luke Gainer received the Shooting Sports Scholarships.
The 41 first year campers receiving "lucky penny" awards were: Cora Baldwin, Grayson Barlow, AJ Bauserman, Abby Bauserman, Marcus Bauserman, Ezra Bond, Kylor Brock, Parker Burns, Berkley Buzzard, Kegan Calhoun, Victor Dean, Carter Faulknier, Tyler Faulknier, Ava Fields, Crickett Gregory, Layla Highland, Gracie Irvine, Natalie Irvine, Aaron MacGregor, Maggie MacGregor, Quinn MacGregor, Shelldon Maitland, Lia Miner, James Monico, Mazie Monico, Rufus Morgan, Dallas Sharp, Quincy Sharp, George Shifflett, William Shifflett, Natalie Sisler, Abigail Stewart, Katelyn Stull, Aalina Thompson, Harmony Thompson, Roxie Thompson, Arabella Wade, Carmen Warner, Fayla Wilfong, Maggie Wilfong and Irelyn Withers.
Cloverbud Day, where younger youth were invited to experience what camp is like for the first time, included Bianca Arnold, Adalyn Beverage, Kinley Beverage, Ryan Burns, Julia Clifton, Noah Clifton, Michael Friel, Andrew Herold, Declan Irvine, Iris Krack, Alida McNeel, Isaiah McNeel, Luna Morgan, Ella Pugh, Emma Pugh, Simon Scotchie, Micah Scotchie, Alayna Sharp, Elizabeth Sharp, Bryce Taylor, Lydia Taylor, Henry Walther and Jace West. Nicole Rose-Taylor, Kendall Beverage, Nebraska Scotchie and Katie Workman led the Cloverbud activities.
Camp staff and class instructors for the week were: Luci Mosesso, Greg Hamons and Connie Burns (Extension Staff); Emma Daley, Drina Kearns (ECIs); Grace Estep (WVU STEM Ambassador); Amy Bennett, Jennifer Beverage, Amy Henry-Morgan, Hallie Herold, Kathy Irvine, Cathy Mitchell, Kristie Smith, Becky Spencer, Tracey Valach, Herby Barlow, Gray Beverage, JW Cheek, Randy Irvine, Josh Shinaberry, Michael Simmons, Chad Baldwin, Matthew Barkley, Lauren Bennett, Mike Burns, Ashley Moore, Brian Smith, Mikey Valach, Arlene Cheek. Kitchen staff included Sarah Hedrick, Kim Beverage, Martha Friel, Tomma Johnson and Teresa Cochran.