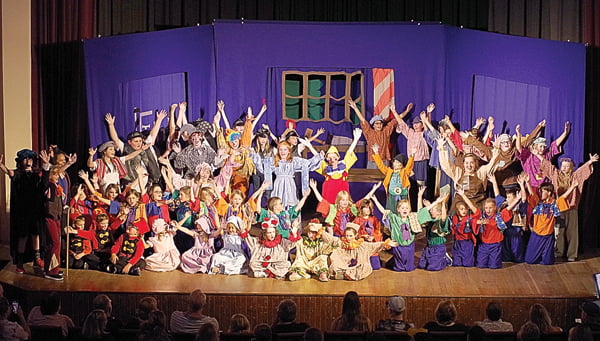 The Pocahontas County Opera House Foundation partnered with the Touring Program of Missoula Children's Theater, for the second time, to bring to life a full theatrical production in a single week.
Last summer's production of Peter Pan was a rousing success, as was this year's Pinocchio!
Children were cast in their parts on Monday and rehearsed throughout the week in a fun, safe and supportive atmosphere. In addition to acting, they were introduced by talented locals to improv, mime, voice and movement, as well as learning about puppetry, and the behind-the-scenes world of costumes, make-up, sets and props.
Charlie MaGhee Hughes served as Camp Director, and she had a village of volunteers to help her.
The following children presented two performances:
Austin Price as Pinocchio; Torrie Price as Jiminy Cricket; Ramona Hardy as Blue Fairy; Warren Burns as Stromboli; Lainy Sharp was the Fox; and Penelope Campbell was the Cat.
Urchins were: Berkeley Buzzard, Serenity Cochran, Willa Hardy, Jordan Faris, Kerrigan Kirby, Chuckie Perry, Caden Martin, Amanda McCormick, Erin Rider, and Iris Tanner.
Rachel Felton played Candlewick; and her Candlewick Crew included Harley Bennett, Alary Creamer, Draven Hannah, Madalynn Landis, Alyssa McCormick, Magnolia MacGregor and Penelope Quinn MacGregor.
School Kids were played by Emma Anderson, Eli Beezley, Julia Brown, Madeleine Burns, Colton Cassell, Lillie Cassell, Skylar Clary, Brynn Clutter, Molly Cook, Silas Dean, and Zara Fanning, Claire Gudmundsson, Elise Martin, Eowyn Smith, Nicole Strader, and Abbi Turner.
The Puppets were Kailynn Dean, Regan Friel and Kaylee Pritt.
Toys: Sadie Alderman, Weston Cassell, Kaya Eves, Ayla Fanning, Zoe Guamis, Layla Highland, Wren Kirby, Aaron MacGregor and Jonah Tanner.
The Theatre Camp was sponsored in part by: The Burns Family, in memory of Dick and Ruby Burns; Joel Callison and Family; Marlinton Woman's Club; Marlinton Rotary; Genesis Healthcare Pocahotnas Center; West Virginia Department of Arts, Culture and History; Arts Works; National Endowment for the Arts; and the Montana Arts Council; with support from local businesses and individuals.
The Missoula Children's Theater is the nation's largest touring children's theater and has been touring extensively for more than 40 years, from Montana to Japan, and will visit nearly 1,200 communities this year with up to 44 teams of tour actor/directors.