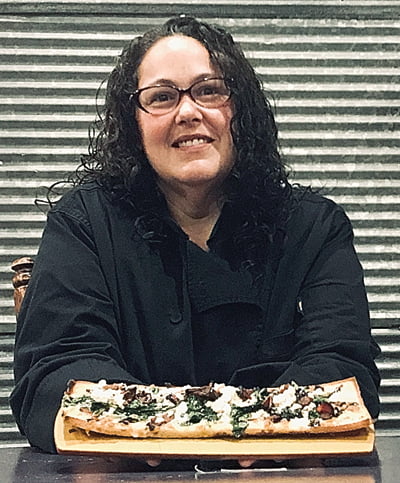 Elizabeth "Libby" Nolle, D & E Class of 2003, is proud to be a finalist in the Best Chef category for West Virginia Living Magazine's Best of West Virginia. Each year the magazine highlights a broad range of the state's best from restaurants and food trucks to florists and outdoor adventure outfits. Libby is the only woman on the list this year. Voting began September 21 and runs through October 11. Vote by going to WVLiving.com.
Born in Philadelphia and raised in Maryland, Libby's love of food and how it can bring people together came from her father, who had deep family roots in northern France. The smell of beef searing, onions caramelizing and of wine deglazing a pan are the smells of her childhood, and these family traditions continue to influence her cooking style. A love for the mountains and the outdoors drew Elizabeth to Davis and Elkins College, where she majored in Hospitality Management. It was there at a Quantity Food Prep Class with Chef Melanie Campbell that she first recognized she not only loved to cook, but that she was good at it, as well.
After graduating from D&E, Elizabeth traveled a bit, working in Maine and later Louisiana, before these wild mountains call-ed her back. She next worked at Snowshoe Resort for several years, starting as a sous chef for the catering department and later working at both the Bistro and the Foxfire Grille, where she served as the kitchen manager.
Food, West Virginia and hospitality are three of Elizabeth's favorite things (along with The Sound of Music), and from these three complementary passions, she formed Sugar Camp Kitchen, where she used locally and/or responsibly sourced ingredients to create an array of frozen meals – you may have seen her dinners at the Snowshoe or Fayetteville Farmers Markets or had one of her personalized deliveries to Tucker, Randolph, Pocahontas, Fayette or Raleigh County.
Having settled into a cozy life in eastern Nicholas County, Elizabeth's time is now spent at the charming Whistle Punk Grill & Tap House in Richwood. The restaurant is owned by her friend, Lance Raffo, another Marylander whom she met during her time at Snowshoe. The Whistle Punk serves "handcrafted food with unique flavor combinations, utilizing as many locally sourced ingredients as possible" and has proven a perfect fit for Libby's talent and passion.
If you have had the opportunity to enjoy some of Libby's cooking, go to WVLiving.com and vote for Elizabeth Nolle for Best Chef.