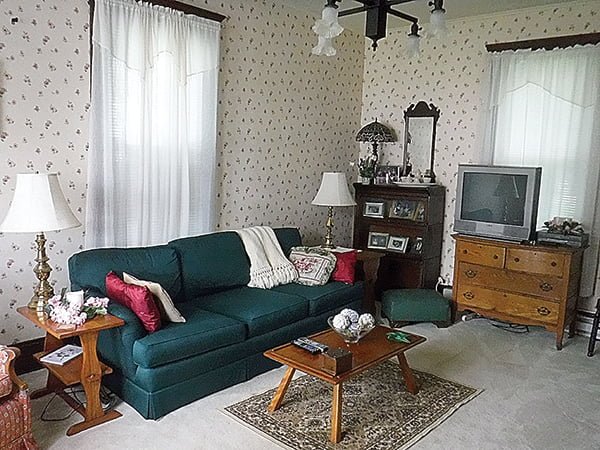 Jaynell Graham
Editor
 
Nearly every school, home and corner in Marlinton holds memories for the people who were raised here.
One such home is on 10th Avenue. It was built for Robert and Alta Rose in 1903 by M. E. Pugh.
Current owner, Sally Rose Ribeiro, of Richmond, Virginia, said Pugh used his wife's diamond ring to cut the date, 1903, into the window glass in the front room. When the windows were replaced a few years ago, Ribeiro kept that one particular window – which serves as the beginning of a most interesting story.
A lot of history, laughter and hospitality are contained within the walls of this home, but as is true with most homes, there was also sadness, tinged with a good helping of stick-to-itiveness.
Today, that home is known as Nola's House, and is a vacation rental property.
Years ago it was also known as Nola's house, because Ribeiro's mother, Nola Rose, lived there with her family, and welcomed the world to her door.
Nola worked for many years at the A & P Store in town, and in the evenings she was hostess to friends and extended family.
Passersby were treated to a most memorable sight years ago, through the front window of Nola's house, when friends and family gathered around the dining table to play cards until the wee hours of the morning.
The interior of the house is much the same as it was then. Ribeiro said guests have told her that they feel like Nola might walk in any minute. 
"I just tell them if she did, she would say, 'Deal another hand. What kind of pie do you want?'"
Nola's house was always welcoming – she, with her deep laugh, and always something in the kitchen to share.
"That is what I am trying to maintain," Ribeiro said, "that welcoming feeling that Nola had there. I want to be as accommodating as she was, so folks feel like they are being taken care of." 
Nola's House is not a Bed and Breakfast; it rents as a home, and, true to its past, there is "always something in the kitchen to share."
"There is always coffee," Ribeiro said, "and there is food in the pantry, and all I ask is if people use it, that they replace it. But a lot of people bring their own groceries and prepare their meals there."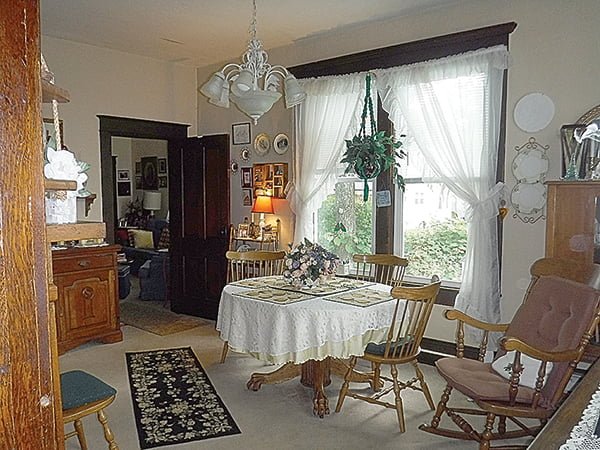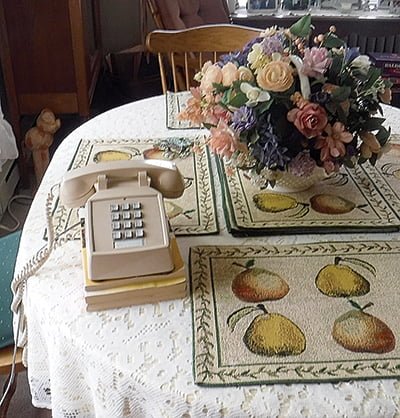 And sit at that dining table that was a gathering place for so many people, for so many years. 
Nola's House has three bedrooms and two baths, and can comfortably accommodate up to eight people. 
Nola's House provides visitors with a "home" when they need it, as it has for others in the past.
"It became a home to us when we didn't have one," Ribeiro said of her family. 
Ribeiro's father, Nola's husband, Bob, died of a massive heart attack at the age of 42.
Nola and her three children, Sally, Robert "Chuck" and Tom, moved in with Bob's mother, Alta, in the early 1960s.
Alta quickly became known as "Big Mom."
"It was very confusing at first," Ribeiro said. "When we would yell 'Mom,' two people would answer, so Mom decided that [Alta] should be called 'Big Mom.'"
That name stuck, and from then on, nearly everyone in town called Alta Big Mom.
But Nola wasn't the first in that home to raise children on her own.
When Alta's husband, Robert, passed away, also at age 42, she was left to raise their children alone. The youngest, Louise, [McKeage] was just six months old at the time. The other children found jobs to help support the family. Peggy [Margaret Lutz] played the piano rolls for the silent films. Mildred [Shortt] worked at Lang's Dress Shoppe, Sis [Mary Ruth Moore] got a job in a lawyer's office, and as a young boy, Ribeiro's father, Bob, shined shoes. Another son, Shan, rounded out the family.
"This was just before the Depression," Ribeiro said. "Before Social Security. Before Medicaid and Medicare. Before welfare. You had to depend on yourself, or your friends and family for help, or go to the Poor Farm.
Alta rented rooms to make ends meet.
Sometimes it looked like the ends wouldn't meet.
"Once, when she was down on her luck, Big Mom said she put on her best bib and tucker and went downtown to look for her brother, Charlie Young," Ribeiro said.
"She found his car at a service station – but she didn't find him. There were two guys there getting gas, and Big Mom overheard them ask if anyone knew where they could rent rooms. Big Mom told them she had rooms to rent. The men were in the area painting Mail Pouch Tobacco signs on barns. They stayed through the summer and when they left, she found that they'd left a $50 gold piece on the dresser for her. It got her through that hard time.
"I well remember that anytime we were down on our luck or running low on money, Big Mom would tell the story about the Mail Pouch Tobacco painters."
It is the stories of Nola's House that make it special to Ribeiro and her brothers, and it is, perhaps, two ferns that led to the home becoming a vacation rental.
The ferns are well over 100 years old, and neither Ribeiro, Chuck nor Tom wanted to take the ferns home with them for fear the ferns would die.
"As long as the ferns survive," Ribeiro said, "I will try to keep a house for them to live in."
It takes bricks and mortar to build a house, but it is the people and their life stories that make it a home.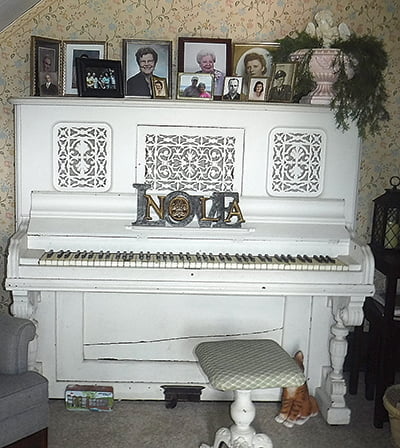 Now, folks from all over the country can come to spend time in Nola's House, and imagine what it was like to have lived there with strong, hospitable women who did whatever it took to hold together hearth and home.
Nola's House is available for rent year-round with the exception of the week before Christmas, when Ribeiro and her husband, Dario, Chuck and his wife, Sharon, and Tom and his wife, Carolyn, get together to check on the ferns and share the stories that bind them together as a family.
If you are looking for sleek modern, then Nola's House may not be your cup of tea. This is a "family rental" in a home filled with memorabilia.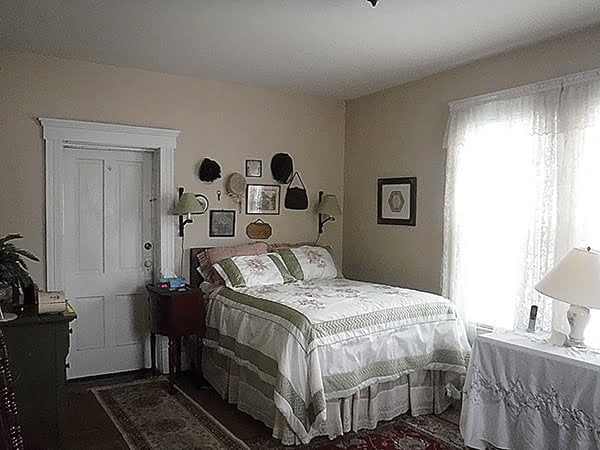 Rentals of the property began with friends from the Richmond, Virginia, area looking for a place to stay during ski season, and it just blossomed, Ribeiro said.
Weddings and family reunions have now moved to the forefront of activities that bring people to Nola's threshold.
Reservations may be made at VRBO.com/379544 or by contacting Ribeiro at 804-937-0568.