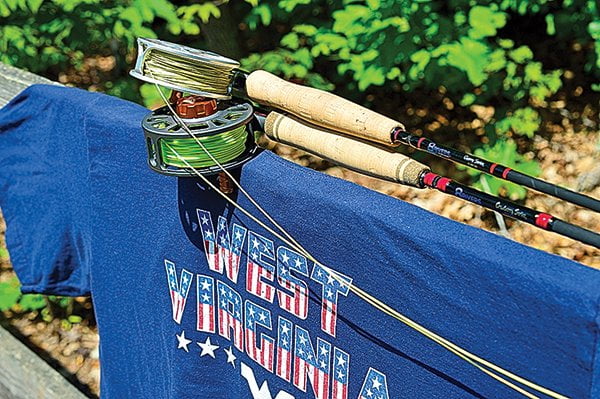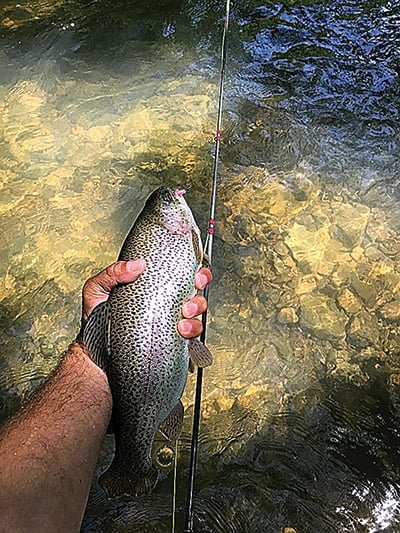 Suzanne Stewart
Staff Writer
When 8 Rivers Fly Rod Company president Matt Holtsclaw was a young boy growing up in Charleston, his family vacationed in Pocahontas County, where he made some of his best memories fishing with his father.
"My dad was a Metho-dist pastor and he retired from Union Carbide," Holtsclaw said. "He was a World War II veteran and he was an avid outdoorsman. He was the greatest outdoorsman I've known. He was known for taking people hunting and fishing."
The Holtsclaw family bought land near Green Bank where they built a cabin and made annual trips to enjoy the outdoors and relax in the beauty of the county.
When Holtsclaw became an adult, he started his own land surveying business, but his love of the outdoors and fishing never left him.
In one of his last conversations with this father, Holtsclaw revealed he wanted to start his own fly rod company.
"We were around the kitchen table – it was me and my dad and my mom – and I said, 'I would like to start a fly rod company,'" Holtsclaw recalled. "It came out of that and our love for Pocahontas County. Being one of the last conversations I had with them, it never left me. I continue to love to fly fish and when I had the opportunity, I just made the decision to pull the trigger."
In 2016, the dream became a reality, and 8 Rivers Fly Rod Company was launched to the public.
Inspired by Holtsclaws formative years as a fisherman on the rivers of Pocahontas County, the fly rods are 100 percent made in America and are inspired by the eight rivers which begin in Pocahontas County.
"I guess it goes back to the passion of growing up there – it never left me," Holtsclaw said, explaining why he chose 8 Rivers for the company's name. "It has never, ever left me. I fished out west. I lived out west. I lived in Arizona. I went up into the canyon country and fished up there. I've been to Colorado numerous times, great times up there. It just never left me and I return to Pocahontas County when I can to fish."
While the company and Holtsclaw are based in Georgia, the fly rods carry the names of Pocahontas County's rivers and are distinct in their design based on the character and size of the rivers.
"Our flagship right now is the Cranberry series and that's a nine-foot, five weight and we have a matching spinning rod to go with that – it's a six-foot two-piece ultra light," Holtsclaw said. "Honest to goodness, it's just awesome. It's what we call the sweetest trout rod built in America today.
"The Cherry series is a little bit smaller because Cherry River is smaller," he continued. "We have an eight-foot, four weight for the cherry and a five-foot ultralight one-piece, both being smaller rods."
Of the eight rivers, there are currently three series – Cranberry, Cherry and Gauley – but Holtsclaw is already working on designs for the other five rivers.
"Future models will reflect fishing techniques and types for those rivers come out of Pocahontas County," he said. "For example, the Tygart River goes out through Elkins and up into Grafton, you've got the impoundment up in there and that area is known for small mouth bass and walleye, so we have a rod planned for the Tygart series which is going to be a small mouth bass specific rod.
"We have Shaver's Fork," he continued. "We have a lot of requests for a shorter fly rod that can navigate the small streams and the laurel bushes, so instead of being eight or nine feet, we're working on something that's going to six-and-a-half feet."
The looks of the rods will be series specific, too. The Cranberry series has cranberry thread with titanium gun smoke accent lines and the Cherry series is jet black with cherry red accent thread.
"We like to make each of our series aesthetically different," Holtsclaw said.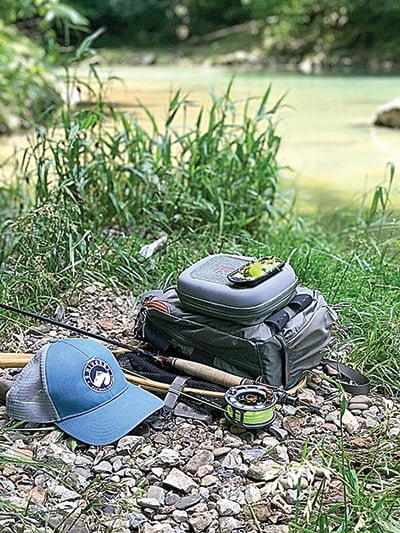 In manufacturing the rods, Holtsclaw was dead set on one thing – every component had to be made in America. He worked with Northfolk Composites owner Gary Loomis and created a graphite matrix which is specific to the 8 Rivers Fly Rod Company.
"We were able to come up with our own proprietary graphite matrix that can be found nowhere else," Holtsclaw said. "We have XG1, XG2, XG3. If someone else would want to come in to Northfork Composites up in Washington state and say 'we want to build a rod like 8 Rivers Cranberry fly rod, can we have that graphite?' No they can't. That's a proprietary graphite to us."
While Holtsclaw grew up learning to fish with a spin caster, he said he was drawn to fly fishing and the art of it, so that is why he chose to focus on fly rods.
"Fly fishing was a natural progression for me, meaning I started out as a kid with a worm and bobber like most people," he said. "When I got on up there – eight, nine, ten, into my teenage years – it was spin cast, the spinning rods, open faced reel spinning rods with my dad on the streams. Then it was a natural progression to, once you get that down and get really good at it, it's sort of challenging yourself. It's like the next step up – the pinnacle, if you, will is fly fishing.
"Fly fishing has so many positive attributes to it and it allows you to go as deep into it as you would like to do – from tying flies to building rods to learning about hatches and bugs and stream and aquatic life – so you really get into a well-rounded environmental learning process with fly fishing," he continued. "That aspect of it along with the actual process of fly fishing attracted me, so I fell in love with it."
Holtsclaw said he hopes to change the way fly fishing is perceived in the outdoor world. While there are 50 million traditional spinning and casting fishermen and women in the US, there are only five million fly fishermen and women. That is a number he wants to see increase.
"We are dead set on opening the window and kicking out the snobbiness and the intimidation factor of fly fishing," he said. "Although we are definitely a fly rod company first – it's in our name – we want all fishermen and women to feel welcome at 8 Rivers. We're an inclusive company, not an exclusive company. We feel like fly fishing should be a progression of your skill set. There should be no intimidation factor to it."
The 8 Rivers Fly Rod series' can be found exclusively online at 8riversflyrods.com
The company is the only veteran owned and operated rod manufacturing company in the country and is certified by the Center for Verification and Evaluation in Washington, D.C. by the Veterans Administration.