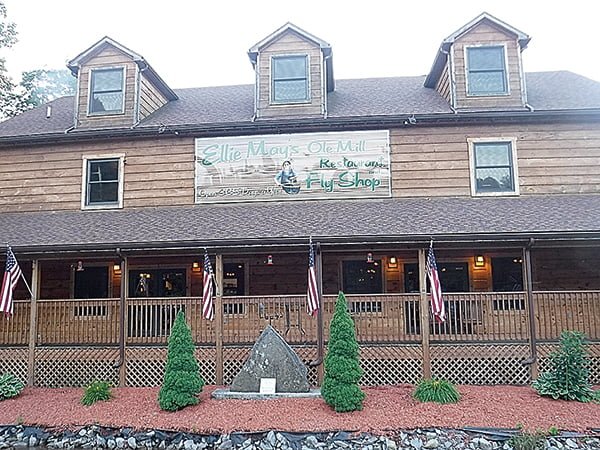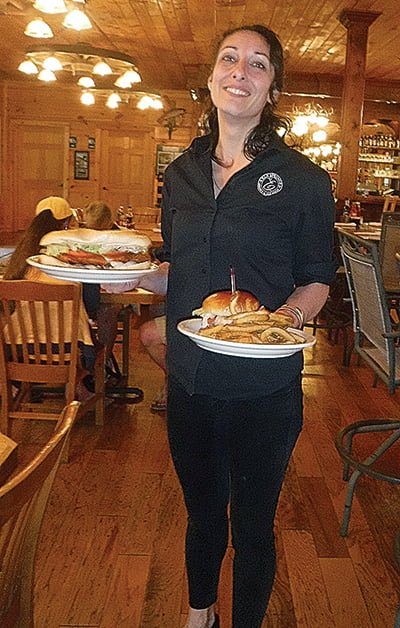 "It's our 'Cheers'" ~ Vickie Shaffer
 
Jaynell Graham
Editor
 
If you're looking for a good meal and good conversation, off the beaten path, you need look no further than Ellie May's Ole Mill Restaurant at Elk Springs Resort in Monterville.
Turning off Rt. 219 onto Dry Branch Road at Mace, you are just 10 miles from an excellent, friendly and peaceful dining experience.
After last year's flood, the Dry Branch Road was refurbished and paved, making the trek a little easier than the former graveled access. An alternate route is to take Rt. 15 from Valley Head.
Whichever way you go, you will find that a new world opens up as Elk Springs comes into view.
On a recent Saturday night, diners were treated to a special of colossal crabmeat, shrimp and lobster, sautéed in garlic butter, served atop creamy parmesan asparagus risotto.
Chef Kim Guiden was just back from her annual trip to Canada, and she was inspired, Nickki Alikakos said.
Alikakos is a member of the wait staff, and she is funny, energetic and efficient.
There's more to a restaurant than food, although the food at Ellie May's is enough on its own. 
In the realm of "it's a small world," Alikakos' brother, Chris, went to school with my son, Jay.
My dining companion and brother, Bill Graham, remembered that Alikakos' father, George, had several old Volvos, which was fodder for more conversation.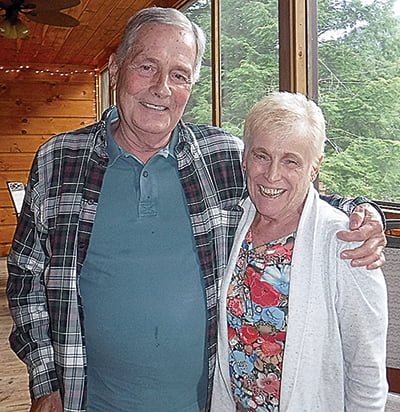 A couple was dining on the deck, overlooking the Elk River, and as I approached them I introduced myself, to which the gentleman said, "I met you four years ago when you were here, and I have been a subscriber to The Pocahontas Times ever since."
It was Ed Shaffer who was having dinner with his wife, Vickie.
"I have been around the Valley Fork of the Elk since 1968," Shaffer said. "All that was here then was the river and the grist mill. We have watched this happen."
"We lived in Huntington, but we probably spent forty weekends a year here," Vickie said. "There was no interstate then, and it was a five and a half hour drive. It's where we came to relieve the pressure and stress, and we came here for the beauty of the place."
Vickie was in charge of the Transportation Department in Huntington, and Ed ran his own business, Wilson Welding.
The Shaffers, who mov-ed to the area full-time in retirement, said they love Elk Springs.
"We are cheerleaders for this place," Ed said. "We live a mile and a half or two miles from here, and we eat here at least once a week.
"It's like having a 'Cheers' in our backyard," he said, referring to the TV sitcom.
Vickie agreed.
"It's our 'Cheers,'" she said.
Alikakos, who works at different resorts in differing seasons, doesn't drive five and a half hours to Elk Springs, but she does drive from Cass each work day.
"I call it the Disneyland of Fishing," she said. "I love the commute – the back roads. I've seen bear, deer, and a fisher, I think. I keep my eye out for fishers, but they are so fast you don't know if you've seen one or not.
"I cross the CC Road – through the back roads. It can be raining and storming, and I get here to Elk Springs, and the sun is shining, there are butterflies, and I say, "what is it with this place?"
What this place is, is a fine restaurant, fly fishing venue, with great lodging accommodations, an Ovis Fly Shop and a great place to just hang out.
It's a place to "relieve the pressure and stress" and forget the rest of the world for a while. 
Chef Guiden even left the pressure of the kitchen to pay us a visit at our table. 
Just how did Guiden find her way to Ellie May's? 
She attended the College of Culinary Arts at Johnson and Wales University in Providence, Rhode Island. Her roommate there was from Elkins. That friendship brought her close to Elk Springs, but she took a detour to Snowshoe Mountain Resort where she began her career in 1994 at the Red Fox. She later became part owner of a new restaurant at the time, the Foxfire Grille.
Last spring, Elk Springs sous chef Clay Baxter contacted Guiden and asked her to come to Elk Springs to help out – and she did
"I've learned everything from her," Baxter said. "It's an honor to work with her."
The kitchen staff turns out some unique and specialty dishes in addition to fare fit for the younger crowd. Keeping with the resort's fishing tradition, the children's menu at Ellie May's is titled, "Menu for the Minnows."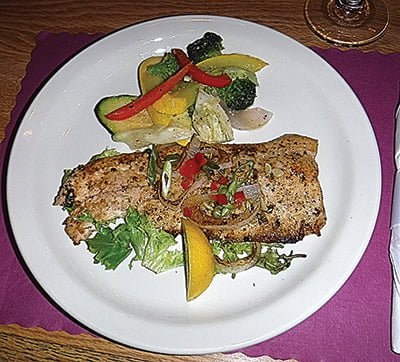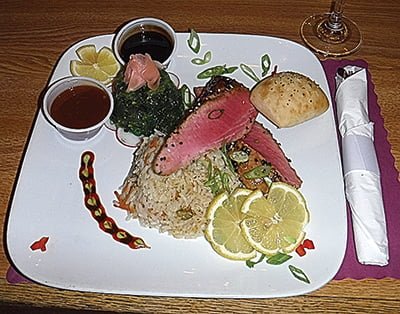 While fresh trout is its specialty, my brother opted for the ribeye, which he declared to be the best he's ever eaten. That's saying a lot, because he has put away his fair share of cows in his lifetime. He gave me a few bites of it, and I must agree with him. It was perfect.
I went for Adam's Ahi Tuna, and we were treated to a filet of trout with sautéed vegetables, compliments of the chef.
The food was delicious and the servings were more than ample. I came home with enough for a second meal.
The dining experience is enhanced with a wide variety of legal beverages.
The decision to have dinner at Ellie May's is easy. Trying to decide on just one menu item will prove to be more difficult.
Should a person have the Angler's Ribeye, Slaty Fork Sirloin, Point Mountain Chicken, Dead Drift Duckling or Tight Loop Lasagne? Maybe Spring Creek Trout, Rainbow Ravioli or the Fisherman's Favorite?
For lunch, the options include Raceway Trout Sammie, Brassie Burger, Humpy Chucker Hoagie – featuring ham, salami, pepperoni, provolone cheese, hot peppers and lettuce, tomato and onion –  or the chimney Rock Chicken Sandwich or Patrick's Patty Melt?
I guess you can see that my lunch choice will probably be the Humpy Chucker Hoagie.
You can view the full menu and more at elkspringswv.com
Ellie May's Ole Mill Restaurant is open Monday through Saturday from 8 a.m. to 10 p.m. and on Sundays from 8 a.m. to 8 p.m.