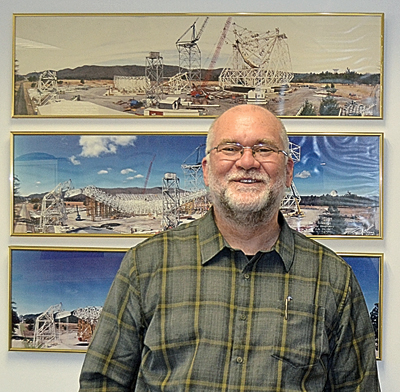 Suzanne Stewart
Staff Writer
 
Green Bank Observatory director Jim Jackson has only been in his new position for a month now, but he's happy to a say lot of exciting things are happening at the observatory and in the astronomy community. 
Jackson came to Green Bank from Silicon Valley, California, where he was the associate director for research at the SOFIA Science Center.
One of the first things Jackson participated in as director at GBO was the decadal review of the facility. 
"Every decade, the astronomy community gets together, and they decide collectively their priorities for the next decade," he explained. "It's a pretty big deal."
The last decadal review didn't go so well for Green Bank, which was still part of the National Radio Astronomy Observatory. It was in that review that the National Science Foundation suggested divesting in the Green Bank facility.
Fortunately, the astronomy community and West Virginia rallied around Green Bank as it became a separate entity and adopted the Green Bank Observatory name. It found new partners and funding sources and has continued to be a respected part of the astronomy community.
The latest decadal review went differently for the GBO.
"Green Bank did really well," Jackson said. "I'm really pleased with that. It's a community endorsement and that really bodes well for our long-term stability. There are lots of opportunities there, and we got kind of a blessing and endorsement from our peers, so that's great."
One opportunity that opened for the GBO came with the devastating news that the Arecibo Radio Telescope in Puerto Rico collapsed in December 2020 after suffering several structural issues.
Although the Arecibo telescope wasn't the same as the Green Bank Telescope, there are some projects that can be transferred to Green Bank and researchers will be able to continue their work.
"Arecibo does some science that we could do," Jackson said. "Arecibo's bigger, so in some sense they're more sensitive that we are, but we're not bad compared with them. One particularly interesting opportunity for us is radar.
"Arecibo was a big radar transmitter," he continued. "They would beam radio waves at asteroids, typically, or plants and then telescopes around the world or even back at Arecibo would receive those signals and just as a cop does with their radar gun, they understand how things look – the surface composition of the asteroids or how fast some of the planets are rotating."
A project that was in the works with Arecibo was the use of radio cameras – something Jackson thinks can be modified to be used on the GBT.
Jackson explained that using a radio receiver like the GBT is like looking through a pinhole camera. You focus on one spot in the sky at a time. If you want to make a map of the sky, you move the receiver around and record one spot at a time. 
With a radio camera, the telescope could see much more and map the sky quicker.
"If you had a camera, you'd have a million pixels, and you look at all the pixels," Jackson said. "So, with a radio camera instead of just having one spot that you're looking at, you look at a dozen, or twenty, or forty, or a hundred. What you want to do is fill the whole field of view of your telescope as fully as possible." 
Jackson said it would be like having 100 GBTs looking at the sky instead of just one. It will make mapping the sky much faster. 
"You can make those maps much more quickly," he said. "It's much more sensitive. Arecibo did that, and that technology could be transferred to Green Bank. There's a project that our colleagues at Brigham Young are championing that was designed for Arecibo and we're looking into the possibility of bringing that sort of camera here.
"They have a design for Arecibo, but with some minor modifications, we could probably get it to work here," he added. "Of course, we're saddened by the demise of Arecibo. It's nothing that we wanted. It's terrible for our colleagues. It was a sad, sad day." 
Along with new projects, the GBO is continuing work with several collaborations, including the Breakthrough Listen and NANOGrav projects.
"We work with our friends with Breakthrough Listen and they're search for techno signatures from other civilizations – a long goal of radio astronomy," Jackson said. "This is nothing new for Green Bank, but it's cool." 
Of course, the Search for Extraterrestrial Intelligence [SETI] has a long history with Green Bank. In 1960, astronomer Frank Drake performed the first modern SETI experiment  – named Project Ozma – at Green Bank. A year later, Drake was again at the observatory in Green Bank when he formulated the Drake Equation which is used to estimate the number of active, communicative extraterrestrial civilizations in the Milky Way Galaxy.
Does Jackson believe there are extraterrestrials in space?
"This is always a tricky thing to ask an astronomer," he said. "Do you believe in life outside our planet? What we're finding is that planets are very common; planets around other stars. Certainly, we've seen thousands of planets. We've measured, we've sensed the presence of thousands of planets around other stars.
"So, planets are out there," he continued. "Then you ask yourself, okay, if planets are common and planets, like Earth, are prerequisite for life, then the odds are there are Earth-like planets out there. Almost certainly, and we will find them within the next decade. The technology is there to do that. We just have to build the machines to do it."
Once those Earth-like planets are discovered and studied, then the question remains – will life or signs of life be found on those planets? 
"If you have an Earth-like planet, how likely is it for life," Jackson said. "That's the trillion-dollar question. We don't know. We just simply don't know. But is it unlikely? I don't think so."
Jackson cites many times in astronomy history where hypotheses have been proven wrong. Learning that Earth was not the center of the Milky Way, the sun was not at the center of the galaxy but, in fact, it is toward the edge of the galaxy. Then we learned that the Milky Way is not the only galaxy in the universe.
The discoveries continue and hypotheses continued to be proven right and wrong.
"Every time that you assigned a special status to the Earth or the sun, it was later shown to be incorrect," Jackson said. So why should this place be so unique in the trillions and trillions of galaxies out there; the trillions and trillions of planets out there. Even if the odds are one in a million, that still leaves you millions.
"If the probability is nonzero, then there has to be some kind of life," he continued. "That's the thrill of this. We're in the discovery business. Every time we look at something, we're seeing that particular object and that particular wave for the first time. Many of the best discoveries – and you can argue most of them – are totally accidental. You go looking for one thing and you find another, and say, 'Oh, I wasn't expecting that.'"
One project at the GBO that led to an interesting discovery was with the NanoGRAV collaboration.
While it was studying gravity waves, the NANOGrav group theorized that if a lot of mass wiggles in space, it will send out ripples in space and time.
"That's a prediction from Einstein's Theory of General Relativity," Jackson said.
"They developed this amazing technology of these laser interferometers that are buried underground in these kinds of vacuum tunnels," he continued. "There are these two sets of mirrors and you have these lasers measuring the distance between those mirrors. What you see is, the distance between these two mirrors changes. That effect is measurable and as a gravity wave passes, it will distort the space and that will change the distance, and by gosh, there you are, you see them."
As well as exploring the universe in conjunction with the astronomy community, Jackson said the GBO wants to continue to be a good neighbor in its physical community. He said he wants the community to know the GBO will remain a part of the community and be there for its neighbors.
"We want to be good neighbors," he said. "We are a part of this community. The people who work here, live here, so it's not as though it's an enclave where the people aren't welcome. Everyone is welcome. It's not like a military base. We don't do anything black ops. It's really about research. It's really about looking at things in the sky."
There are times when being neighbors with the GBO is difficult – mainly due to the National Radio Quiet Zone which prohibits cellphone use and limits WiFi use – but Jackson said the GBO is always looking for ways to make living in the quiet zone better.
"Our receivers and our technology's gotten so much better and so much more sensitive," he said. "We can detect really faint signals and that's what we're going after, the really faint signals. It's not as though these are blasting at us. We're coaxing some really faint stuff from the sky and it's just not easy to do if there's a lot of other radio transmissions."
With that said, Jackson understands the frustrations of the community when it comes to WiFi and cellphones.
"We're not anti-internet," he said. "We hate it when the internet goes down. We're not the WiFi police. We're not going to come break down your door like a Stormtrooper in the night. It's not going to happen. We'll work with the community to make it easier for both of us. We want people to appreciate that."
Jackson said he recently worked with the Pocahontas County Commission and Pocahontas County Emergency Management Director Michael O'Brien to provide a radio quiet waiver for police and rescue services to use radios to communicate in the quiet zone.
"We've come up with a very nice and equitable solution that serves both of our needs," he said. "We want to work with the community. We're not unreasonable."
With so many projects and opportunities ahead of him, Jackson is ready to see what the future and the sky hold for him.
"I'm thrilled to be here," he said. "I love the staff here. They're dedicated. They're talented. It's really a nice community. I feel a sense of community here. I'm lucky and blessed to have this job."