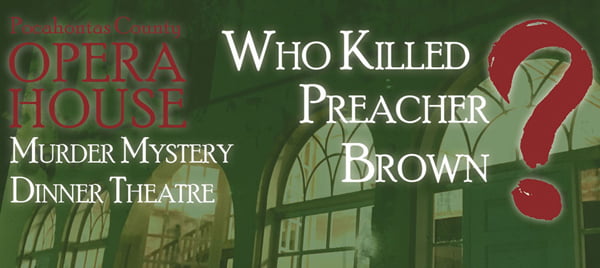 The Opera House Murder Mystery Dinner Theatre event is back by popular demand!
The Pocahontas County Opera House will present Who Killed Preacher Brown?, an interactive murder mystery dinner theater, October 26, 27 and 28 at 6 p.m.
Tickets cost $35 and can be purchased by calling 304-799-6645 or online at www.pocahontasoperahouse.org.
This year's play is set in the 1920s – a time of flappers and prohibition, bath-tub gin and dancing the Charleston.
A new preacher has come to the not-so-sleepy little town of Marlinton, West Virginia, determined to root out the evil that lurks below the surface.
But who is he really? And why would anyone want to kill him?
That's what the audience will have to find out as they question the suspects and sort through the clues to find the killer.
"Our first effort, The Ghost of the Opera House, was so popular we decided to make it an annual event," said Arla Ralston, writer and director of the interactive plays. "Last year the murder mystery was scheduled for two nights and it sold out weeks before the performance. We've added a third night, but I still recommend getting your tickets as soon as possible."
The $35 ticket price includes dinner, the play and non-alcoholic beverages. The online ticketing allows guests to choose their seats or book a table for eight so they can sit with their friends.
Cast members include Bob Martin, Mary Moore McLaughlin, Brynn Kusic, Seth Kiriluk, Jay Miller, Susan Grant, Rick Keener and "A Mysterious Stranger."