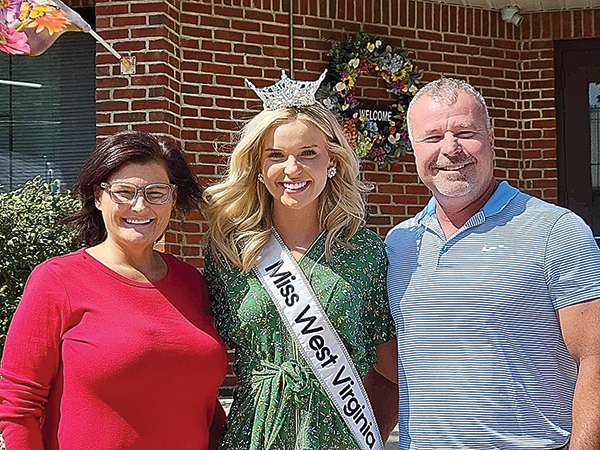 Laura Dean Bennett
Staff Writer
Shannon Anderson's kindergarten class at Marlinton Elementary School was thrilled to receive a surprise visit from Miss West Virginia, Karrington Childress, last Friday afternoon. 
The youngsters' eyes grew wide as Miss West Virginia swept regally into the classroom wearing her satin sash and glittering crown. 
The warmth of her smile set the tone for a cozy visit as the elegant young lady took her seat in a rocking chair and the class gathered around on the reading rug. 
One little voice was heard to whisper, "You look just like a fairy tale princess!" 
Childress, who is from Charles Town, told the class a little about her family – mom, dad, younger brother, Kolton, and their two dogs, Paisley and Lucy.  
Childress recalled that Kolton had a hard time learning to read and consequently, struggled in school. 
"That's why when it came time to choose my special project as Miss West Virginia, I knew right away it was going to be about the importance of reading," Childress said. 
Childress chose to focus on literacy with her "Readers are Leaders," theme.
"When he was in first grade, Kolton really didn't like school. It was all because of his trouble with reading. It took time and he really worked at it, but he finally became a good reader. After that, school became much easier.
"Now Kolton is in college and is doing phenomenally well," she said proudly. "He's studying to be a police officer."
Miss West Virginia is a senior at Shepherd University, majoring in elementary education. After graduation, she plans to teach first grade, hopefully, somewhere in West Virginia. 
Childress won her first crown at an early age, earning the title Little Miss Jefferson County Fair at the age of four.
She was crowned Miss Shenandoah in 2021 and Miss Morgantown in 2022 before finally being named Miss West Virginia at the competition in Martinsburg in June of this year.
During her visit last Friday she read "Tales of the Dairy Godmother," to the kindergarteners.
The book is about Little Chuck, who dearly loves ice cream. His "dairy wish" is granted and he learns how ice cream is made.
The story cleverly combines two of Miss West Virginia's favorite topics: literacy and agriculture.
The reading was well received, after all, who doesn't like ice cream? 
Miss West Virginia asked the class how many of them lived on a farm, near a farm or had relatives who had a farm and seemed bowled over to see so many hands fly into the air.
There was an exchange of many personal stories, as the children discovered all they had in common with the elegant young lady wearing a crown.
Childress explained that she kept her crown and sash in a "magic box" and that she would be entitled to keep that crown forever. She even graciously removed it and allowed it to be passed among the students.
"I trust you to have gentle hands," Miss West Virginia said. And they did. It was passed along gingerly and with awe.
Childress has a Facebook page on which she hosts "Karrington's Kids'" and offers her recorded readings to parents and caregivers to enjoy with their youngsters.
During her tenure as Miss West Virginia, Childress plans to visit elementary schools in all 55 counties, a goal made possible due to the financial support of the West Virginia Farm Bureau. 
She hopes to visit public libraries in all 55 counties to promote reading, as well. 
She told the kindergartners that "being Miss West Virginia is the coolest job in the world. I get to meet kids all over the state and I get to go to all kinds of interesting places. 
During her travels around the state, Miss West Virginia was accompanied by her parents, Dustin and Tina Childress. 
"We have been traveling quite a bit since I was crowned. It's been so much fun meeting people and learning about each county. 
"It wasn't long ago that I was at the West Virginia State Fair and besides meeting so many nice people, I got to watch a baby calf being born."
It was at the State Fair that Childress met Peggy Owens, Pocahontas County native and member of the Pocahontas County Arts Council. When Owens learned that Miss West Virginia wanted to make connections with elementary schools, she invited her to come to Marlinton Elementary, where she was sure Childress would receive a warm reception.
As the visit was coming to a close, Miss West Virginia asked the students to carry home an important message to their adult family members.
"Tell them that Miss West Virginia asked them to please read to you for at least ten minutes every day," she said. "Reading is so important. It will make such a difference."
Anderson said that the visit was the high point of her students' week. 
"The kids were mesmerized," Anderson said. "The surprise was perfect for our "Fun Friday" activities. 
The students each got a chance to introduce themselves and shake hands with Miss West Virginia before she left to enjoy touring some of Pocahontas County's tourist attractions.
The Childress family stayed overnight at River's Edge Cabins in Marlinton as the guests of Crystal Dean. On Saturday, they dodged the raindrops as they perused the arts and crafts on display and enjoyed the sights, enticing aromas and delicious flavors on offer at the RoadKill Cook-off and Autumn Harvest Festival.
 
"It is not going to rain on my parade," exclaimed Miss West Virginia, smiling and laughing from under her umbrella. 
That's the kind of spirit that will, hopefully, stand her in good stead as Miss West Virginia – Karrington Childress – takes on the competition at the Miss America pageant in January 2024.