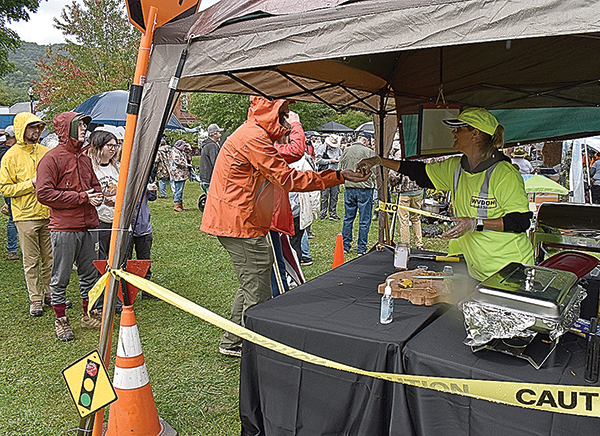 Suzanne Stewart
Staff Writer
Tropical Storm Ophelia was an uninvited guest, but heavy rain and chilly temperatures can't dampen the spirit of Pocahontas County's most unique celebration and that was evident last Saturday as eight teams competed in the RoadKill Cook-off during the Autumn Harvest Festival in Marlinton.
Many first-timers joined the competition this year to try to take on the Goliath team that is Pendleton Community Bank's PCB Buck Busters – the old pros. While their style was second to none – winning the team the Showmanship Award – it was indeed a year for the newcomers when it came to the top three awards and People's Choice.
The competition was all in good fun, and PCB Buck Busters leader Kendall Beverage was just happy to see more teams taking on the challenge.
"It's a great turnout," he said. "Just glad to have more teams out for this festival. The rain looks like it's getting ready to quit, so hopefully we're going to get the crowd we're looking for because we've got plenty of food for everybody."
Ironically, the first place award went to a team Beverage recruited to the cook-off.
In a last minute decision, School Days Child Care, LLC owner Jennifer Buzzard and her crew threw their hats – or in this case hardhats – in the ring and gave it a try.
"I've always wanted to do it," Buzzard said. "Kendall pushed us and said, 'I'd like some good competition.' That was Monday of this week. We came up with a theme and then on Wednesday, we decided we were going to change our theme, so here we are."
The theme they landed on was West Virginia Division of Transportation. Dressed in caution vests and hardhats, the team whipped up grilled deer smashburgers served with a side-ditch of pothole potatoes, rolled in gravel.
Buzzard was joined by Teresa Kloeker, JoDee Friel and Ron Huffman.
Second place and People's Choice went to the Pa-in-Laws, led by Michael Moore, of Reedsville, Ohio.
Moore was joined by his two sons-in-law in making Jackalope Chowder.
"It's five pounds of venison and five pounds of rabbit," he said. "It's a chowder, so it's got a creamy base. We use chicken stock. We also use milk, sour cream and cheese."
It was also this team's first year competing, but not their first experience at the festival.
"We came to the RoadKill last year and had such a great time," Moore said. "I told them, 'next year, let's do this.' We've never done anything like this, so it was just something to jump in and do."
Third place was another first-timer team out of Mount Pleasant, South Carolina. Roadkill Art is also creator of the Roadkill App to which people can report roadkill sightings.
App creator Janet Arneau was the spokesperson for the team and said the cooking was done by teammates John and Kendra Criminger who also do a web series about hunting and roadkill.
"We are making a yellow line blazing squashed burger, crawling with fried worms and smeared with a sweet insect extract," Arneau said. "In delicious terms, we're making a deer burger infused with jalapeño peppers, covered in crunchy French fried onions, topped with a sweet honey sauce."
Arneau attended the festival last year to promote the Roadkill App and decided that she wanted to put together a team to compete this year.
"Last year was just a great way to find out what was going on and introduce the app for the first time," she said.
Other than the People's Choice, the awards were selected by three judges – Dylan Jones of Highland Outdoors magazine, Craig Snodgrass of Blue Ridge Outdoors magazine and Pocahontas County's own DNR Corporal Matthew Barkley.
The judges were tasked with sampling the eight dishes and determining the top three.
Also competing in the event were: The Road Trash Masters from Grant County; Pocahontas Whistle Pig Security, Cadavar Cleanup Crew, of Marlinton and Greenbrier County; Almost Heaven Smokehouse, of Slaty Fork; and Jellystone Scavengers, of Buena Vista, Virginia.
Unable to compete, but still wanting to provide a free "cook-off" meal were members of PETA – People for the Ethical Treatment of Animals. The team was set up near City National Bank and cooked up an alternative vegan stew.
Racheli Holstein, of Pittsburgh, Pennsylvania, and Mo Sullivan, of Washington, D.C. were joined by chef Sasha Raj, of Phoenix, Arizona, to share the vegan chili with the crowd.
"We're here with our vegan chef, and we are serving up a hearty and delicious chili that has no animals in it," Holstein said. "We want to give the message that no one needs to eat meat, dairy or eggs to be healthy and actually, by switching to a vegan diet, it is better for our planet and human health. Every person who goes vegan can save about two hundred lives of animals each year."
Holstein added that those interested in the vegan diet may visit PETA.org for a free vegan starter kit.
The Autumn Harvest Festival also had dozens of crafters, businesses and non-profit organizations set up with booths to sell handmade items, food and more.
Music was provided by Mud Hole Control and the Bing Brothers, featuring Jake Krack at the Discovery Junction.
The day may have ended with most participants and visitors looking like drowned rats, but those drowned rats still managed to leave with smiles on their faces after enjoying the entertaining cook-off and festival.