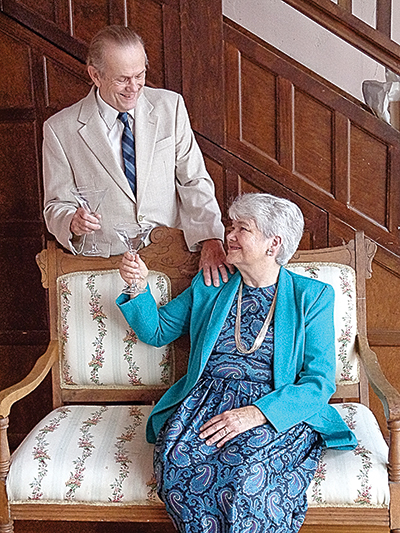 Barbara Elliott
Contributing Writer
The Pocahontas Dra-ma Workshop's upcoming production of A. R. Gurney's "The Cocktail Hour," offers challenging roles for the actors portraying the patrician parents of two troublesome adult children. Fortunately, director Margaret Baker found two seasoned performers who look forward to bringing out both the humor and humanity in these people who are not at all happy to learn their son has written a play about their family.
"This play is a beast to memorize with only four characters, but the lively and often heated dialogue crackles with humor and conflicted emotion, well worth the hard work," Baker said. "It is such a relief to have such experienced actors taking on the complex roles of Bradley and Ann."
The pivotal role of the disgruntled father, Bradley, will be played by Craig Goheen. Although he may be a newcomer to the Drama Workshop, Goheen has 50 years of acting credits in both professional and amateur productions.
"I started my own theater with a partner in Canaan Valley, and that lasted six years," he said. "I have done repertory work, improv and stand-up. I also directed shows on the high school and college level and did a little bit of professional work."
No stranger to challenging roles, Goheen lists among his favorites Tom Wingfield in "The Glass Menagerie," Polonius in "Hamlet," and Sergeant Trotter in "The Mousetrap."
He has spent most of his non-theater career teaching English at the high school and college levels. For 10 years, he was based in Randolph County working with the West Virginia Writing Project. He then moved to North Carolina for theater work and married Pocahontas County native Louise Burner. The couple moved, six years ago, to her family's farm in the county.
Goheen is enjoying being back on stage after a hiatus of six years or so.
"Gurney writes comedies that poke fun at the upper crust. I expect the audience will enjoy what we are doing with it," he predicts.
The role of Bradley's increasingly tipsy wife, Ann, is in the capable hands of Janet Ghigo. Like Goheen, she has many years of theater experience, much of it behind the scenes designing and running lights for Drama Workshop productions alongside her husband, Frank, the sound guy.
She made her Pocahontas County acting debut many years ago as the adult Pearl Buck in a musical about the life of the Hillsboro native presented at the Pearl Buck Birthplace. Several years back she played another mother of adult children in the Drama Workshop's production of "A Nice Family Gathering" and also appeared in several short plays directed by Eric Fritzius.
Ghigo jokes that the biggest challenge in this role is that she is a bit older than the character she portrays, and that perhaps a streak of brown in her hair would help. More seriously, she says that the character could be played just for laughs as an imperious matron, she thinks there is room for more nuance.
"There is a long scene with her son John where she pours out her soul, and we see she has a sensitive and caring side. There is a fair amount of depth to her, and the challenge is to bring that out."
As the title suggests, the characters in "The Cocktail Hour" do a fair amount of drinking in the course of the play.
"I drink four martinis in the first act," Ghigo said. "It's a good thing gin is the same color as water."
But the humor in the play is character driven, she notes.
"If people come expecting the three stooges, they will be disappointed; but if they listen carefully, there are quite a few lines that will make them smile."
Unless a new lighting technician magically appears, Ghigo will also most likely design the lights for the show, and Frank may well be running both sound and lights during the performances.
"He has long arms for a reason," she laughs.
Although the characters in "The Cocktail Hour" are wealthy Northern sophisticates, their family conflicts and concerns are universal and will resonate with the audience, the actors believe.
"The nice thing is the way it unfolds," Ghigo said. "We learn much about these people in the course of their conversations. As the play goes on, they become more sympathetic. I think people will enjoy getting to know these four people."
"The Cocktail Hour" will be presented at the Pocahontas County Opera House Friday and Saturday, September 15 and 16, at 7:30 p.m.
PG 13. Language may not be appropriate for all ages.