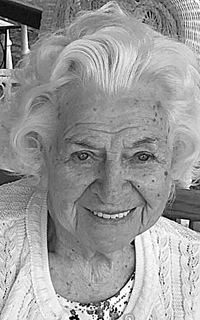 God called another angel home. Marjorie Virginia Knowles Burford, 101, of Dunbar, passed away Saturday, October 16, 2021, at the home of her son and daughter-in-law in Hillsboro, where she had resided her last five years.
Born August 16, 1920, in Charleston, she was a daughter of the late James and Rosabell Knowles.
Marjorie loved to recount the years she spent as a volunteer at Thomas Memorial Hospital. She also spent several hours sewing and dressing dolls and bears for children for Christmas.
She loved gardening – from watching a beautiful rose appear, to watching a stray watermelon seed grow. Whatever God provided, she would give it a whirl.
A devout Christian, she was a member of the McKinnon Presbyterian Church. After moving to St. Albans, she attended the First Baptist Church, where she was a member of the Rebecca Class. While living in Hillsboro, she attended Wesley Chapel United Methodist Church. She loved to teach the children, and share her stories.
In addition to her parents, she was preceded in death by her husband, Eugene (Bill), whom she referred to as her sweetheart; sons, Tommy and Jerry; grandson, Allen; daughter, Margenea; and sons-in-law, Robert Myers and Jerry Casto; brothers, Charlie, Arlie, Darlie, Jimmy and Billy; and sisters, Georgie, Alma, Ruby and Joe.
Left to cherish Marjorie's memory are her children, Gene and Leah Burford, of Hillsboro, Donnie and Karen Burford, of St. Albans, Barry and Jewell Burford, of Charleston, and Libby Casto, of Scott Depot; 16 grandchildren; 27 great-grandchildren, nine great great-grandchildren; and numerous nieces and nephews.
The family would like to sincerely thank Gene and Leah for their dedication, care and the home they provided for our mom.
If Mom were here next Saturday, she would be in front of the TV saying "Go, West Virginia."
A funeral service was held Wednesday, October 20, 2021, at First Baptist Church in St. Albans.
Interment was in Spring Hill Cemetery in Charleston.
Online condolences and memories may be shared at www.kimblefuneralhome.com
Funeral arrangements are entrusted to the Kimble Funeral Home in Marlinton.