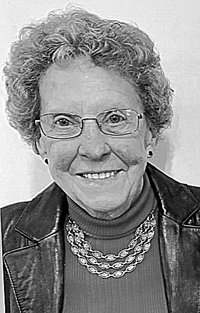 Madeline Grace Galford, 85, of Dunmore, passed away Wednesday, October 13, 2021, at Greenbrier Valley Medical Center in Ronceverte.
Born October 26, 1935, at Hightown, Vriginia, she was a daughter of the late John Wilbur Moyers and Cathleen Edith Duncan Moyers.
Madeline was a member of New Hope Church of the Brethren and a retired farmer.
In addition to her parents, she was preceded in death by her husband, Bernard Galford; a son, William John Galford; and a brother, Roscoe Moyers.
She is survived by her daughter, Cynthia Anderson, of Elkins; grandson, Eric Ricottilli, of Marlinton; sister, Emogene Tidd, of Monterey, Virginia; brother, Ronnie Moyers (Sandy), of Hightown, Virginia; and a sister-in-law, Alice Moyers, of Bartow.
Funeral service was held Sunday, October 17, 2021, at New Hope Church of the Brethren, with Pastors, Dave Rittenhouse, Julian Rittenhouse and Abraham Rittenhouse officiating.
Burial was in the Arbovale Cemetery.
In lieu of flowers, donations may be made in her memory to the New Hope Church of the Brethren in her memory.
Online condolences may be shared at WallaceandWallaceFH.com