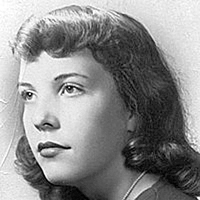 Lottie Jane Alderman Revis, 83, of Craigsville, Virginia, a beloved mother, grandmother and friend, peacefully passed away Wednesday, January 11, 2023, after a brief but heroic battle with cancer.  
Born on June 18, 1939, in Minnehaha Springs, she was a daughter of the late Samuel and Selma Smith Alderman.  
She attended schools in Marlinton, but ultimately graduated in June 1957 from Royal Oaks George A. Dondero High School in Royal Oaks, Michigan.  She enlisted in the Woman's Army Corp in December 1957 and served until her honorable discharge in January 1960 due to her marriage.  Although her service and marriage took her to places all over the country and world, Lottie remained close to her beloved West Virginia.  She cherished her immediate family, brothers and sisters, nieces, nephews and cousins throughout her years, as genealogy and family ancestry became her passion.  All who knew Lottie, knew of her extreme wit, knowledge of forest and fauna and love of studying history. She never met a stranger and loved inciting conversation.   She was without a doubt unforgettable.
Lottie was preceded in death by her ex-husband, James Revis; brothers Robert Alderman, James Alderman, Charles Alderman, Bernard Alderman and Donald MacPherson; sisters, Elizabeth Martin and Mary Turley.
She is survived by a son, James Revis II, of Virginia Beach, Virginia; daughter, Jennifer Revis Knight (Donald), of Craigsville, Virginia; granddaughter, Catherine Knight Johnson (Mark), and grandson, Anthony Knight (Amber), all of Stuarts Draft, Virginia; grandson, Andrew Knight, of Craigsville, Virginia; granddaughter, Kelly Revis Bailey, of South Carolina; seven great-grandchildren, Joshua, Aidan and Tristan Johnson, Logan and Ryan Knight, Gabriel Knight and Eva Grace Bailey; two great-great-grandchildren, Jasper and Olivia Johnson; sisters, Lorraine Alderman, of Michigan, and Alvonia Smith, of New York; and brother; Douglas MacPherson, of Richmond, Virginia. Additionally, she leaves her neighbor, James Revis's wife, Linda; her dear childhood friend, Jim Mason; and her beloved dog and daily companion, Dink. Her nurse Laura was near and dear to her heart, as well.  
A private family service was held in her honor, graveside, at Riverside Cemetery.  Pallbearers were James Revis II, Donald Knight, Mark Johnson, Joshua Johnson, Logan Knight and Jim Mason. Honorary Pallbearers were Jennifer Knight, Catherine Johnson, Kelly Bailey, Amber Knight, Eva Grace Bailey and Olivia Johnson.
 
The family wishes to thank Augusta Health Hospice of Shenandoah for their support and commitment to Mom's care.   Memorial contributions may be made to Hospice at PO Box 215, Fishersville, VA 22939.