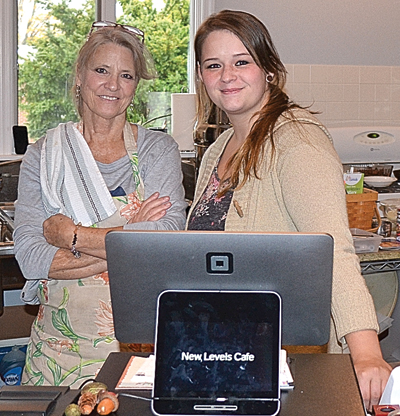 Suzanne Stewart
Staff Writer
Delsie Swearingen loves to cook. She has always wanted to have her own place where she could share her culinary creations with others – and now, she does, at Levels Depot Café in Hillsboro.
Brenda Walters and her son, Harley Squires, bought Taylor's Grocery in 2018 from Bob and Ruth Taylor. Swearingen planned to have a café at that time, but, as things sometimes go, life happened and she had to postpone her plans for three years.
But the café is open now, and it is a cozy little corner where locals and visitors can enjoy homemade breakfast and lunch specials, as well as a variety of pastries, baked goods, soups, salads and sandwiches.
"I love to cook," Swearingen said. "I love to bake. I love to take care of people. I do this at home.
"I take things to all my neighbors, and I told them, 'once this opens, you've got to come pay,"' she added, laughing.
It doesn't seem like the neighbors mind, as the cafe has been busy since it opened two weeks ago. It's a nice gathering place for the community.
"We wanted to provide a place in Hillsboro for people to meet and enjoy a meal – and pick on each other," Swearingen laughed. "Hopefully, this will be it."
Swearingen began cooking when she was around the age of 10. She lived with her father and younger sister, and the two girls experimented and enjoyed learning new recipes.
She grew up in Nicholas County before joining the United States Marine Corps. She served for 21 years in the Corps and then moved back home. Deciding she wanted to be close to family, but not too close, Swearingen found a piece of land in Hillsboro and settled there in 1998.
Later in life, Swearingen got into healthy cooking and examining the ingredients she was using.
"I got more and more into healthy food because everything you put in your mouth is nutrition or poison, and you have to know what it is," she said. "I started doing healthy cooking and taking it to all to my neighbors. That's what I do here. Everything is from scratch. There are no mixes, no boxes, no packages. We're doing it home style.
"We are the most diseased generation in American history and that's shocking," she said. "Look at what's in those mixes – the preservatives and the chemicals. You're body can't process that. That's why I do this."
Swearingen uses the freshest ingredients possible and, in most cases, the most local ingredients possible.
"There was a big box of tomatoes sitting there when I walked in this morning," she said. "Somebody brought me tomatoes. I use local eggs. It is so convenient."
Swearingen said she is lucky to have Levels Depot a few steps away to refill her pantry when she runs out of something.
The menu is a simple selection. For breakfast, there are a variety of pastries and coffee, and for lunch, soups, salads, sandwiches and wraps. On top of those, there will be a daily breakfast and lunch special.
Swearingen has plans to possibly add Sunday brunch and special events with live music on the back deck with a pastoral view of Hillsboro. But for now, she's sticking with her simple, yet creative menu of healthy and homemade meals.
"We have a lot of potential, but we're just taking it slow," she said.
The cozy café has two large tables – one seating four, the other, six – and a table for two in a nook with two narrow windows providing a nice view. There is also an old bench from Hillsboro High School where visitors can sit and share stories about the past.
On chilly days, visitors can gather around the fireplace while they chat.
The cafe is open Tuesday through Saturday, 7:30 a.m. to 1:30 p.m.
To see the menu, visit the Levels Depot Facebook page.