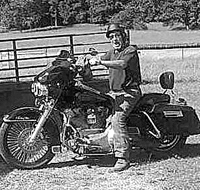 Kenneth "KC" Jeffery Cassell, 62, of Cass, passed away Sunday, April 23, 2023.
Born August 16, 1960, in Marlinton, he was a son of Caroline S. Tacy and the late Dana "Brown" Cassell.
KC was a talented carpenter with an incomparable work ethic. When he was not working, he enjoyed hunting, fishing, cooking, playing terrible air guitar to ACDC, and riding his motorcycle with his buddies. He was funny and quick-witted, and his humor has undoubtedly inspired endless stories that will be shared around bonfires for generations to come.
KC was preceded in death by his father, Brown Cassell, in 2017.
In addition to his mother, he is survived by his daughter, Brandy Cassell, of Marlinton; two sisters, Rejetta Wilfong, and husband, Gene, of Cass, and Michell Baxter, and husband, Jeff, of Edray; two nephews, Clay Baxter, and his wife, Bogi, and Brandon Wilfong. In addition to his family, he leaves behind countless friends who will dearly miss him.
A memorial service will be held at 1 p.m. Saturday, May 6, 2023, at Wallace and Wallace Funeral Chapel in Arbovale with Pastor David Rittenhouse officiating.
The family will receive friends one hour prior to the memorial service.
Online condolences may be shared at www.WallaceandWallaceFH.com