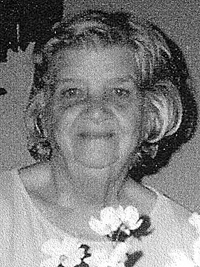 Juanita Burner Simmons Good, age 93, of Durbin, departed this life Thursday morning, November 11, 2021, at the WV Caring Hospice Center in Elkins.
Born Wednesday, February 29, 1928 at Durbin, she was a daughter of the late Charles S. and Ann Lantz Simmons.
On July 26, 1947, she was married to Melvin Glair Good, who preceded her in death June 18, 1968.
Juanita attended Durbin Grade School and Green Bank High School. She was a farmer, raised animals and was always busy with household chores, which included making butter and cottage cheese and she spent a lot of time canning. She enjoyed a house full of people, and always looked forward to the group of hunters who would come and stay at the farm. Everyone knew they could stop by for coffee and snacks.
Juanita enjoyed embroidery, and was an avid rummy player. She was very caring, loving and giving.
In addition to her parents and husband, she was preceded in death by two sons, Lewis Harold Good and Larry Wayne Good; and one sister, Mary Murphy.
She is survived by two sons, Charles G. "Bub" Good, and wife, Lois, of Green Bank, and Lee Glenn Good, and wife, Sheila, of Durbin; 11 grandchildren, Whitney Fedak, Rona Mercer, Sam, Lewis, Charles, Michael, Jessica, Justin, Daniel, Steven and Curtis Good; several great-grandchildren; and two nieces, Donna Erickson, of Montrose, and Jo Irvine, and husband, John, of Virginia Beach, Virginia.
A graveside service was conducted Tuesday, November 16, 2021, at Maplewood Cemetery in Elkins.
The Lohr and Barb Funeral Home was in charge of the arrangements.
Condolences may be expressed to the family at www.lohrbarbfuneralhome.com