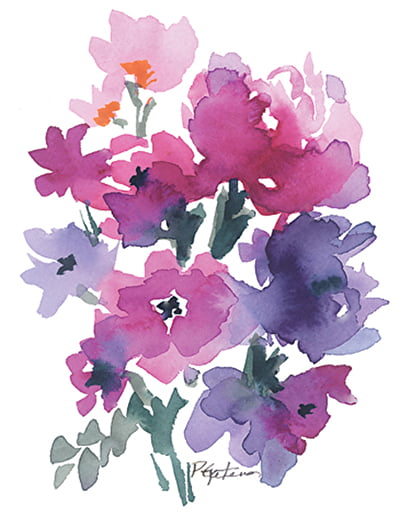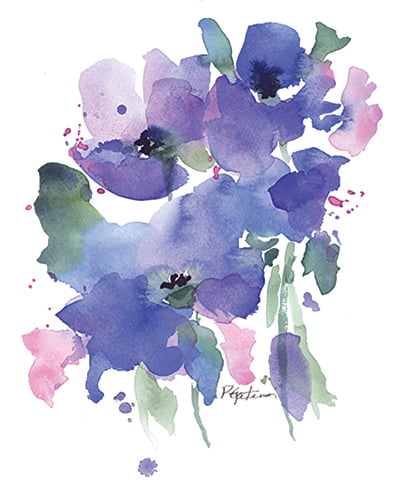 Cyla Allison
Contributing Writer
 
A splashy opening event with renown local watercolorist Pamela Gatens is set for Friday, July 27.
Gatens approaches her work with color and a joy de vivre that is infectious, inspiring painters to do more outside the studio and without restraint.  On the other hand, she takes a problem solving attitude toward her medium that informs every painter. 
The Splashy Watercolor Florals class will be held at our new venue, the Mc-Glaughlin House on the Fourth Avenue art green, just north of the Depot in Marlinton.
The Pocahontas County Art Guild is thrilled to open its new air conditioned studio in a historic Marlinton building restored by the Historical Landmarks Commission over the course of several years. 
The class will run from 10 a.m. until 2 or 3 p.m.  All materials are provided– brushes, paints, paper but if you would like to bring your own, that is quite welcome.  We suggest a bag lunch for an in-house half hour break.  Bring a snack to share if you like.  Water, coffee and hot tea will be provided.
"My colorful paintings come from the deep happiness I feel in front of the easel," Gatens said.
There is a charge for the class.
To register email Susan at Susan2hike@frontiernet.net
Class size is limited.
The Pocahontas Art Guild members meet regularly on Tuesday mornings – Tuesday-Museday – from 10 a.m. to noon or later to work on their own projects.