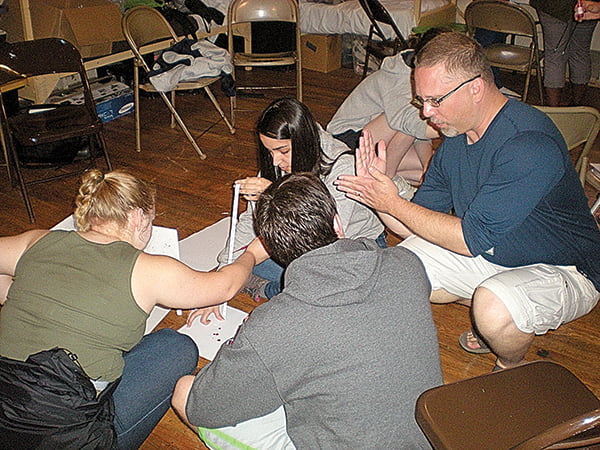 Suzanne Stewart
Staff Writer
For four weeks of the summer, Camp Pocahontas in Bartow is transformed into a hub for STEM – Science, technology, engineering and mathematics – as delegates from each state and several countries attend the annual National Youth Science Camp founded by the National Science Foundation.
Delegates spend their time participating in directive studies, seminars, lectures and off-site activities and overnights.
"Camp is an amazing experience," Oklahoma delegate Iesha Phillips said. "I've met so many people from all over the world. I've been having so much fun dancing with them and laughing and singing. Of course, we get to do really cool things like hiking, and I rode down the trail of death two days ago on a mountain bike. I'm about to go caving right now."
Enthusiasm is infectious at the camp, particularly from the Staph members – yes, that's Staph – who keep the delegates excited about each day's activities and busy schedule.
"I think that they're a lot more invested in this than anyone could have anticipated," Massachusetts delegate Evan Mizerak said. "Camp is definitely a really new and unique experience and I think, overall, it's been really enlightening and a lot of fun. We have the over-nighters and the outdoor experiences that we get along- side the inquiry-based science stuff."
While the delegates have time to enjoy the outdoors and each other's company, they also spend plenty of time exercising their brains and getting inspired for the future.
"I'm interested in being a trauma surgeon in underserved areas in Oklahoma and last night we had Kyle Duff talk to us about his mission work as a doctor and how he took big trips, and how he wants to take more," Phillips said. "I kind of related to that because I want to work in underserved areas, as well, with people who don't have resources. I want to help them out and be able to give them the best healthcare possible."
Mizerak said he is interested in both molecular and computational biology.
While the delegates are top of the line students in their respective states and countries, there are still some programs offered at camp that are brand new to them.
"I really didn't do robotics at home, but here, I can go to a robotics seminar and learn so much about it," Phillips said. "There are opportunities for you to do almost anything and if you're interested in something, you can teach it or you can find somebody else who is interested."
That interest isn't always STEM related. In fact, sometimes, it is an interest in a style of dancing from Korea.
"The second day here, I did K-Pop dancing with some other people, and I never did K-Pop dancing before, so that was really awesome," Phillips said, laughing.
As they prepare to enter the next chapter of their lives and pursue a degree in a STEM field, the delegates said they would recommend the camp to students at their former high schools for many reasons.
"I would tell them it's a great camp, and it's free, which is really awesome because a lot of summer programs you have to pay for it," Phillips said. "It's just an amazing experience. We don't have this kind of nature in Oklahoma. Our land is different, so they can come here and hike; they can meet new people; they can learn about a lot of different sciences that they might not have known about."
"I don't really know of a platform like this in which you have the opportunity to interact with so many unique personalities about something that you're all jointly invested in," Mizerak said. "I think everybody here loves STEM in some way –whether it be in biology or engineering – but we all have that shared enthusiasm. I think that makes for a great environment to form lasting relationships."
The enthusiasm for camp is something that stays with many delegates throughout their lives. For 1992 Massachusetts delegate Elijah Goodwin, the enthusiasm never left, and he is now a volunteer instructor for the camp.
"I actually came back on as a Staph member throughout the mid to late 90s and then once in 2002," he said. "I had a long gap when I did my PhD and had kids; things like that, but then we started coming back about five years ago because I love it and I miss it, and I love being able to give back to the delegates."
Goodwin received a bachelor's degree in wildlife biology, a master's degree in science education and a PhD in organismic and evolutionary biology. With so many subjects in one person, he wears several hats at camp and directs an array of directive studies and seminars.
"I'm doing a variety of programs for the camp this year," he said. "My directed study, which we're about to do is – we"re studying forensic science. I used to teach a year-long forensic science course. We're highlighting the science behind CSI and some of the challenges behind the long-standing forensic techniques that maybe got grandfathered in before there was a hard look at the scientific validity, so we're talking about that, as well."
Goodwin will also lead an overnight to Cranberry Glades where the delegates will collect samples from plants and trees and do bird counts. The camp received a permit to go into the big glade, which is usually off limits to the public. Goodwin is also giving a lecture on avian intelligence.
"I'm a man of many talents, or depending how you look at it, a man of very poor focus," he said, laughing.
Whatever the case may be, it's obvious the camp made a lasting impact on Goodwin which he hopes to pass on to future delegates.
"It changed my life," he said. "I'll be honest. It was a transformative experience for me. It was just magic. Everything about it was magical. It inspired me to get into science education. It was a huge life-changing event for me. I wanted to come back and give that back to the next generations."
The National Youth Science Camp began in 1963 as part of West Virginia's Centennial Celebration.