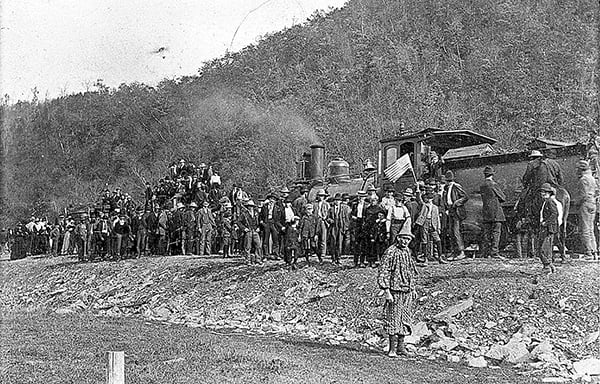 Photographer Cal Gay captured this gala event on October 26, 1900 as people celebrated the arrival of the official "first train" to Marlinton. The train was actually the C&O construction train. Among the events on that day were an ox roast, band, parade, speech making, football game, and a coronation ball where Miss Daisy Mann was crowned queen. Pocahontas Co. Historical Society, ID: PHS000085
Pioneer Days Exhibit – Preserving Pocahontas will be at the historic McGlaughlin Cabin on Fourth Avenue north of the Train Depot to help celebrate "Our Train Heritage." An original of the above photo will be on display as well as other photographs and memorabilia. If you've been meaning to have photos scanned for the archives you may bring them on Friday or Saturday. Looking forward to visiting with you at the site of the First Train Celebration!
Access the "Preserving Pocahontas" Digital Library at www.pocahontaspreservation.org or www.preservingpocahontas.org If you have historical records or photographs to be scanned for the county Historical Archive contact Preservation Officer B. J. Gudmundsson at 304-799-3989 or email info@pocahontaspreservation.org Prints of photographs are available.