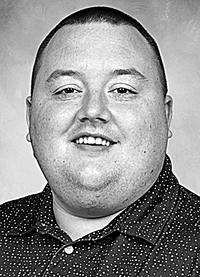 John Carl Gibb, 31, of Ocala, Florida, formerly of Marlinton, passed away unexpectedly Tuesday, March 21, 2023.
Born March 31, 1991, in Fairlea, he was a son of Scott D. Gibb and Melissa S. Gibb.
John was a 2009 graduate of Pocahontas County High School. He earned a Bachelor of Arts degree in Print Journalism at Marshall University and his Master of Science degree in Mass Communication at the University of Southern Mississippi. Prior to his passing, he was pursuing a Master's in Educational Leadership with the American College of Education.
John was a Journalist for the Charleston Daily Mail prior to moving to Florida in 2016. Once in Florida, he began substitute teaching, which ignited his passion for teaching and kick-started his career as a full-time educator for Marion County Public Schools at Lake Weir High School. During his seven-year tenure there, John taught Pre-IB English, Journalism, AICE General Papers and English. He was recognized as the Rookie Teacher of the Year in 2018. In 2023, he was recognized as a Golden Apple Teacher finalist for Marion County Public Schools, a highly esteemed and prestigious recognition. In addition to serving as an educator, John was a mentor teacher, Yearbook Advisor, Speech and Debate Coach, Student Government Co-Advisor and Freshman Class Sponsor.
John's passion for education and teaching was immeasurable. He had a unique way of connecting with students that changed perceptions of the traditional teacher. Beyond that of an educator, John was a mentor, friend and a guiding light for countless students. Through his unwavering dedication, he inspired a love of learning and instilled values that will continue to shape the lives of children for generations to come. While speaking at the 2023 Golden Apple Gala in February 2023, John shared a quote that he lived by, "Whatever you do in life, make sure it is meaningful and purposeful." John truly embodied this as he lived each day with intentionality and purpose, always inspiring those around him to do the same. His passion and love for life, his students and his family was evident as he strived to make a positive impact on the world around him.
John was preceded in death by his paternal grandfather, James (Jim) Gibb.
In addition to his parents, he is survived by his brothers, Tim Gibb (Katie), and David Gibb, all of Marlinton, Andrew Gibb (J.T. Robinson), of Orlando, Florida; beloved nephew, Christopher Gibb, of Marlinton; maternal grandparents, Freddy and Linda Gravely, of Marlinton; and paternal grandmother, Linda Gibb, of The Villages, Florida.
A memorial service will be held Saturday, April 8, 2023, at 1 p.m. at Trinity Baptist Church in Buckeye with Pastor David Moore officiating.
Per John's wishes, the body will be cremated.
In lieu of flowers, the family asks that donations be made to Lake Weir High School to the attention of the John Gibb Memorial Fund, 10351 SE Maricamp Rd., Ocala, FL 34472-2517.
This memorial fund, founded in John's name, will help serve as a lasting tribute to John at Lake Weir High School and will ensure that his legacy lives on.
Friends and family wish to extend their gratitude to Marion County Public Schools, the Public Education Foundation of Marion County, colleagues and students for the joy, love and kindness you brought to John's life.