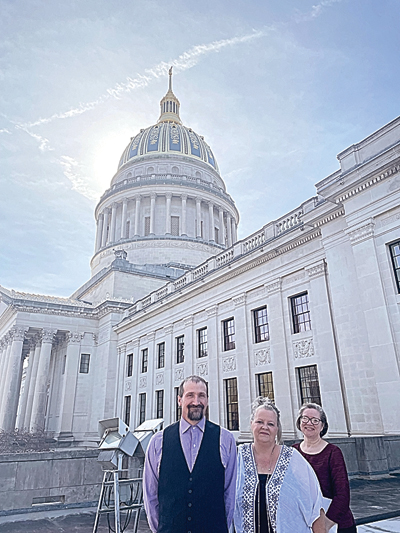 Erin Gaertner
Transition Agent
Jobs & Hope WV
Pocahontas County is challenged by a drug epidemic, transportation, lack of robust full-time livable wage, employment, childcare providers, and other issues that are present across West Virginia but exasperated by Pocahontas County having the lowest population density in the state where services can be hours away, even when available in the county. However, there have been some ongoing and recent developments in the county to support residents with access to resources, primary and secondary prevention, treatment, behavioral health, education and training, and alternative sentencing through County Commission supported Community Corrections.
Parenting in Recovery is a weekly support group led by Jobs & Hope participant Melanie Cosner, hosted by Pocahontas County Day Report Center for the community including those that may be a part of day report, DHHR, or other various programs and those who want a network of support as they navigate their recovery and parenting journey. Melanie has been able to facilitate referrals for direct service, coordinate treatment beds when needed, and provide connections to other programs and partnerships for meeting attendees. Parenting in Recovery is for any parents or caregivers—those with or without custody, those with young or adult children, single parents, those who may have had a child pass away or have experienced pregnancy loss, as well as those that are in recovery that have a child in active use. This ongoing opportunity for support is able to fulfill an unmet need of peer support for those in recovery navigating parenting challenges, court orders, and other barriers while maintaining and growing in their personal recovery. In six months, Melanie assisted with treatment bed placements for 15 residents, in a county with less than 8,000 people. She is also disrupting the drug trade in the county by helping establish capacity for evidence-based treatment offered through St. Joseph's Recovery Center Mobile Clinic now available in Marlinton. Melanie has been an exemplary participant in good standing with Jobs & Hope WV since February 2020. During this time, she has completed training through Blue Ridge Community and Technical College and received her state Peer Recovery Support Specialist certification as well as CPR/First Aid through Adult Education. Melanie successfully completed term employment through Equus Workforce Solutions and Region 1 Workforce Development Board hosted by Pocahontas County Commission and Pocahontas County Day Report Center.
Additionally, Melanie, along with support from Seneca Health Services Lead Peer Recovery Coach Scott McGee and Pocahontas County Libraries and Information Centers, has been able to start general recovery meetings in the Hillsboro and Durbin areas. Hillsboro's weekly meeting is led by Jobs & Hope participant Joey Tawney. This meeting has weekly attendance of 10-12 folks in a town of less than 200.
Established by Governor Justice and the West Virginia Legislature, Jobs & Hope WV aims to address the Substance Use Disorder Crisis through a statewide collaboration of agencies to provide linked services to participants.  
Melanie has been an exemplary Jobs & Hope participant, demonstrating the possibility and vision for West Virginians in recovery in every county.
Jobs & Hope, established in 2019, has been able to work statewide to get residents connected to training and the workforce. Melanie's achievements extend beyond career, as she's given back to Pocahontas County Community and West Virginia in numerous ways. The support of Pocahontas County Commission and Pocahontas County Day Report Center have made Melanie's and Jobs & Hope's successes possible. 
The Pocahontas County Community Corrections Program (PCCCP) has been in operation since 2016 and is used by the court system as an alternative sentencing option. The Pocahontas County Community Corrections Day Report Center is an on-site cognitive restructuring program designed to change adverse thinking patterns, provide education and job training to enable long-term employment, and hold unemployed offenders accountable during the day. The overall goals of the program are to reduce offender recidivism, assist offenders in successful reentry by providing needed services, and increase public safety by holding offenders accountable.