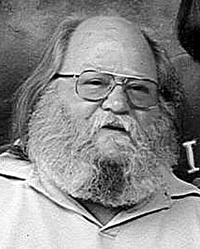 Jack Rodney Frame, II, age 71, of Elkins, passed away unexpectedly Wednesday, August 25, 2021, in the Emergency Department of Davis Medical Center.
Born February 23, 1950, in Sutton, he was a son of Betty L. Gould Frame, of Elkins, and the late Jack Rodney Frame.
On July 11, 1981, in Baltimore, Maryland, he married Susan Patrice Yowell, who survives in Elkins.
Jack was a graduate of Gassaway High School and obtained his Bachelor's Degree in Geology from West Virginia University. He owned and operated Frame Drilling Company since 1974. He was a drilling contractor, fourth generation water well driller and a geologist. He was President of the West Virginia Water Well Drillers Association and board member of South Atlantic Jubilee. He designed and installed multiple commercial geothermal systems throughout the state of West Virginia including Summit Bechtel National Scout Reserve, 911 Centers in Tyler County, Charleston; and Pocahontas County, and Webster County High School, which was the first geothermal system installed in a public school in West Virginia. He was a member of the Elkins Seventh-Day Adventist Church.
In addition to his father, he was preceded in death by a brother, Mickel Frame; and a sister, Barbara Jean Crawford.
In addition to his wife, he is survived by two sons, Jack Rodney Frame, III, and wife, Tonya, of Elkins, and their children, London and Lilah, and James Lucas "Luke" Frame, and wife, Courtney, of Belington, and their daughter, Abigail; one daughter, Aimee Sue Thomas, and husband, Zachariah, of Morgantown, and their sons, Grayson and Cameron.
A graveside service was held Wednesday, September 1, 2021, at the Maplewood Cemetery with Pastor Jason Johnson officiating.
Memorial contributions may be made to the Highland Adventist School, 777 Kennedy Street, Elkins, WV 26241 or to the American Diabetes Association, 2451 Crystal Drive, Suite 900, Arlington, VA 22202.
Tomblyn Funeral Home of Elkins is in charge of the arrangements.
Condolences may be expressed to the family at www.tomblynfuneralhome.com