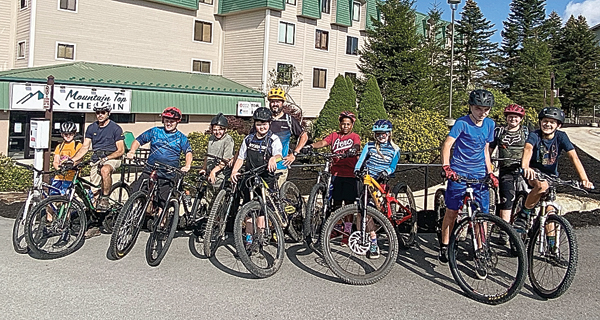 Suzanne Stewart
Staff Writer
In a county where mountain biking has grown by leaps and bounds in the past few years, it only seems natural to start a mountain biking team for teens.
After a year of organizing, Pocahontas County is now home to the newest NICA – National Interscholastic Cycling Association – team in West Virginia.
NICA – which was founded in California in 2009 – was brought to West Virginia by cyclist Cassie Smith, who saw the need for a positive and safe program to bring mountain biking to sixth through 12th grade students in the state.
Since then, 15 teams have formed in the state, including the Pocahontas County team – the Cheat Mountain Salamanders – which boasts nine riders and seven coaches.
Bringing the team together took several years and began with the efforts of Kristy Lanier, owner of DirtBean café and bike shop. With the help of the Pocahontas County Convention and Visitors Bureau, First Tracts Realty and Greenbrier Bikes, the team got sponsorships and grants to hit the ground running for the 2021 season.
Head coach Chad Baldwin said the program is a great way to introduce teens to mountain biking and the competition circuit.
"It's mountain bike only, and it's not what you think," he said. "It's not downhill like at Snowshoe. It's all cross country."
The Salamanders includes sixth and seventh grade members from all skill levels. The riders go at their own pace and they decide if they want to compete.
"We have five races throughout the year," Baldwin said. "It goes through October. Kids don't have to race. They can if they choose. Some kids won't race any.
"That's one thing with NICA, it's super safe," he continued. "We're not going to be riding trails where you might get hurt. Freak accidents happen, but we keep very good track of the kids. We don't go on anything that you're going to break yourself or your bike on. We encourage walking if you have to. Lord knows I've walked on the trails."
The main goal of the team is to introduce the kids to mountain biking and the trails of Pocahontas County. Along with providing them with a great workout, they also learn bike maintenance and teamwork.
The team practices once a week and travels throughout the county for a new location each week. 
One week, they rode at the Green Bank Observatory and during the ride, came across an obstacle not found on any race trail – a momma bear and three cubs. That day, the kids learned how to peddle fast.
The team has also tackled the Greenbrier River Trail and the Highland Scenic Highway.
"We did the Scenic Highway last week," Baldwin said. "We did Scenic Highway to Mon Road at Slaty Fork and then some of the kids rode back to the Scenic Highway. Usually, we try to ride at least six miles during every practice. Today is a cardio day, so we're going to do fifteen miles today."
The Pocahontas County team consists of eight boys and one girl so far, but is open to new members. The kids are enthusiastic riders and some have a rather big competitive streak.
The only female Salamander member – Ahna Valach – was recovering from a broken ankle, but that didn't stop her from entering the competition last Saturday at Canaan Valley Resort where she placed fifth.
The boys did well at the competition, too. Of the eight members who participated, the following placed. In the seventh grade race, Carter Faulknier won third place; Colton White placed 35th; and Hunter White placed 40th. In the sixth grade race, Max Chamberlain placed 16th; Oliver Campbell placed 17th; and Tanner Baldwin placed 19th.
With the first of five competitions under their belt, the Salamanders are ready to continue improving their skills and rising up the ranks. The other races will be at Big Bear Lake, Cacapon State Park, North Bend State Park and Twin Falls State Park.
Teens, ages 11 to 18, are eligible to join the team; and there is a $50 league registration fee and a $50 NICA registration fee which also provides insurance. Baldwin said there are scholarship opportunities for those interested in joining.
"You can start at any time, and if they want to try it, they can sign a waiver and ride with us one practice. If they don't like it, they don't like it," he said. "They don't have to pay anything.
"If you want to come out, come out," he added. "We'd really love to have you. The more kids, the merrier."
The team is guided by team director Derek Trull and coaches Baldwin, Mikey and Tracey Valach, Andy Rice, Sam Gibson and Scott Triplett. Those interested in joining the team may contact Baldwin at chdbaldwin@gmail.com or Trull at derek.trull@k12.wv.us
NICA 5 Core Principles
#Morekidsonbikes
Equality – All student athletes are treated equally. Team scores are a combination of points scored by both boys and girls.
Inclusiveness – All student athletes participate 100 percent of the time. No one is "benched" and everyone is encouraged to try racing, irrespective of how fast – or slow – they may be.
Strong Body – NICA emphasizes wellness through lifestyle, nutrition and exercise. Improving physical fitness and overall wellness are at the center of NICA's training and education.
Strong Mind – NICA student athletes are students first. Our program encourages academic excellence.
Strong Character – All student athletes are expected to work hard, respect others and give back to their communities. Our programs encourage and provide opportunities for trail stewardship, bicycle advocacy and mentoring.