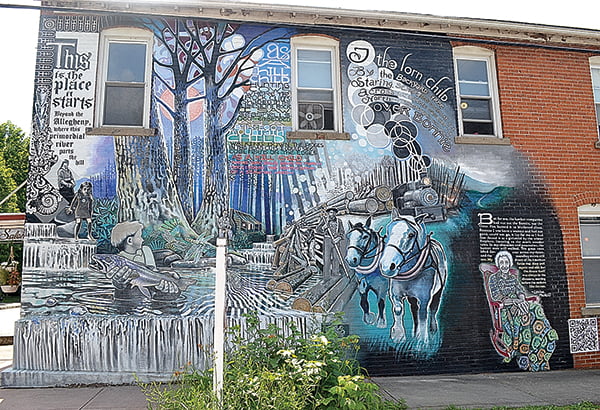 WVU RBA student Molly Must explores history, culture and community through art 
By Lindsey Kudaroski
Molly Must's first solo art studio was in an old one-room schoolhouse on her parents' property in Pocahontas County. It was here, after years away from home, where Must would paint a mural to tell the story of her home and celebrate the community that shaped her. 
Growing up in one of West Virginia's more remote counties meant that Must often looked for creative sources of entertainment. With no cable or satellite television and few other children nearby, Must spent much of her free time drawing and painting.
"I grew up around art," Must said. "My mom encouraged that hobby for sure. My parents would take me to museums every once in a while, and I guess I was just always drawn to it."
On a high school French club trip to Montreal, Must was inspired and intrigued by the beautiful graffiti murals she saw throughout the city.
"I was always really inspired by the street art I would see in urban places," Must said. "It was extra stimulating to me because I had never seen that growing up."
These early experiences with art stayed with Must as she considered the next steps in her education.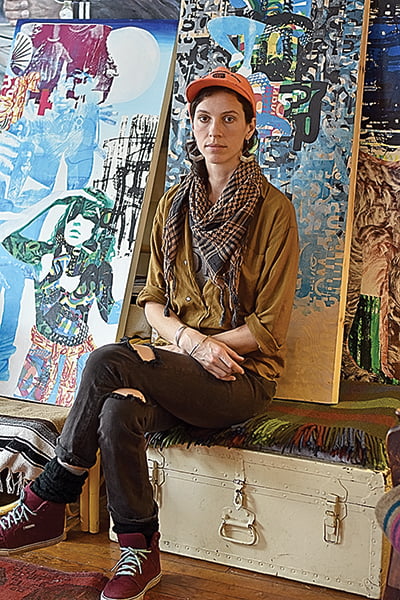 Community Through Concrete
Must's pursuit of higher education began at the University of North Carolina Asheville, where she began to engage in the public art scene. Though Must intended to complete her bachelor's degree, she ultimately decided to concentrate on the art projects that were drawing more and more of her focus.
"I was more passionate about public art than I was about school at the time, and I was struggling to declare a major," Must said. "What I really wanted to do was what I was doing outside of school, so I dropped out for a while."
At first, Must organized public murals around Asheville for no pay and waited tables to make ends meet. As she gained more credibility and notoriety for her work, she was able to apply for grants to fund her projects. This led her to pursue the largest public art project she's completed to date – a 3,000-square-foot mural underneath the Lexington Avenue Gateway that took two years and six artists to finish.
"I would walk under there to go downtown from where I lived at the time," Must said. "It was a huge expanse of bare concrete. I just kind of started working on the idea to paint it."
After the success of this massive project, Must began her second large public art project in Asheville, a mural in the city's Triangle Park that depicts the history of the community's African American business district. To tackle the project, Must collected memories, stories and photographs from individuals who had grown up in the neighborhood, which had been diminished by urban renewal.
Like much of Must's work in public art, the Triangle Park mural was as much about community organizing as it was about art. Must built meaningful relationships with the community's residents through activities like weekly block parties in the park.
"It was so humbling because I entered that project not being part of the community, and in the end, I was very much accepted and embraced," Must said. "It got me thinking about what my story is and what my community is, and I was excited to come back to West Virginia, where I am part of the fabric of the community. It felt like I should work on telling the stories of my home and my community."
Homegrown History
At the end of the Triangle Park project, Must returned to Pocahontas County where her own story began. She set up shop in the old one-room schoolhouse and started to work on a mural for a brick building in Marlinton.
The mural, based on the works of famed West Virginia authors G.D. McNeill and Louise McNeill, documents the area's cultural and historical transitions.
"Their writing combined, kind of illustrates a pretty broad span of time from virgin forests to timber industry to the building of the paved roads," Must said.
Afterwards, Must participated in a public art project in Charleston, and then returned to Marlinton to create another mural, this time about the history of the Civil War in the region. [This mural is on the Motor Parts building on Sixth Avenue.]
"There are so many stories to be told," Must said. "I feel like that was part of the reason I was drawn to public art in the first place. The built environment around us is a product of all these relationships and power dynamics that are not really visible to us when we see the end product. Too often, we don't really understand how things came to be that way, so I like the idea of public art bringing that to light while also beautifying and bringing color to a place."
Now that she had used her talents to tell some of her community's stories, Must decided that it was time to turn her attention to finally earning her bachelor's degree. Upon evaluating a variety of programs, Must found her best fit in the WVU College of Education and Human Services' Regents Bachelor of Arts degree.
Beauty and Balance
Must started her RBA degree in fall 2016, and she completed the program in spring 2018. Along the way, Must assembled a unique program of study that has allowed her to integrate courses in subjects such as history, geography, Native American studies and painting.
"The RBA has allowed me to have a lot of flexibility, pursue my actual interests and take some fascinating classes that have, in turn, helped inform my worldview and my art," Must said.
Throughout her studies, Must has been exploring a different facet of her craft by switching from public art to personal art. Her recent work, comprised of much smaller pieces than her previous murals, draws mainly from her own photographs. Must's time in the painting studio at WVU has offered an opportunity for exploration and experimentation that she didn't have before. 
"Because I was always working on something that was going to be on permanent exhibit in public, I didn't have much room for experimentation," Must said. "Or I designed it all beforehand and painted according to specific designs and the approval of specific people. And, at some point, it started to feel a little limiting in terms of my own personal artistic exploration, so that's been one of the best things about this time."
As Must continues to grow and develop as an artist, she grapples with her role as a storyteller and the implications of her work as she seeks to balance the purity of her craft with the potential power of its message.
"On the one hand, I'm really enjoying working on simply translating the visual things around me into a painting and being very honest in the present moment," Must said. "There's so much that can happen when you're just working with color and your eye."
Still, Must acknowledges the propensity for art to bring people together.
"There are people who believe that there really is no place for political art or that art with an agenda is not honest," Must said. "I hear that, but I also think that I disagree. Visual art, graphics and print are different tools that we can use to express our voices. I think that if we are going to come together in any way, it has to be through our feelings. When people feel moved about something, things really stick. And I think that art can move people."
This article originally appeared in the WVU College of Education and Human Services Spring 2018 Magazine.
Must is the daughter of Dr. Robert and Ginger Must, of Hillsboro.