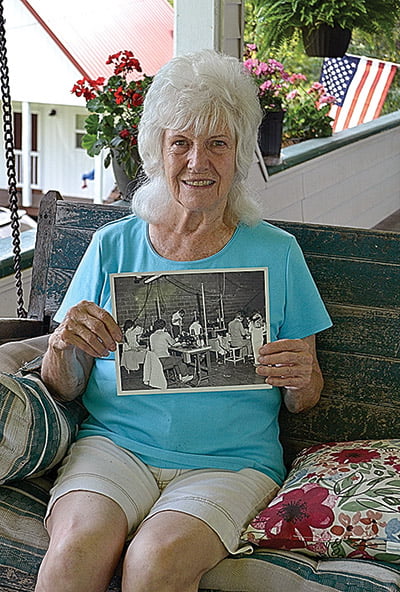 Suzanne Stewart
Staff Writer
In a lifetime, some people can live in dozens of homes, towns, states and even countries.
For Barbara Crist, home has always been where her heart is. The Cass native lives in the house she was born in and wouldn't have it any other way.
"I was born here," she said. "I've always lived here. I went away in the winter for about six years or six winters. I couldn't wait to get back."
Crist was the ninth of 10 children born to John Canton Slaven and Eleanor Davis Slaven. Six of the 10 were born at the house, delivered by Dr. Hannah, company doctor for West Virginia Pulp and Paper in Cass.
"It seemed like she had her babies about two years apart," Crist said of her mother. "I think there are two that were more than two years apart. We had a bedroom upstairs that I guess was the 'delivery room.'"
When Crist was 12 years old, her mother passed away and the chore of keeping the household fell to the young girl, whose father was busy working at the company store.
"He never worked on the mountain, but I had brothers that worked on the mill or the dock," she said. "I kept house for my dad. I kept house and went to school."
Crist fondly remembers her school years, especially her time at the Cass School which was eighth through 12th grades.
"I loved that old school house," she said. "It was big and it was different. [They] always had an eighth grade graduation. The year I graduated, I was salutatorian.
"We would go up on the hill [behind the school] – it used to have honeysuckles or azaleas, and they grew up there – pink ones, yellow ones. We would always go up and get great big bunches of those and decorate the stage with them."
Crist was a cheerleader at the school, whose mascot was the Bluejay. Her two daughters, Tammy and Laurie, followed in her footsteps and were also cheerleaders for the Bluejays. Her son Alan, did not!
When Crist married her husband, Gene, she took on the role of housewife and stay-at-home mom, but still lent a helping hand when Gene was working.
"He was a photographer at the observatory, and he was a photographer in the Air Force," she said. "When Gene took pictures, it was black and white, and I like black and white. He would take pictures of weddings and graduations and school functions, and sometimes I would help him in the darkroom. I loved it."
When her children reached school-age, Crist sought a job at the sewing factory which was located in the closed Cass School gym. Despite not having any work history, Crist was hired and spent several years making men's polyester pants at the factory before it moved to Marlinton.
"I guess I bugged them until I got a job," she said, laughing. "It was the first job I ever had because I was a stay-at-home mom. Since I had never worked, I just thought it was fine. I just thought it was what you were supposed to do. I knew how to sew because I had sewed in high school in Home Ec. I sewed some for 4-H when I was growing up. We would send the projects to the fair. If you won Pocahontas, then you sent it to the State Fair. I think that's still the way it is."
Crist said she was fortunate to have a job because sadly, her husband Gene passed away in 1976.
When the sewing factory moved to Marlinton, owners Bill and Helen Nash laid-off Crist, who was determined to get unemployment until her next job opportunity – despite Helen saying it wouldn't be possible.
"I got the unemployment, and then I went to the Hanover Company and, of course, I had experience, so I was hired," Crist said. "I worked down there twenty-one-and-a-half years until it closed. We thought it would never close because it was really old. They made really, really good leather shoes and most of them were men's dress shoes, at first. Then they did some military and some women's [styles]. We even made golf shoes."
After Hanover closed, Crist retired and now lives a quiet life at her home overlooking the company housing at Cass.
In the summer, she spends her days watering flowers and plants, making sure the hummingbird feeders are full and relaxing on the porch swing her father built decades ago.
"Everyone loves my back porch," she said. "It's just a good place. I have a swing my dad built and everyone thinks it's just the greatest."
Like their mother, Crist's three children remained in Pocahontas County, although they can't say they still live in the house where they were born or raised. Alan and Tammy live in Arbovale and Laurie lives in Dunmore.