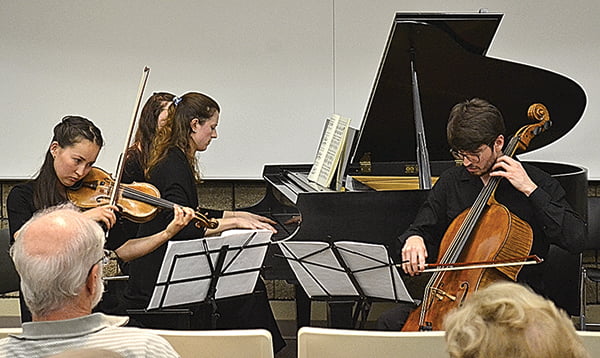 Suzanne Stewart
Staff Writer
After just a month of practice, the Garth Newel Emerging Artists Fellows packed up their instruments and traveled from the Garth Newel Music Center in Hot Springs, Virginia, to the Green Bank Observatory last Thursday evening to present a free concert to the public.
In his first trip to the Observatory, Garth Newel executive director Shawn Puller introduced the musicians and welcomed the crowd to enjoy the classical evening.
"It is lovely, lovely to be here," Puller said. "This is my first visit to Green Bank. I had an amazing day getting to go up to the top of the telescope. Jay [Lockman] wouldn't let me push any buttons, but still, it was fun.
"We are thrilled to be here," he continued. "One of the most significant programs that we have here is our Emerging Artists Fellowship Program. That program has been around as long as Garth Newel has been around – for forty-five years. It's the reason that Garth Newel even exists."
Prior to the selection of music composed by the masters, Puller introduced 2017 Composition Competition winner Kecskés D. Balazs, whose winning composition was performed by the quartet of Esther Kim, violin; Natalia Hidalgo, violin; Katie Bracewell, viola; and Julia Rupp, cello.
"I wrote it in 2016, and it's a string quartet," Balazs said. "It was actually premiered in Georgia – but not in the state – the eastern European country. It was a festival dedicated to Bela Bartok, the great Hungarian composer's memory. The piece is a kind of reflection of Bela Bartok's string quartets. Its formal structure is written about the same as Bartok's string quartet, but that's all. It actually has nothing to do with the Bartok piece."
After performing Balazs' piece, the quartet transitioned to "String Quartet in C Major, K. 465, Dissonance," composed by Wolfgang Amadeus Mozart.
Kim introduced the piece, speaking of her personal connection to the music of Mozart.
"When most people talk about their fears, they say, 'I'm scared of spiders,' or 'I'm scared of heights' or rollercoasters, but for me, I was scared of Mozart's music," she said. "Weird, right? When I was first presented with this piece, I wasn't sure where to begin. I didn't know what to do with it and that's because there's so many formulated opinions and ideas about how this piece should be played. I just wasn't sure where my personality fit in."
With a lot of coaching and studying of the score, Kim said she came to understand her fear and was able to put herself into the music.
"I realized I was mostly scared of Mozart's music because it's so complicated and his music is complicated because it's so honest," she said. "I truly am a firm believer that music is the most honest form of expression there is, and you can try to have a poker face, but no matter what you feel, what you're thinking in your heart, it's going to directly portray in the music, especially in this piece that Mozart wrote."
Prior to joining the rest of the quartet in the performance, Kim spoke about her time at Garth Newel and thanked the audience for attending the concert.
"I first want to express my gratitude toward the faculty and director of Garth Newel," she said. "This past month has been one of the most inspirational and heartfelt summers I've ever had in my entire lifetime and to be surrounded by the most gifted, wonderful and kindest musicians from around the world is truly a privilege, and I feel blessed to be sitting here in front of you today."
The next quartet – Erika Burns, violin; Alyssa Wright, violin; Han Dewan, viola; and Emily Deveala, cello – performed the first two movements of "String Quartet, Op. 74, Harp," composed by Ludwig van Beethoven.
Burns set the scene for the performance by taking the audience back to the year the opus was composed.
"The year is 1809, and Beethoven is hiding in his brother's basement as Napoleon's army invades Vienna," she said. "He spent much of the spring there trying to preserve what was left of his hearing. We know that didn't work out well for him, unfortunately. [That spring], he found out that his former teacher [Franz Josef] Haydn had passed away. This was a very tumultuous and emotional year for Beethoven. It's kind of surprising then that the first piece he wrote after that was his String Quartet Opus 74 in E-flat major. You might call it defyingly optimistic.
"This string quartet has some moments of poignancy, moments of mysteriousness, or uncertainty, even, I would say, sometimes, despair, but overall, I think that's what makes those beautiful moments so much sweeter."
The evening of classics culminated with a trio – Tomo Wakiyama Newton, violin; Georgiy Khokhlov, cello; and Lucia Brighenti, piano – performing "Piano Trio in E-flat Major, D. 929," composed by Franz Schubert.
Brighenti, who came to Garth Newel from her home in Italy, introduced the piece and spoke of Schubert's short life of struggles and successes.
"He had actually written probably a lot of sketches of this trio when he got the news that he was going to be dying soon," Brighenti said. "At the time, he had syphilis and the cure for syphilis was mercury, so we don't know if he actually died of syphilis or the cure, but definitely one of the two was the cause. When he got the news [of his illness] probably it was hard for him to process it, and he actually rewrote a lot of this trio."
Despite his health issues, Brighenti said Schubert was able to compose this piano trio which conveys and elicits contradicting emotions.
"I've always had this feeling that even Schubert's happiest music kind of always had a feeling of longing and nostalgia," she said. "Just a few weeks ago [a violinist] put it in words in the best possible way which was, 'Schubert is either crying with a smile or smiling with tears.'"
A reception was held after the performances, where the musicians talked with audience members about their time at Garth Newel.
For more information on the Center's programs, visit www.GarthNewel.org