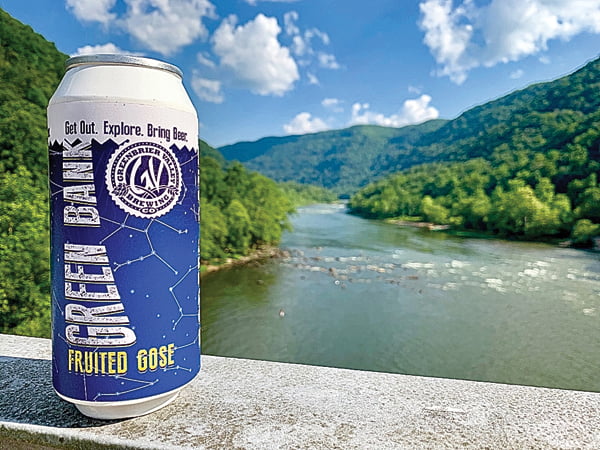 Suzanne Stewart
Staff Writer
Greenbrier Valley Brewing Company is known for its West Virginia-centric named beers, such as Devil Anse, after the patriarch of the infamous Hatfield family; or Zona's Revenge, named for Zona Heaster Shue, also known as the Greenbrier Ghost.
Sticking with the West Virginia theme, but branching out slightly, the company recently released a seasonal brew named the Green Bank Fruit Gose.
"First and foremost, almost all of our beers are named after West Virginia legends and folklore, not that Green Bank is a legend, but you have the Observatory there, so it is a point of interest in West Virginia," director of brewing Brian Reymiller said. "So Green Bank, more than anything, that one kind of rolled off the tongue with the style called Gose, so Green Bank Gose."
The first of GVB's beers to be named for a town, the Green Bank Fruit Gose is a summer beverage with locally sourced berries and wheat.
"We try to put in a little bit of West Virginia in all of our signatures," Rey-miller said.
"We try to do a lot of it in our mainstay, flagship brands, but with beer, it's kind of hard to do. Most malted barley or any grass – whether it's barley, wheat – they're all in the grass family. They all grow in the west, and it's just because it's a much better area for growing grass grains. It makes it a little bit more of a challenge to us to use a little bit of West Virginia in all those beers, but we find ways.
"So, Gose is one of those styles," he continued. "It's traditionally brewed with wheat and salt. We were able to source salt from [JQ Dickinson Salt-Works Mines] in Charleston. This Gose is a fruited Gose, so there's a farmer in Caldwell who has a huge fruit farm. She has cherries, blackberries and raspberries.
"We went up there and picked berries one day, so we were able to use that fruit. We were able to use the salt. Then for the wheat – there's a farmer right up the road on Droop Mountain, Dustin Simmons. We buy wheat from him. We try to use it in beers that call for wheat."
What makes the Green Bank Gose stand out amongst its brethren is when it is poured into a clear glass. Beer connoisseurs will do a double take as they see the scarlet liquid pour from the tap or can. It may look more like a wine, but it is definitely a beer at heart.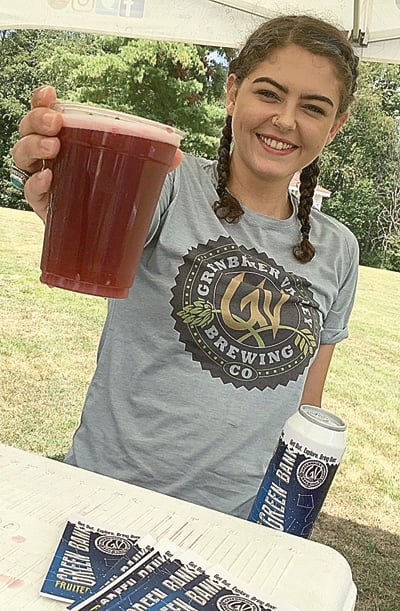 In its first season, the Green Bank Gose has proven to be very popular, with nearly all the small batch being sold.
"Everybody loves that beer, so it'll come back again next year," Rey-miller said. "They're just seasonal releases that we do. We'll brew it again next year – we'll just brew a lot more of it next year. That beer was sold in two weeks."
Luckily, the beer has been sold to restaurants and bars all around West Virginia so visitors can get a taste of Green Bank Gose.
With the popularity of the brew, Reymiller said there may be more seasonal brews named for West Virginia cities and towns, as well as the reliable legends and fascinating folklore that abounds in the state.
"Without a doubt, I think that's something we'll definitely move forward with," he said. "Just to bring light to some of the points of interests and legends and folklore in West Virginia. We will definitely continue to do that. It seems to work for us."
It works so well that barely a day goes by that the company doesn't receive a suggestion for a new beer.
"Everybody likes to toss out what we need to be doing," Reymiller said, laughing. "None of them come to mind right now. At least once a day somebody tells me what we ought to be doing.
"[The Flatwoods Monster] is an idea we're definitely taking a little more seriously. I think that one's kind of in the cue."
Also in the cue are plans to expand the types of containers for the beers. As of now, all the flagship beers and seasonal beers are available in cans and kegs for draft, but the company is looking into doing some bottling.
"It's not official, but we're looking into getting into bottles," Reymiller said. "In my opinion, certain beers just deserve bottle presentation. It's more of an aesthetics thing.
"Even though a can is probably an even better package for beer than a bottle anyway, aesthetically, it seems that certain beers just deserve that package."
In Pocahontas County, the Green Bank Gose is available at Big Spring Fork at Slaty Fork and Old Spruce Brewing at Snowshoe.