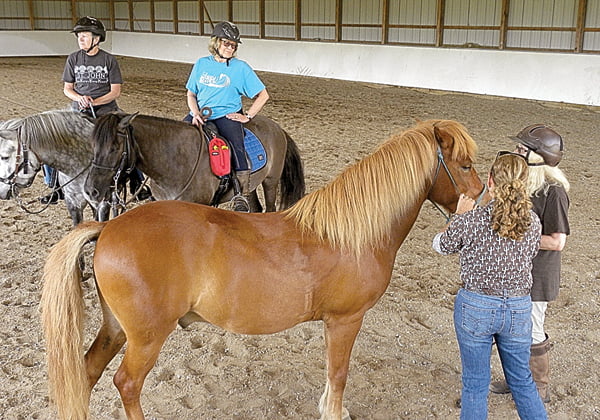 Laura Dean Bennett
Staff Writer
A recent equestrian clinic at Shalimar Farm brought together riders and their horses for a special "Massage to Dressage" weekend.
The clinic was conducted by Pam Pierce, a return guest of the farm.
Pierce is a horsewoman and Level 2 equine massage therapist from Wellington, Colorado, who comes to visit her friends at Shalimar Farm.
Mickey Deike offered the clinic free of charge to a small group of friends, ranging in age from eight to 80.
The back-up clinician was George and Mickey's daughter, Selene Deike.
Selene, a well-known local horsewoman, now lives in Louisa, Virginia, where she's a professional horse trainer.
"We were so happy to have Pam Pierce here with us again, and we jumped at the chance to have a few friends and their horses experience equine massage," Mickey said.
"And it really worked out well that Selene was home that weekend.
"She was able to contribute a lot by working with the horses and riders on other issues while Pam was doing the massage therapy.
"Selene comes in a couple times a month, and she's always happy to help anyone who's here with their horses."
Along with the horses the guests brought to the farm, Mickey's two horses, a "Walkaloosa" (a Tennessee Walker/Appaloosa cross) named Keeper and an Appaloosa named Koda also took part in the clinic.
Each of the seven horses received an hour of therapeutic massage by Pierce, who took time to explain what she was doing as she progressed along the horse's body, from head to tail.
The equestrians spent time getting to know each other during lunches provided by Shalimar Farm.
Each participant received a 15 minute per day protocol for continuing an ongoing massage therapy regimen individually tailored for their horse.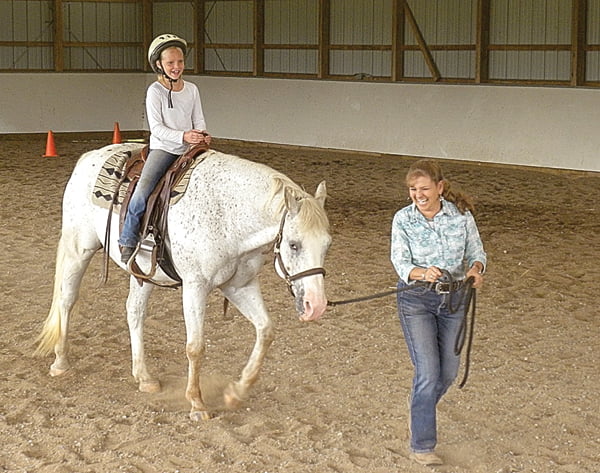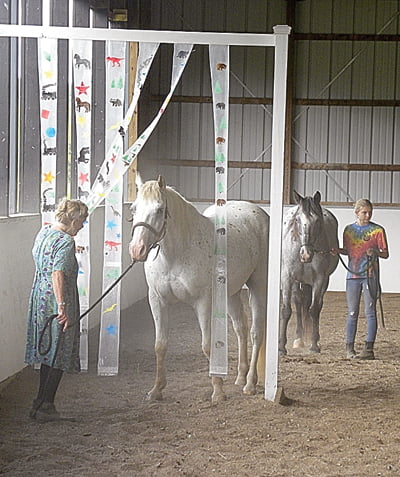 Many horse owners and riders say equine massage therapy increases the performance level, competitiveness and endurance of their horses.
Equine massage is also said to shorten recovery time after many sorts of injuries.
Mickey said she was especially gratified that each participant seemed to get as much out of the clinic as did the horses.
"It's really all about the horses," she said.
"Horse people – no matter what kind of horse they ride or what kind of riding they do – all want to take good care of their horses.
"And we all want to build stronger relationships with our horses.
"I just love that we had such a wide age range of riders at this clinic, and they all enjoyed themselves and learned something.
"Our common love of horses was the bond that brought everyone together," she added.
The clinic promoted Sharon Wilsie's book Horse Speak, which Mickey extolls as a must-read for every equestrian.
Tracie Hickson, a local friend of Mickey's who spends a lot of time helping out at Shalimar Farm, participated in the clinic.
She brought her niece, eight year old Torri, who also took part.
Both reported that they had a good time.
Jane Wasson, Margie Kelly and Geraldine Johnson travelled from Pennsylvania to enjoy the early fall weather at Shalimar Farm with their Icelandic horses.
Everyone was fascinated with the Icelandic horses and their unusual and particular gait – called the "tolt."
Fourteen year old Emily Rimm, of Green Bank, had an opportunity to learn about equine massage and enjoyed a little time in the saddle onMickey's horse, Koda.
Lynette Otto is a licensed professional counselor who has an equine assisted psychotherapy practice on Browns Mountain.
She brought her nine year old thoroughbred, Cinco, to the clinic.
"I always enjoy being at Shalimar Farm," Otto said. "It's a beautiful place."
Shalimar Farm is an idyllic 700-acre equestrian retreat which borders the Monongahela National Forest and features 24 miles of riding trails.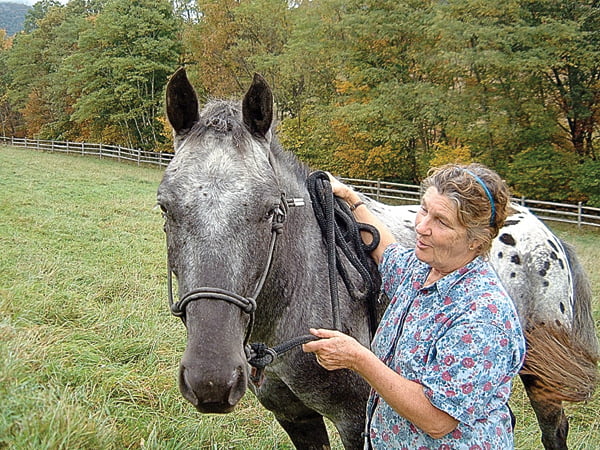 George and Mickey Deike were living in Elkins and had been visiting Pocahontas County for years when they decided to buy the extensive property in 1971 and open it to riders who wanted to vacation with their horses.
Wide open spaces, barns, loafing sheds, green fields and an impressive covered riding arena make for an ideal setting in which horses can enjoy a little time away from home.
And the humans come to enjoy the pleasure of trail riding on private, groomed trails through fields and forests in the mountains of Pocahontas County.
With its three rustic cabins, Shalimar offers country hospitality to only eight guests at a time – spectacular views and cool mountain air thrown in for free.
"We try to keep this a relaxing and private experience; that's why we book only eight guests at a time," Mickey explained.
Each fully furnished cabin, with wood-burning fireplace, has accommodations for horses and is connected to the vast trail system.
Shalimar Farm Retreat welcomes guests year-round, with weekly or monthly rentals from November to May. Guests and horses are welcome May through October.
George and Mickey and their horses seem to have found a bit of heaven in the hills above Cass.
"Oh yes, Pocahontas County really is "almost heaven," like the West Virginia slogan says," Mickey said.
"Where is the sky a darker blue?
"Where do the stars shine any brighter?" she challenged.
"It's just out of this world – a unique place unto itself."
Anyone interested in learning more about Shalimar Farm can find them at shalimarfarm.com or on Facebook. Call 304-456-4852 for reservations.